On Sunday we had Keith from the yacht club and his wife, Sue, over for lunch. We had a nice visit with them. They brought us a batch of pineapple muffins, which we were excited about. Muffins make good passage food.
After lunch we went SCUBA diving with Eric and Gisela at a spot Keith told us about. When he first told us about it, we knew we couldn't go. It is a more advanced dive to 100 feet, through a cave, and totally out of our league. However, Eric and Gisela are certified rescue divers, so when they arrived in port, we asked them to go with us. They also have a nice underwater diver camera. The dive is called "the chimney". There is a sheer cliff that drops from 30 to 100 feet. Inside the cliff is a vertical cave, which opens up at the bottom. As you go in the cave, you look up a narrow opening 70 feet tall. From the surface, the opening looks like nothing more than a crack in the surface. The mouth of the cave isn't visible from the surface, but just outside the mouth of the cave is an old jeep that was washed into the water during Heta.
We swam around until we found the jeep and figured the crack was "the chimney". The other Eric went down first to make sure all was kosher. The rest of us watched the crack intently. He emerged a few minutes later next to us, having come out of the mouth and up the outside of the cliff.
Despite the previous cave experience, our Eric could not bring himself to go through the chimney. Of course, just the fact that he is conquering his fear of deep water and diving at all is enough. Eric and Eric descended the cliff and Christi and Giesla took the chimney down. Christi was having a tough time equalizing and made her way down extremely slowly. This gave her an opportunity to closely examine the walls and fish, which was neat. There is a purple plant growing on the walls. There aren't many fish in there, mostly sturgeon fish, but it was neat to see them swimming straight down towards the bottom. Gisela waited patiently at the bottom.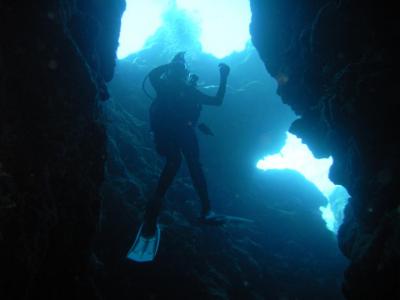 Thanks to the amazing water clarity, there was plenty of light and no need for a flashlight, even in such a narrow passage. They all met at the bottom. Eric is posing for a picture coming down the outside of the cliff.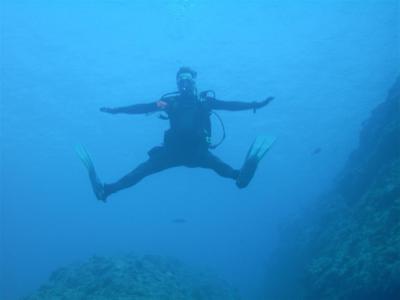 We all converged at the jeep, where Gisela took photos of all of us behind the wheel of the jeep with their camera. This is at an amazing 102 feet deep.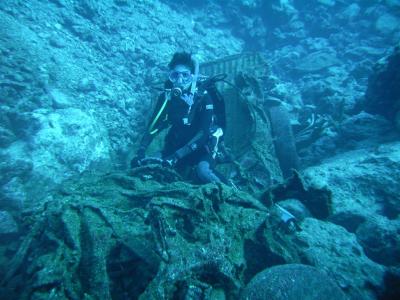 All was good until it was time to come up. Christi was coming up way too fast and the other three kept pulling her down to keep her where she needed to be. As hard as she tried to fight coming up, she couldn't seem to control it. Fortunately, between the other three holding on to her and helping her out, they kept her out of danger. More weight for Christi next time.
After diving, the two of us went to dinner at Willy's Washaway Café, which is about the only thing open on the island on Sundays. It is located in a small gazebo in the corner of "the beach" that we mentioned visiting a few days back. Our choices were a hamburger or a fish burger. We got one of each. The fish burger came on focaccia bread. The hamburger was topped with beet root and an egg fried over medium. Both burgers were excellent.
On Monday we left Niue, so we spent the day going through the usual routine. Trip to use the Internet at the yacht club to check email and send off blog updates to Mike. Customs and immigration to check out. Check out was very quick and the exit fees were $60. Check out with the yacht club and pay for the mooring. Grocery store visit. Here all the food comes from New Zealand. Once again, there were few frozen microwavable food choices. Meat pies were about it, so we loaded up on them for the passage to Tonga. Meat pies are a pie crust with meat inside, kind of like a chicken pot pie without the vegetables and a much thicker sauce. The package doesn't recommend microwaving, but they come out OK in the microwave. They are a good passage food. Hearty, but not too big, and you can eat them with just a fork and a small plate.
After the grocery store we headed back to Kosmos and got her ready to go. We left for sea at sunset, looking forward to a quick and calm passage per the weather forecast. The waves weren't very big, only 3 to 4 feet, but they are hitting at quick intervals, so it is still rocky. It is not too bad, though, and we are not getting hit with the evil side waves, which makes life on board good. Eric and Gisela left today, too, and are headed to the same destination. It is comforting to know that there is a boat nearby in case of emergency.
We almost hit a buoy that didn't show up on radar. Thank goodness we actually scan the horizon every 15 20 minutes. If we relied on radar, we totally would have plowed into it. We also avoided some other debris in the water, as well.