18-07S by 178-25 E – Fiji is made up of 332 islands. Two islands are quite large, and the rest are relatively small. Like the Marquesas, before the arrival of Europeans, Fiji had a thriving population. Tribal warfare among the inhabitants was vicious and cannibalism was a common practice. Also like the Marquesas, the introduction of modern weapons by the Europeans brought warfare amongst the tribes to a new level, causing devastating amounts of death. European diseases added to the death toll.
In 1874, Britain annexed Fiji as a colony. The Fijian economy was depressed after Britain took control. In an effort to make Fiji economically self-sufficient, they turned to plantation crops and imported Indian laborers. The Indian laborers were forced to live together no matter what caste or religion, and were strongly discouraged from mixing with the local Fijian population. The Indians have maintained a strong Indian identity, however, most of the social restrictions found in India do not exist in Fiji. Today's Fiji is made up of close to equal amounts of each people group and racial tensions between the two groups is very strong.
In 1970, Fiji became an independent nation, though still part of the British Commonwealth. They created a constitution modeled after Britain's. The economy soon worsened and racial tensions increased, causing political turmoil. In 1987 there was a successful military coup to oust the elected government. The new government invalidated the constitution and was removed from the Commonwealth. In 2000 there was another military coup, and yet another in December 2006. In between coups there have been elected governments. When they have elections they are let back in the Commonwealth, then when a coup happens they are kicked back out.
The leader that was ousted in 2006 was exiled from Fiji. According to the news, the ousted leader has just returned from exile in the last week or so and the current government is worried he will attempt to re-take power. The current government has declared martial law. Fijian government officials claim the martial law decree is solely for the purpose of keeping this ousted leader and his followers in check and will not affect the general population at all.
There are about 836,000 people living in Fiji, half the number in 1970. Many natives, especially those of Indian descent, are emigrating to escape the racial tension and political turmoil. Meanwhile, many foreigners have moved in to take part in Fiji's booming tourist industry. Suva is the capital of Fiji. Almost 400,000 people reside in Suva, making it one of the largest cities in the entire South Pacific.
Viti Levu was already in sight when the sun came up. It is a large, mountainous island with a reef, like Tahiti. Several other small islands also dot the horizon. The wind completely died this morning, making the ride incredibly calm. As we got closer, we could see a good sized downtown area with quite a few buildings that are 10 stories or more. To the left of the downtown looking area is an industrial area, with commercial boats, shipyards, cranes, containers, cisterns and low corrugated metal buildings. Beyond the industrial area it looks residential. The hill above the industrial area is also residential. The hill is not as high above downtown, so it is hard to tell what is up there with the tall buildings blocking the view.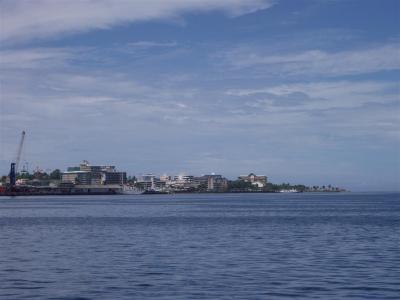 The pass into Suva is very wide and well marked. Entering it was a piece of cake. We pulled into the quarantine area of the harbor, right in front of the industrial area, a little before 1300 (1:00 pm). We hoisted our yellow "Q" flag to indicate our quarantine status. We called the port master and let him know we had arrived. We were told the officials would be to the boat by 1430. At 1445, it began to pour rain. We figured customs would wait until after the rain stopped to come out. The rain let up at 1545, we called port control on the radio and asked when they were arriving. They said their boat had broken down and would not be coming. Sigh.
Any boat arriving from a foreign port must wait in quarantine, until cleared in by officials. They never know when a boat full of rabid dogs or Typhoid Mary will be aboard. They have to be careful, because there are still some diseases that have not spread to the South Pacific yet, such as rabies. So, since we didn't get cleared in, we couldn't get off Kosmos. No big restaurant meal to celebrate completing our passage. We have heard two short blasts of an air raid siren and found out there is an oil spill close to where we are located, which has put us a bit on edge. Not off to a good start.
As an FYI, Fiji requires a minimum of 48 hours notice prior to arrival, so while in Tonga, we emailed them and let them know of our intended arrival. They emailed us back some forms, which we filled out and sent. We also had to call the Port Captain two hours ahead of time to let them know to be expecting us.