Lat 1`40.7S Long 108.54.2E
We both got a fitful 10 hours of sleep and felt much better in the morning. We decided not to leave until 1600, giving us a full 24 hours of rest before setting off again.
In the late morning a fishing boat came by. Due to the language barrier, it took us a while to realize that someone was hurt and they wanted our help. One of the younger men, named Weren (sp) spoke English the best and became the interpreter. We decided that Eric should go to shore with the first aid kit and Christi should stay at the boat monitoring the radio. Eric hopped in their boat and they headed toward the structures we could see from Kosmos.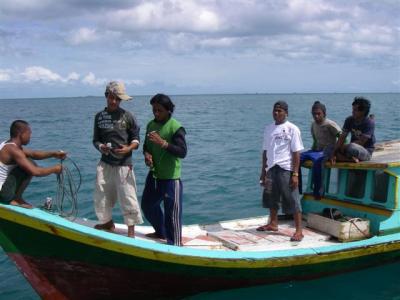 The small village had a lovely beach. There is a dock, and just as the fishermen yesterday told us, the water is much calmer in front of the village. Upon arriving to shore, Eric was taken to a hut where a man had a big gaping wound on the left side of his forehead. They had already put a cloth or bandage on it to stop the bleeding. Eric tried to clean around the wound with antiseptic. He was afraid to remove the bandage for fear it would bleed too much. Eric had him take some ibuprofen, and then gave him gauze bandages, butterfly bandages, antiseptic wipes and everything else in the kit that may have been useful to treat his wound. He showed the villagers what to do with each item. By this time there was a crowd of at least 20 people in the hut.
Eric radioed to Christi for any instructions regarding head wounds. Christi was standing by with medical books and relayed some instructions. Eric checked the patient's eyes to make sure they responded to light. They did, but it seemed likely this fellow had a concussion. So Eric told them to keep his head cool for a few days. The villagers seemed very grateful for the medical supplies and help. They took Eric back to Kosmos. We sent them back with a few liters of clean drinking water, ice for his head, a few Tylenol with codeine pills to take the edge off the pain, a bottle of Tylenol, and a treatment of antibiotics. We very much hope we did the right thing. We need to take more first aid classes. Eric wished he could have stitched the guy up, but we read not to try unless you have some experience. A head wound did not seem like a good place to start.
While Eric was gone, Christi went to work on the squid. Though calamari is one of our favorite foods, she had never cooked it before and had no clue what to do with the squid. She found instructions in her "Cruising Chef" cookbook. She took a deep breath and pulled the first squid out of the bag. It smelled really bad. Black inky stuff was oozing out and spreading all over the place. The very long tentacles kind of wrapped themselves around her hand. She stared in confusion at the directions, wondering which spots exactly to cut into and which things exactly needed to be removed. "If I can do fish, I can do this, too" she told herself over and over as she chopped off the head and tentacles and wrestled with getting the intestines and bone out. The second one was easier than the first. By the fourth, she was a pro. Squid is actually easier to clean than fish, though messier with the ink. She cooked up some of the calamari for lunch. It was delicious.
After lunch, the fishermen were back with another medical problem. They kept saying "no hospital". From the start we made it clear we were not doctors. Yet we wanted to help if we could. Eric went back to shore, and they seemed disappointed Christi wasn't coming along.
There was a crowd waiting to ask Eric questions, but after not too long Eric realized there was no medical emergency. They did convey issues with infections, itching, and malaria. After a brief visit he had the fishermen bring him back. A whole bunch of villagers loaded into the boat, wanting to see Kosmos and meet Christi. We gave them some malaria medicine, neosporine, hydrocortisone cream and more band aids, all things they were desperately in need of. We then said our goodbyes. The villagers were clearly hoping we would stay and were sad to see us go. If anyone reading this is a doctor/nurse who is looking for a place to do some good will work, this village (and probably the rest of the villages on the island) could definitely use your services.
This area rarely sees foreigners. This village is certainly a place we would have enjoyed hanging out in for a few days. There was no one around who seemed to be an official of any sort, so chances were if we stayed another day or two and came to shore that we wouldn't get into any trouble. However, the monsoon season was only going to get worse and we really needed to keep moving north.
We set out to sea right at 1600, as planned. Conditions are exactly the same as they were for the three days on the passage from Bawean to Singapore — absolutely miserable. And they aren't supposed to get any better, either. We are definitely able to handle the seas a little better now that we have had a break, but we know with the beating we are getting it won't take long before we are tired and edgy again.