We were up at 0330 to get ready to go. Our taxi picked us up at 0430. You can easily get to the airport via the train, but in Singapore, busses and trains stop running at midnight. Also at midnight, taxi fares go up by 50% from day rates (taxis are government owned). This is one of the many ways the Singapore government tries to control social behavior. They make it difficult and expensive to be out past midnight. And, in case you are wondering, private cars are extremely difficult to come by. The number of cars allowed on the road is limited to keep congestion down, so getting a permit to own a car is expensive and difficult.
The Singapore airport has won awards for being the best in the world, and it was easy to see why. Just like everything else in Singapore, it is clean and modern. There is a doctor, dentist, and post office on site. There are computer stations around the airport so you can browse the internet while you wait, even if you didn't bring your own laptop. There is a hand sanitizer dispenser next to the computers, so you can sanitize your hands once you are done. And of course, there are planters everywhere, so it is green and pretty inside.
We lucked out and got bumped to first class, thanks to Omar's seniority. We have never ridden first class on an international flight before, and it is wonderful. From the moment you board, they are constantly serving food and beverages, to the point where you are absolutely stuffed. The seats stretch out into full beds where you sleep blissfully through the flight. We never knew a flight could be so pleasant. It is going to be hard to go back to coach.
Hong Kong is another island that was requisitioned by the British as a trading port during the 1800's. Today Hong Kong is a close second to Singapore as the world's busiest shipping port. Just as Singapore is very close to mainland Malaysia, so Hong Kong Island is very close to mainland China. Originally, the British only took the one island, but as Hong Kong grew, the British took the surrounding islands and a small piece of mainland China. Hong Kong Island belonged to the British outright, but the other areas it later added were on a 99 year lease from the Chinese. That lease expired in 1997, and the British gave back all of Hong Kong, including Hong Kong island, back to the Chinese. The Chinese government agreed to leave Hong Kong as is for 50 years, so in a lot of ways Hong Kong is almost a nation of its own since it doesn't fall under normal Chinese jurisdiction. They even have separate currencies.
We landed in the new airport, located on Langtau island. This airport ranks #2 behind Singapore, and needless to say, is also really nice. We hopped on the train that took us to Kowloon, the city on the mainland portion of Hong Kong directly across from Hong Kong Island's business district. The train from the airport is even nicer than the Singapore trains. From the plane and from the train, Hong Kong looked like an endless row of skyscrapers. Some are very nice, some are pretty dilapidated looking, and there is everything in between.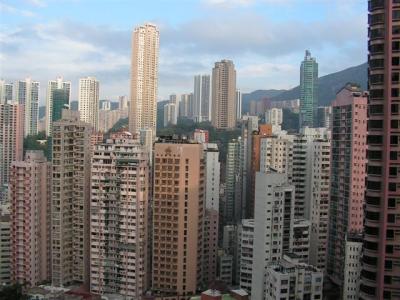 We got off at the Tsim Tsa Tsui stop. It definitely feels like New York City here. Every single building around us was a skyscraper, most plain, blocky structures with no character. They appeared to be a mix of commercial and residential. It is definitely a concrete jungle, with no ornamental landscape around. The road was jam packed with cars, and probably 2/3 of the cars were high end vehicles like BMW and Mercedes. The streets were crammed with people. There were ads and neon signs everywhere. Some signs were in English, some in Chinese, most in both. We certainly would not call Hong Kong dirty, but it wasn't really super clean, either. There were pushy hawkers on the street trying to entice people into their stores to buy a fake Rolex or get a foot massage.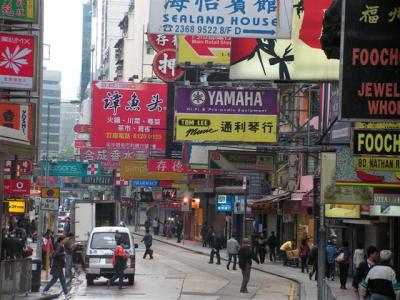 Omar led us to the hostel he likes to stay at and checked in while we waited. Omar had told us of prior stays in this hostel, where he shared a room with a delusional crack head and other colorful characters, so we opted for a standard hotel. We wandered up and down the street, visiting 5 places before finally finding a suitable hotel room at the Holiday Inn on Nathan Road, just a couple doors away from Omar's hostel. Check out the beautiful view from our window:
After a quick Italian lunch (it's the first restaurant we saw that looked OK), we officially started the sightseeing tour. We went to an old colonial hotel called the Peninsula Hotel. It reminded us a lot of Raffles, with the high ceilings, fancy chandeliers, and crown moldings. This hotel actually allows non-guests to go inside, so we went in for a look-see. Christi almost got us kicked out for taking photos in the foyer, then again almost got us kicked out for wandering into the private conference area.
The next stop was a new, modern, but just as upscale hotel called the Intercontinental. The hotel overlooks the harbor and its back wall is entirely glass. As we were walking along, Christi was so engrossed in the view that she walked into a pillar.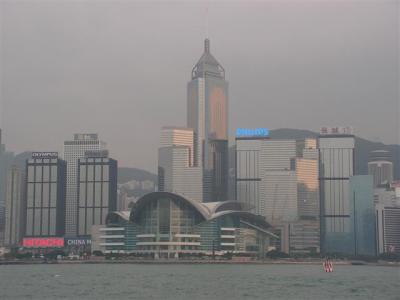 To be continued"¦