Today was errand day. We went to an internet café, the grocery store, and to several gas stations in search of diesel engine oil. The grocery store we went to is called Tesco and it is like a Super Target, and very clean and nice inside and outside. There was also a section where you could buy foods in bulk. We are delighted to report that there was a big selection of heat and serve foods with English labels, however, most of the canned foods were labeled in Thai, so we didn't get many canned goods. BTW, prices for alcohol and cigarettes are much lower here with tax than in Langkawi duty free, so we should have stocked up here.
A friend of ours from home that had recently visited Thailand told us we needed to get a pancake from a street vendor. We were pretty disappointed with the pancakes we had gotten in the restaurants, but we saw a street vendor selling dessert pancakes and each got one only because we trust our friend's judgment on food. They turned out to be paratha bread filled with the sweet(s) of your choice. They were to die for good. We all got a second one.
In the evening we went to a show called FantaSea, which is billed as a Vegas style show. A van picked us up at 1830 (6:30 pm) and took us to up the coastal road, the same road we had taken with Jennifer and Koy to Patong. Beyond Patong there are a lot of big, fancy resorts lining the road. We were let out at the entrance to the park at 1930. Park? We thought we were going to a show! The area where you buy your tickets has elephant head columns and the ceiling is painted in a way that looks like it is from a Thai Disney cartoon. There is a pond with a waterfall and with statues in it that look like Thai Disney characters, including the Thai Little Mermaid.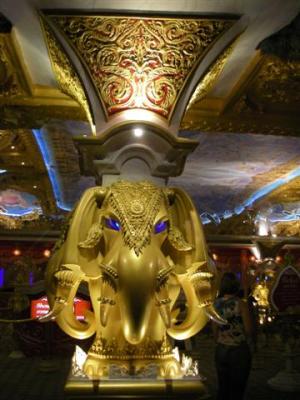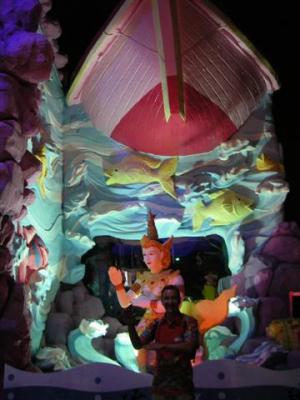 We entered into the park. There are neon signs everywhere. There were costumed characters and women in gowns and tiaras positioned around the park to greet you and take photos with you.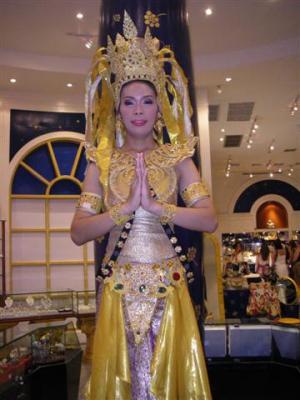 There are several buildings in the park. Each building has a theme, decorated inside and out with it. There is an arcade with carnival games where the entrance is a demon, just like the Goa Gajah temple in Bali, except with loud colors. The inside of the arcade is fish themed, painted a bright blue with fish figures hanging from the ceilings. Most of the other buildings are stores that connect to one another, all selling assorted goods with the FantaSea logo, just like at all the theme parks at home. Here is one of the storefronts.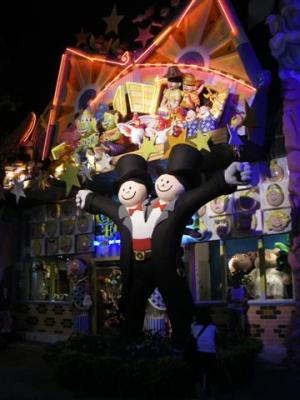 The bathroom has a bull décor, and the sinks are shaped like bulls.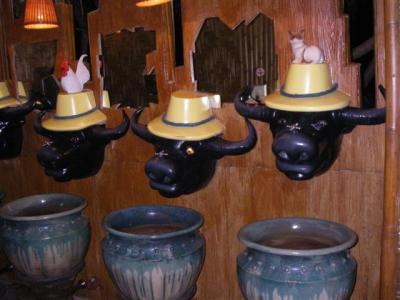 One of the stores sells high end merchandise, and that one is decorated with silver elephant heads and disco balls inside and out instead of cartoon characters like the rest of the buildings. The building the show is held in looks like a majestic Thai style castle. There were elephant rides around the park, a place where you could get your photo dressed as a Thai king and queen, and other hokey tourist stuff. There is a stage outside of the theater where a pre-show was going on, featuring a team great dancers in skimpy costumes. This must be where Vegas comes in.
We know we have been using the Disneyland analogy way too much over the last few weeks, but we swear this is the most fitting of them all. Seriously, looking at the pictures, wouldn't you swear you were at Thai Disney?
The show didn't start until 2100 (9:00 pm), so we had lots of time to look around and grab some food. The food was terrible. See, just like Disneyland! As we entered the theater, our bag was searched and camera confiscated. Once you no longer had a camera in hand, you turned a corner and the real bling bling started. In the foyer were a team of performers that you could get your photo with for a fee. The costumes were even more ornate than the people outside were wearing, with lots of sequence. There were several elephants with hats and blankets that lit up. This was promising to be way over the top!
The show turned out to be a variety show. Most of the acts were singing and dancing. One was the classic story of girl walking along alone on a dark and rainy night, getting kidnapped and falling in love with the man who saves her. There were some dances of the Thai royalty. There were some dances of the Thai peasants. One of the peasant dances had two men sitting on the floor facing each other, holding two thick bamboo poles, one in each hand. They moved the poles up and down and left and right in unison, sometimes smacking the poles together, and the dancers moved there feet in and out of the moving poles. The Borneo Fire Dancers we had seen in Singapore had done the same dance. The traditional Thai dancing we had seen the other night at dinner only vaguely resembled what we were seeing on stage. This was Thai dancing on steroids with some Vegas moves tossed in for good measure.
In addition to dancing, there was a magic show, a trapeze act that was pretty darn impressive, and an elephant show with 18 elephants all doing coordinated tricks and poses. Over the top doesn't do the show justice. We all liked it, though we certainly would never call it a Thai cultural experience. It is definitely a Hollywood experience conveniently located in Thailand. [47]