As planned, this morning we rolled out of bed and pulled up anchor, heading back to Port Blair to check out. We had smooth seas and arrived a little before 1000. When we got to shore, the same cab driver was waiting. We negotiated an "all day" price, then asked him how many hours "all day" included. In his mind "all day" is 4 hours. We wish we had thought to ask about hours last time he picked us up. It would have saved us all from an uncomfortable situation at the end of the day.
We were at the Port Captain's office by 1030 to check out. Check out was slow but easy, with fees running about USD$15. Stop two was Customs. No one was around, but just as we were leaving someone appeared and went and got the customs supervisor for us. Check out was easy and only took a few minutes. We were on a roll! We got to Immigration, where they told us to make copies of a certain form and that they would meet us at the jetty at 1700 (5:30pm). Hmmm"¦. Maybe the roll had just ended.
From there we got lunch at Annapurna. This time we all tried Thalis, which are set meals. Within a minute or two of ordering, we each got a plate with a cracker, two tortilla style rotis, and several little silver cups filled with assorted foods.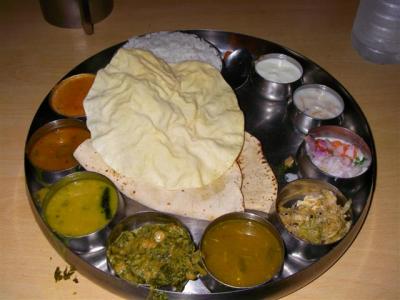 Most of the dishes in the cups were similar to ones we have tried before, but there were a few new ones. Unfortunately, we have no names. There was some sort of dhal (curried lentil) dish that was really delicious. It has mustard, onion, and green chili in it. There was a second kind of dhal, as well, with heavy cumin that wasn't very good. There was a salted curd and rice dish that was disgusting. Eric and Mike got a dish of plain curds, which is kind of like plain yogurt. Eric likes eating the plain curds with the spicier dishes to help cut the spice. There was a cabbage dish with mustard seeds that looks like sauerkraut, but tastes totally different. It is lightly spiced. There was a bowl kind of reminiscent of a hot salsa fresca, with chopped tomatoes, onions, and green chilies in a white soupy sauce. There was a dish that had the color and consistency of brown gravy, but with a strong cinnamon, cloves and curry taste to it. There was a clear soup with a strong garlic taste.
After lunch, we stopped by the painfully slow internet café, and then went to the bazaar to pick up some fruit and other last minute items. The bazaar is basically a big farmer's market similar to what we have seen in most of the world. While at the bazaar, we picked up some desserts.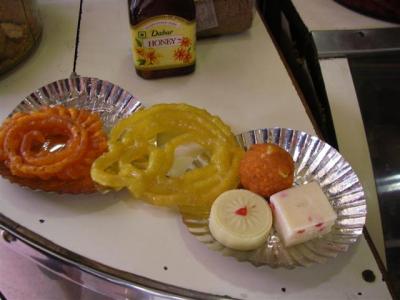 The white ones taste like sweetened curd. The other three are deep fried in a heavy oil. The orange round one is nutty, and the two stringy ones are sickeningly sweet. None of us liked the fried ones, finding them much too oily.
As we were heading back to Kosmos to unload our gear, we met some cruisers who had been in Port Blair for four days and had not yet completed check in. They have been waiting on Customs all this time. We had met another cruising couple at the Port Captain's office who had been asked for a bribe by the customs guys. We guess we have been pretty darn lucky.
Eric and Mike went to the jetty to wait for immigration at 1700 (5:00pm). We were all very worried that they wouldn't show up and we wouldn't be able to leave until tomorrow. We needed to leave today to arrive in Male next Friday. Chances are a country as small as the Maldives doesn't offer check in on the weekends. Thankfully, immigration arrived at 1830, just when Eric and Mike were getting convinced that they wouldn't show. They took our passports and ran off to a car. Eric and Mike freaked out, worried about where they were going with the passports. It turned out they just needed a place to sit down and fill out the paperwork. It only took a couple minutes to complete.
Clearance in hand, we pulled up anchor at 1930 and were on our way. The moon had not yet risen and it was pitch black, which made navigating out a little scary. We followed the same line out that we took in. We are happy to report so far the winds are light and the seas are calm and smooth.