When we got up in the morning, the wind still hadn't changed. We didn't even contemplate re-anchoring in another spot for a couple of reasons. One, we wanted to check out and we needed to be here to do so, and two, if we were to move, we would probably have to pay that $500 fee. At least staying here we may be able to get out of it.
We bit the bullet and got to work on getting ready for sea, despite the rocking. We had originally planned to leave today, but it wasn't going to happen. There was too much to do between getting the boat ready and errands. Plus, the wind was coming from wrong direction, so it would be a rough ride. The weather forecast still said nice weather with occasional localized storms, so hopefully by tomorrow this crazy "localized storm" will have cleared up and it'll be a nicer ride.
By late morning, the winds calmed down to the low teens, but it was still rollier than we are comfortable in. Claire from Fafner came over and changed the navigation light for us. She is a brave (or maybe crazy) girl, climbing up there in less than ideal conditions. We thought changing the light bulb would be easy, but it turned out to be something of a puzzle box getting the cover off. After sitting up there in the rocking for a long time and after lot of tries with assorted tools, Claire finally located the hidden magic screw that held the cover in place. The light bulb was quickly changed and the cover replaced. Thank you Claire!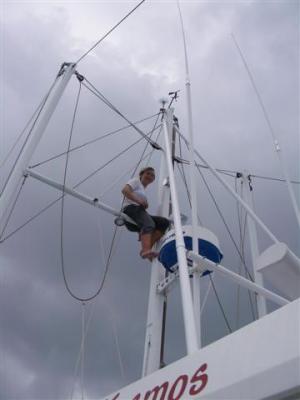 In the afternoon, Claire and Jeff went to shore. Since Alex and Karen were staying behind, they offered to give us a ride. Even with the calmer winds, the seas were rough. Our first stop was an Internet café we heard had a fast connection, called Shell. They served food, but it was mostly pre-made food, such as pizza and lasagna, that they re-warmed. The food wasn't very good, but the connection speed was. Eric worked on posting blogs while Christi went to a few grocery stores, the bakery, and made a few other miscellaneous stops.
Leaving the café, Christi had noticed a lot of chairs set up in the park by the government building. Later, she saw a marching band walking down the street. Still later, she could hear marching band music and saw a crowd of people surrounding the chairs that had been set up. It couldn't have been too big an event, because school was still in session and most people went about their business and ignored the happenings in the park. But we were curious, so we went to watch for a while. From what we could surmise, it looks like it may have been some kind of competition between three different marching bands, or maybe just an exhibition by all the local marching bands. The bands were all good.
With all four of us having completed our to-do list, we headed back to our respective boats for the night.
On a side note, we have neglected to comment on the style of dress. With the exception of a handful of old men in traditional skirts, all the men wear western style clothing, mostly pants and short sleeve shirts. About 50% of the women wear head coverings and a loose fitting (though still figure flattering) long sleeve blouse that generally covers the rear end, along with long pants or a long skirt. The other 50% of the women do not wear a head cover and wear short sleeve tops with long or Capri style pants. Most people are fashionably dressed. The westerners are all in the latest trends, and the traditional Muslim outfits are usually very attractive fabrics, with matching head scarves pinned with decorative brooches.
Also of note, we see tons of women on the ferry every time we ride it, but we are not sure where they vanish to after they get off. It seems like most of the people walking around are men. It also seems that a big percentage of the people around are in their late teens to mid-thirties. Maybe people here just age incredibly well and look young, but this seems to be a very young society overall. [74]