Yesterday morning, we saw a pod of dolphins playing at the bow. There were only 5 or 6 and they didn't stay long, just a couple of minutes. They were tiny little guys, the smallest dolphins we have ever seen.
The waves were mildly uncomfortable in the early hours of the morning, and as the day progressed, the waves got bigger and bigger. By the afternoon it was definitely well into the "uncomfortable" category, not quite at "miserable", but close. Eric got sick. His body just doesn't do well in the lurching head seas. We had to lower the RPMs by 200 because we were just hitting the waves too hard at the higher speed. We were only doing 4.8 knots, abysmally slow for 1700 RPM.
Today the ride started off just a touch better than yesterday. In the afternoon, the sea ever so slowly continued to calm down, and by dark it was a fairly decent ride. We kicked the RPM back up to 1900 and speeds have been in the low 7's and high 6's all day long, not great speeds considering the RPM, but much better than the 4's. Fortunately, Eric is over his seasickness. Now that we are moving north, the days are getting longer. It is also getting cooler and less humid. All three things are a nice change of pace.
In other news, Eric made very clear contact with two of the boats in the net this morning, his best connection yet, though tonight he wasn't able to connect at all. We had the camel for dinner today. Unfortunately, Christi overcooked it, so it was tough, much the same as an overcooked steak. But the meat itself was quite good. Very similar to beef. The monkey guy is gone, but unfortunately, there are several other guys using the radio as toys in his place. While still terribly annoying, all of them combined aren't as bad as the monkey guy.
The Gulf of Aden/Red Sea run certainly has been a smorgasbord of sea conditions. We've had head winds, tail winds and beam winds (during the transition periods). We have had big seas, calm seas, and confused seas from all three directions. That's 9 different kinds of sea conditions in only the first 8 days. We have never had conditions change so often or as fast as on this passage. And don't forget about the crazy currents both with us and against us, fear of pirates, and a busy, narrow shipping channel that were also on the buffet table. It has kept us on our toes, that is for sure. We will be very glad when we pull in.
And on to a blog request:
Q: We'd like to see photos of the souvenirs you have bought in various places.
A: We are bad tourists in that we don't buy a lot of souvenirs. We just try to take tons of photos as our keepsakes. But we have gotten a few things along the way.
The first photo is of a t-shirt featuring a whale in traditional Polynesian artistic style. With it are a hand carved turtle, and a wooden club hand carved to depict images of two of the ancestors they used to worship pre-Christianity, both also in the style of traditional Polynesian carvings. We found similar items in French Polynesia. The quality is noticeably better in French Polynesia, but the prices are also much, much higher.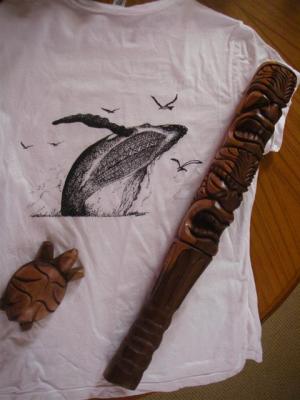 Here is a photo of the sea shell bracelets we bought in Waya, Fiji.
This scarf made in the village of Boti on Timor Island, Indonesia . They grew the cotton, spun it into thread, and hand made the dyes, as well as hand weaving the fabric.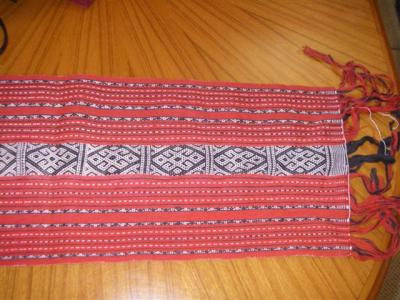 The shirt Eric is wearing in this photo was made in Bali, Indonesia at the Bali Bidadari Batik using a complex dyeing process called batik.
The basket collapses completely flat, so we can easily stow it away when not in use. We got it in Bali, Indonesia. And, as you can see, it perfectly matches the teak on Kosmos. The cup inside it is a frankincense burner, and the small opaque crystals in the cup are frankincense. We got the frankincense & burner in the souq in Salalah, Oman.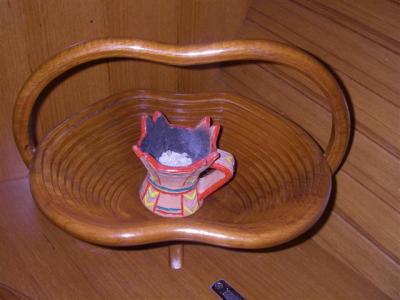 This is the Chinese style embroidered top that Christi got in Hong Kong, where she was surprised to find she was an extra large size person.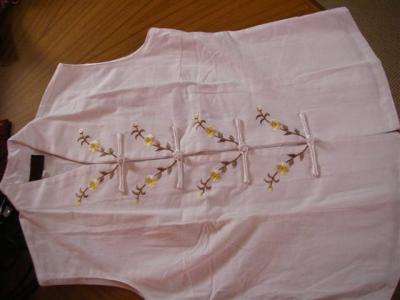 [100-101]