Yesterday we were going to go to Cairo and do more sightseeing, but when it came time to actually get out of bed, we opted for a day at home, instead. Christi spent the day cooking up all the produce, doubting it would last through this next passage. Eric changed the fuel transfer filter and the forward and aft fuel filters on the main engine. He also drained the sump on the fuel supply tank and didn't find any water. Yay! The fuel we got in Ghalib was good.
We did go into town for dinner, determined to find this fabulous restaurant we had been told about (and still can't remember the name of). We lucked out and found a local that works with the yacht club who was on his way home, and he agreed to drop us off there. Good thing, because when all is said and done, we would have never, ever found it. Here is a picture of the exterior. What is funny is that the grill they cook on is literally across the street, and they run the grilled food inside as it is ready. Hopefully, one of our readers speaks Arabic and can tell us the name of the restaurant.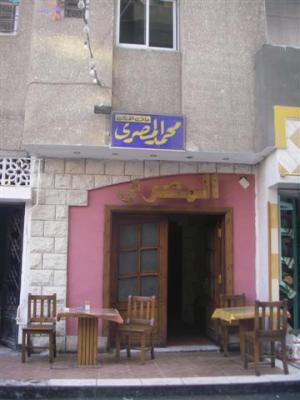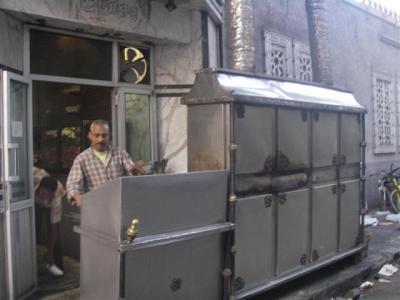 We walked in. Most of the tables were occupied. Everyone in the entire restaurant stared at us for a long time after we sat down. We ordered a couple shish kabob plates. When the food came, we were surprised by how much food there was. We each got a small green salad in a spicy vinaigrette, a generous plate of grilled meat on chopped greens, and a small dish of white liquid that we assumed was the sauce for the meat. In the center of the table they put down a dish of boiled potatoes with flavorful seasoning, a pureed mixed veggie dish along the lines of baba ghanoush, and a huge pile of pita bread. The food was incredibly good, especially the meat. We think it was a mix of two meats, possibly beef and lamb. The seasoning was delicious and it was grilled to perfection. It didn't need any sauce that is for sure. The whole feast came to $8.00. And we got the impression this is a higher end restaurant.
After dinner, we stopped by an Internet café we had seen yesterday. The connection is high speed and really good. The fee is USD 0.25 an hour.
This is probably a good time to share some thoughts on traveling in Egypt. Normally, when we arrive in a country, we have done some research into what there is to do, but have not made any formal arrangements. Upon arrival, we get more information from locals and other cruisers, and then set up an itinerary. This has worked great everywhere we have been except for Egypt. That strategy really backfired on us here. If we come back to Egypt, we will plan a detailed trip in advance, including itinerary, transport, hotel, private tour guide, etc. We know now that you can get much better prices, and much less overall logistical hassles, with advanced planning.
So, considering how much hassling we got, was it really worth the visit? Honestly, Egypt is not on our list of favorite places visited, mostly because of the feeling so many people were out to screw us over. The logistical problems with things like transportation and getting our bag back didn't help matters. But, we have to say that yes, the trip here was definitely worth it, and we would consider coming back to see the things we didn't get a chance to see this time around. The ruins are absolutely amazing. Studying them in school pales in comparison to seeing them up close. The culture is interesting and we would have liked to meet more locals. We think if we were to go back, we'd have an easier time dealing with the harassers now that we are a little wiser, understand the culture better, and have a better comprehension of what items should really cost. We also would make more of an effort to learn some Arabic, which will help give the façade of not being a gullible tourist.