We thought it would be fun to have another contest. Do you remember What is in the Bottles? The winner will get a small souvenir from Greece as a prize. Since we didn't come up with this contest idea until we were already checked out of Egypt, we couldn't get an Egyptian prize, so a Greek one will have to do.
Here are the rules:
1. One guess per person.
2. Post all answers in "comments" on this blog post.
3. First person to post correct answer wins the prize. We will get your address through e-mail.
Instead of bottles, we noticed some boxes. There are several clusters of these boxes up and down the Suez Canal. What are they? Be as specific as possible.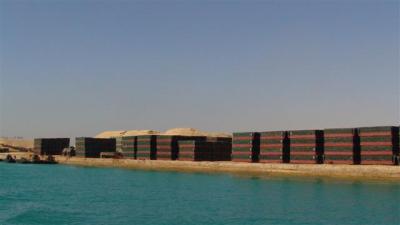 Here is a larger version of the picture.