Yesterday Christi gave Kosmos a really good scrub down. Then she scrubbed all the canvas window covers, which was a long overdue project. The canvas covers were gleaming white when they were new, but somewhere along the way they turned brown. After vigorous scrubbing, they are now a nice shade of off white. Then she cleaned all the windows inside and out. Finally, she resumed the metal polishing project, tackling the stubborn rust stains that wouldn't come off before, but she only got about ½ way done before she decided she had done enough work for one day.
Eric, meanwhile, got the boat ready to be left for a few weeks, which entails a very long check list of things. We are heading back to San Diego yet again. No need to panic, this time there is no emergency. Eric is has a project at work that has to be done in person instead of remotely, so his work is flying us home so he can do this project. We are not very excited about yet another deviation from our boat journey, especially so soon, but it will be nice to wrap up some more loose ends with life at home that we didn't get to last time, and also nice to see family and friends. BTW, Eric's mom has responded incredibly well to the chemo and continues to steadily improve. She is also suffering surprisingly few side effects to the chemo compared to Christi's mom.
This morning we were up at 0330 to get ready to go. The taxi picked us up at 0500. We landed at the Athens airport at 0600, and were back in Syntagma square by 1000. We actually don't go back to San Diego until tomorrow. Today's plan was to do some more sightseeing in Athens. We decided we were too tired from being up so early to do any serious sight seeing. We walked around town a bit. We had an early dinner at a cute little café and went to bed early.
On to random comments"¦ While in Greece, we have stocked up on several prescription medications, including allergy medicine, antibiotics, steroids, and so forth. Greece is a first world country with excellent first world health care. None of the medicines we needed requires a prescription in Greece. You can get them all over the counter. All of the medications were significantly cheaper than in the USA, somewhere between 1/10 to ½ the cost of what we pay at home. And they are the exact same brands.
And, on another totally random topic"¦ we saw this sign in a storefront in Athens that shocked us. We hadn't realized that we are now famous all over Greece! Except that they have slightly exaggerated the size of our boat"¦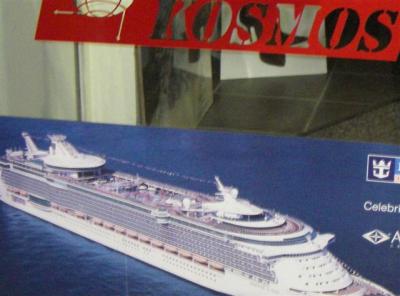 Ok, we have to admit they were two separate ads that happened to be one on top of the other Kosmos rent a car and a cruise ship line.