Today was a busy day! As you may recall, we have an obnoxious squeak on the port (left) stabilizer and a leak that has gone from slight to more serious on the starboard (right) side. The necessary parts arrived this morning, and by 1000 the repair guys were working away. They started on the starboard side. The leak was coming from the seal on the cylinder, and it was possible that the locking pin could be leaking, too. They put in a new cylinder and locking pin. For the starboard stabilizer, they took it apart to grease all the inner workings, and also changed the cylinder. It turned out to be a bigger job than anticipated, taking 8+ hours and a trip back to the shop to use their hydraulic press to fix a component on the cylinder. The work could have been done in the water, but it was much, much easier for them to do it out of the water. We can't imagine how they would even do it when the boat is in the water.
We were already impressed with ABT's responsiveness to our issues diagnosing the problem over the phone, finding a repair shop, and shipping over the parts needed for the repair. We were happy with the quality of the work that the guys they sent over to us did. They knew what they were doing. But we were most impressed that the whole thing was covered under warranty. We expected to be told this and that are covered, but the majority of the costs have to come out of your pocket. But that wasn't the case. We didn't pay a penny.
Eric cleared the out the oily bilge pads, put away all stuff in engine room that had to be unpacked for our work in dry dock, re-packed the lazarette that had to be cleared out for the passarelle installation, made lines from the passarelle to the boom to make the pasarrelle more secure, put new straps on the dinghy that we had brought back from America (the metal pieces on the old straps were rusty and we were dubious about how much longer they would hold), changed the ABT hydraulic filter, filled up the oil in the stabilizers, and added air in the steering hydraulics.
This morning Christi opened up the cabinet under the sink to put something away, and noticed it was wet in there. Sigh. We checked, and yes, the sink was leaking. It turned out that a connection was loose, and it was an easy, two minute fix. For those of you who are unfamiliar with the layout of a Nordhavn 43, the cabinet under the sink is enormous, but difficult to get at. We had it crammed full of stuff, and Christi envisioned everything in there being a mold covered mess. After pulling everything out, she had an unexpected surprise. At the bottom of everything was a rolled up mat, intended for picnics. The mat had absorbed all the water, and nothing else was wet or moldy! The mat was mold city and went in the trash.
Pulling everything out of the cabinet inspired the time consuming task of re-organizing some of the storage spaces. It is an unrewarding job because once you close the cabinets, no one can tell anything had been moved around. It seems like on a boat you are constantly having to shuffle things within the storage spaces. At home, you think nothing of taking something out of a storage spot. But on a boat, everything within the storage spaces has to be secure, and that spot needs to be filled to keep the other things from sliding around.
For lunch today we tried another new food. We aren't sure of the name, but it is a thin yogurt soup with shredded cucumber, dill and some other seasonings we couldn't identify. It is served cold. It has a strong natural yogurt taste, which is kind of bitter. You can definitely taste the seasonings, though. Eric liked it, Christi thought it was too bitter.
For dinner, we went to a nice restaurant on the water. Christi had an unusual craving for a hamburger. It wasn't on the menu, but when we asked, they said they did have hamburgers. Out came the smallest and thinnest hamburger patty we have ever seen in our lives. We both burst out laughing when we saw it. That's what we get for ordering something not on the menu! It tasted fine, but sadly, it was $9.00 USD and didn't even come with fries. And, since we are sure you are wondering, Eric's meal was quite large.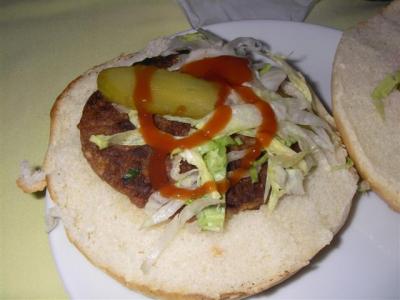 We have found that standard Turkish salads are similar to Greek salads, with tomato, cucumber, onion, oil, and lemon juice. The major difference between the two is that Turkish salads come with parsley instead of feta. We have also ordered several green salads over the last few days and we have noticed that salads all have a lot of parsley. Like as much parsley as lettuce sometimes. It gives the salads a strong flavor.
After dinner, we went to a bakery and got some real Turkish delight for dessert. No commentary on its looks, please. It is a chewy, sweet apricot concoction with walnuts, rolled in coconut. The texture of the apricot is almost like soft gummi candy. It is very sweet. The apricot taste is muted, dominated by the walnut flavor. Christi seems to remember the boxed Turkish delight geared at tourists as having less nuts.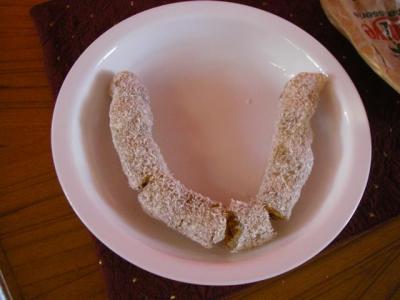 Speaking of desserts, in Izmir we tried a dessert that we forgot to mention. We don't know the name. When we saw it, we thought it was a square of coffee ice cream. We were surprised when we realized it wasn't a dairy product at all, but a light, baked peanut something or other. The texture is different from anything we have ever eaten before, sort of dry and crumbly. It is not particularly sweet. Eric liked it, Christi didn't.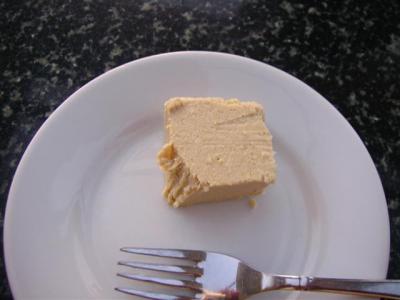 Also in the dessert category, we have seen, but not tried, some new ice cream flavors, including honey & almond, black mulberry, tangerine, and sesame paste. We should have been adventurous and tried the new ice cream flavors, but we are addicted to waffles now.
Also worth noting are food prices. Just like everywhere in the world, food is more expensive in restaurants geared at tourists than restaurants geared at locals. Prices for food are literally 10 times (or more) higher for tourists. We expect that. What has shocked us are the charges for beverages. Soda in a restaurant is generally served in 6 ounce glasses and often runs USD$4.00 – $4.50, with no refills. A 16 ounce bottle of water is usually USD$3.00 or more. In restaurants geared at locals, the beverages are cheaper, but still disproportionately expensive compared to the food prices. Also worth noting is that restaurants geared at locals bring you a complimentary cup of tea after you are done with your meal, but the tourists places do not.