This morning lights from Las Palmas first became visible at 0200. The lights gradually grew bigger and brighter, and by 0600, we could see the clearly see the glowing up ahead, illuminating the dark morning. We had another nice sunrise this morning, pictured below.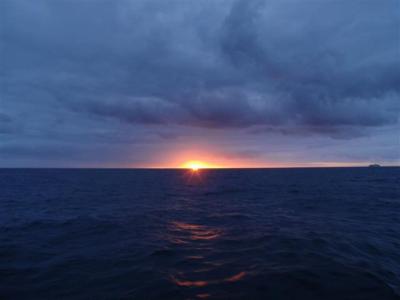 We pulled into the bay around 0830 on our clock, 0730 on the new local time, just as the sun was starting to come up. Like Mallorca, the waves were big and rough until the second we were around the corner of the breakwater into the protected water. From what we could tell on our way in, Las Palmas looks like your typical modern city. Most buildings look to be modern, blocky mid to hi rise towers. The morning was gray and gloomy, and rain looked imminent. The bay is definitely geared at commercial shipping. In the bay there looks to be some kind of barge that off loads container ships.
We called the marina on the radio when we entered the bay. They said they had space available and to tie up somewhere until we could check in at 0900. Finding a place to tie up was easier said than done. There were boats rafted together at the hospitality dock. There were boats tied up at the fuel dock. We were tempted to pull into an empty med moor slip, but we resisted and eventually found an end tie spot to tie up to temporarily.
Even though we had 45 minutes until the office opened, Eric decided to walk over there as soon as we tied up. This turned out to be a very good plan. One, it turned out to be an unbelievably long walk to the marina office. Two, there was a herd of people waiting to check in, most of whom arrived a few minutes after Eric, so he didn't have to wait in a long line. Check in was quick, and since we are still in the EU, no visits to officials of any sort to check into the country was needed. And, the marina staff even gave him a ride back on their dinghy.
There were several floating docks that were completely empty where all the ARC boats were yesterday. Literally, at 0900 almost on the button, a conga line of boats came out of nowhere and started tying up to one particular dock on the north side of the marina. By the time Eric was back from check in at 0930, there were only a few spots left. We had been directed to the same dock, so we untied from our temporary spot and got in line. Literally, once the boat ahead of us had backed in and started tying up, we were backing in right next to them. And the minute we started tying up, the next boat in line backed in next to us. There were two marina workers making their way down the dock, helping each boat in turn. The workers made sure we were packed in like sardines, literally touching the boats on both sides of us. We aren't sure why the marina wouldn't let people tie up yesterday after the ARC boats left. We never asked.
We had been happy to see floating docks, and were even more happy when we found out we had two mooring lines. But for some reason, we couldn't get one of the lines on. Eric was baffled at first, then figured out there was something wrong with the rope down at water level. One of the neighbors had his dinghy down, and Eric asked him to help us out and fix the line, which he graciously did. A few minutes later, we were properly moored on both sides.
We have actually finally gotten the hang of med mooring. It is a standard routine now, and we can do it reasonably fast and efficiently. No, were not pros, but we're finally at least doing OK. Even so, it takes a long time to get the ropes situated just right so that the boat is the right distance from shore for the passarelle to reach. And it takes a while to get the passarelle set up.
Once we had settled in, we realized the parade of boats really weren't coming out of nowhere. Many had been tied to inappropriate places around the marina, such as the previously mentioned fuel dock and courtesy dock. And many more were coming from the small anchorage directly north of the marina. We could see the anchorage was packed, and that was after a couple dozen boats had already left it. We are now glad we got held up in Gibraltar. We would have been nervous wrecks all the time in such a crowded anchorage.
This is a friendly place. Lots of people came by to say hi. We haven't been to such a friendly community of boaters in a long, long time. We are even tied up near another couple from San Diego.
Once Kosmos was properly situated, we went in search of a restaurant. It was only 1030, so we weren't sure what we would find. In Mallorca we had seen quite a few restaurants open for breakfast and we were hoping to find a breakfast place here, as well. It is a long walk to the closest marina exit, which is conveniently located next to the bathrooms. These bathrooms aren't all that nice.
We were surprised when we exited the marina to find we were on a major highway. We walked north past the beach and anchorage until we got to a traffic light that would take us over to the other side of the highway, where all the business looked to be. Here is a photo of each side of the street, near the traffic light. You can see the anchorage in the middle and the marina in the background.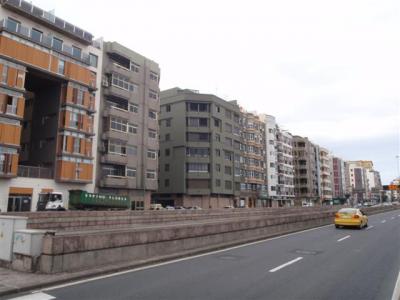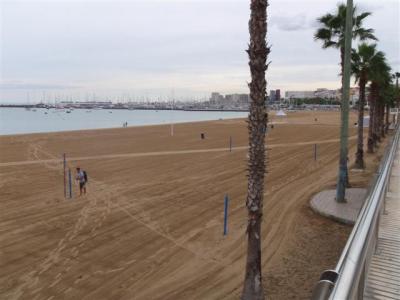 We wandered around the neighborhood aimlessly, with no clue what direction we should be going to get to the city center. This area is mostly residential apartment buildings, with only a few retail stores on the first floors. We saw a couple bars that looked like they only serve beverages, a couple restaurants that weren't open yet, and an erotic bakery. We went into the bakery. As much as Eric loves bakery treats, especially for breakfast, he said he didn't think he wanted any from here.
We eventually gave up on the directionless search and went back to the marina, where Eric had seen a couple restaurants open. Both were only serving cold sandwiches at the moment. We settled in at the nicer looking place and had surprisingly tasty chicken salad sandwiches.
After lunch we headed back to Kosmos to start getting ready for Colin's arrival. Usually we don't do anything at all the day we arrive from a passage, but since he was flying in today, we needed to make an effort. Eric quickly rinsed the boat. Christi changed the sheets on the forward bed and began tiding. After only 20 minutes, we decided we were too tired to do any more. He'd have to live with it messy.
It turns out we wouldn't have gotten much more done before his arrival, anyway, because he arrived sooner than we expected. We spent a few hours getting to know each other, then went for a late lunch at the same restaurant. It turns out the water pump we ordered got held up in customs for a few days. He got a notice late yesterday saying they wouldn't release the package until the $75 USD import duty was paid, and he could come and pay it this morning at the post office. Of course, his flight was early in the morning, well before the post office opened. Fortunately, the pump Colin had arranged to be hand delivered arrived according to plan. We are so thankful that Colin took the initiative to get us that pump. We could live with the one we have, but the 5.7 is so much better. Christi was having a hard time getting the shampoo out of her hair from the lack of water pressure with the 4.0.
It never did rain, but the gray and threatening clouds lingered all day.