We woke up pleased to see that the day was mostly sunny with scattered clouds. The wind wasn't as strong and it was and noticeably warmer than yesterday. Good news! Here is sunrise in the marina.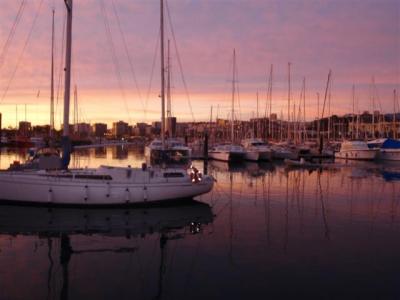 At 0800, we pulled out of our slip and headed to the fuel dock to top off. A big, custom passagemaker power boat and a small sailboat, both American flagged, had just beat us to the dock. The passagemaker was loading up with fuel for their crossing and would be there for a long time. Fortunately, they let us raft up next to them. The hose was long enough to reach our boat. We only took 1200 liters, but it took a long time because the pump wasn't very fast. We put in every last drop we could fit in there. Fuel was 74 Euro cents a liter ($3.91 USD a gallon). We always put biocide into the fuel, and this time we also added Stanadyne fuel conditioner, as well. We brought the Stanadyne from San Diego and have been dragging it all around the world with us, only using it for the three big ocean crossings and after our Egypt fueling where the fuel was going to be sitting for a long time. Here is a shot of the marina from the fuel dock.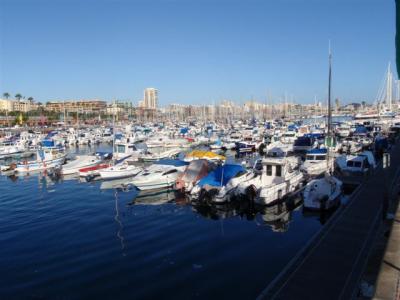 After we were done fueling, we headed over to the anchorage so Christi could clean the bottom. Despite the fact that the water in the marina is crystal clear with lots of schools of small fish swimming around, she refuses to get in the water in the marina. Since the water here isn't nearly as warm as in the tropics, she covered every inch of her body for warmth, and even put on two hoods.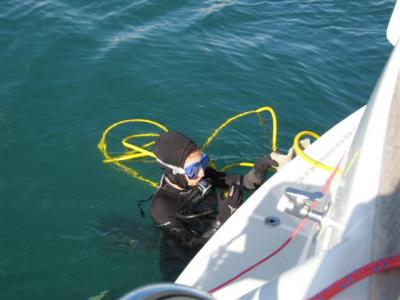 The waterline has a layer of green algae growth on the strip of bottom paint that sticks out above the waterline when we are not weighed down by fuel/water. In the front it came off reasonably easy, but in back it is thicker growth and stuck on like glue. She focused on the front since the back isn't going to adversely affect our speed as much as the front will. The bottom looked pretty good, with a thin layer of brown slime in some spots that came off easily. The propellers and keel coolers were covered in growth. Most of it is the wormy shaped growth, with not that many round barnacles. Sigh. Christi thoroughly scraped the areas that really mattered, such as the propeller blades and between the metal ridges on the coolers. She decided not to worry too much about areas like the propeller shaft and the outside of the keel coolers. She was down for about 1 ½ hours. The current had really picked up and she was too tired to keep fighting the current that was getting stronger and stronger. Plus her arms were tired and she was getting cold. Figuring that it was a "good enough" cleaning, she called it quits.
We pulled back into the marina. Boats have been leaving every day, and now it is fairly empty in the marina. We picked a wide spot where no one was close to us on either side. Once we were tied up, we went to lunch at a tapas bar at the opposite end of the marina. We had some good stuff. We tried bravea, small round potatoes quartered and deep fried like French fries. They were topped with two sauces, one called mojo that was slightly spicy and a more traditional aioli. The two mixed together were fabulous. We also tried octopus "dani" style, which was marinated octopus and shrimp served cold with heavily seasoned chopped tomatoes. We got an avocado salad, which turned out to be pieces of avocado covered with the same chopped and seasoned tomato. Probably the best dish of the bunch were pork strips with cooked apples in a sweet, almost syrupy sauce that was to die for good. The apples in the sauce was like a dessert. The pork was probably oven baked, though it is possible it was pan fried. We noticed that they have a pig leg on the bar, too, though this one isn't in as plain a view as the other two places we have seen them. What is up with these pig legs? Is this some kind of Canary Islands specialty ham product?
After lunch it was back to the grind. Eric did notice the tiniest of leaks on the cam shaft vent on the main engine and realized it was a broken O ring, probably broken in Malta while the valves were being adjusted. The men ran to the store to pick up and O ring and five minutes later it was changed. They also cleaned the anti-siphon valves that stop water from coming into the toilets from outside. They squeak at sea, and Eric thought cleaning them might stop the squeaking.
Christi did more cleaning. Something that we have forgotten to mention before is that we get lime deposits on all the indoor metals, probably from the salt and moisture in the air. Christi's project de jour was polishing the indoor metals.
We went to dinner at a restaurant in the marina complex that we have already eaten at several times now. We hadn't noticed a pig leg there, but this time we had our eyes peeled. And there it was, discreetly tucked in a corner of the bar. We have had the same waiter a few times now, and he has come to be quite friendly. So we asked him what the deal with the pig leg is and he explained it is Iberian Ham. He said it is a standard food in all of Spain and the whole leg is how it is always comes. Hmmm, so is what makes this ham so special that it comes as a whole leg?
So, onto the food"¦ All olives taste different depending on how what they are cured in. Most are cured in some kind of brine solution, are salty, and have a distinct olivy taste. Tonight we tried the most different olives we have ever had. The olivy taste was incredibly light, there was zero bitterness, zero saltiness, and it was made with a mix of seasonings that aren't normally used in olives. We suspect that if you were blindfolded, you wouldn't identify the food as an olive.
We ordered a squid appetizer. Octopus came out. Fortunately, we like octopus as much as squid and it was excellent. Christi ordered fiduea, a vegetarian pasta. It was served like paella, in a deep dish pizza pan with the vegetables decorating the top. It was an angel hair pasta in an Asian stir fry sauce with stir fried veggies. Eric got duck. It was a huge piece and very tender. Colin was disappointed with his dinner. He ordered steak, which turned out to be a small piece served with French fries, which was kind of low brow for such an upscale place. We tried a local brand of wine made in nearby island of Lanzarote called Malvasia. We got a glass of both a sweet and a dry white wine that were excellent. Colin got a bottle of red wine from northern Spain called Vina Ardanza that was so lovely that we ordered another half bottle so we could all have some. Eric tried a unique dessert called a Dracula. It came in a glass. There was a layer of pureed berries at the bottom, a layer of cola with chopped ice, and a thick layer of whipped cream, with Pop Rocks sprinkled all over the cream.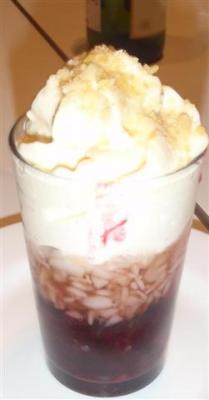 Eric loved it, probably mostly because of the Pop Rocks Oh, the childhood memories Pop Rocks brings.