Continued from yesterday"¦ In our rest time between dives, they provided water. And nothing else. Once again, as expensive as the dive was, we were expecting some sort of lunch. Not getting lunch was surprising enough, but the fact that they had no snacks at all, not even cheapo crackers, was a surprise. We have never gone with a dive company that didn't provide you with crackers or cookies or fruit or something to snack on in between dives. Since we had gotten such a huge workout in the water, we were starving and seething about leaving our snacks in the car.
It was quite windy and the bay was full of whitecaps and choppy wind waves. We noticed the sailboats in the anchorage had virtually no shelter and were moving like crazy. Our cruising guide says that it is oftentimes significantly windier in the bay than it is out of the bay, which is one of the reasons why we had no interest in bringing Kosmos up here. On our drive the other day we had noticed more wind here than on the rest of the island.
The boat we were on also did quite a bit of moving, which we found interesting. People keep telling us that catamarans don't roll, but we don't think the motion is too different from Kosmos' motion in similar conditions. We are sure that if people with a propensity for motion sickness were aboard, they would be miserable. Here is a picture of Deshaies from the water.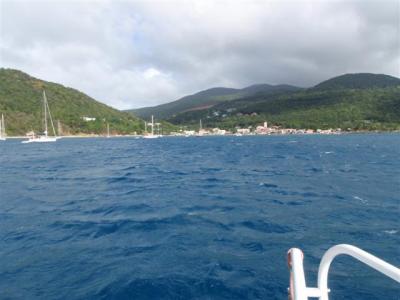 The second dive spot was better, but the second dive as worse. First of all, we were both hungry, so which is a bad way to start a dive. Once again, we got no briefing about what to expect down there, were just told to stay with him no matter what. This time we were in a more solid reef, so we did get to see scenery the whole time, instead of only sand half the time. However, the current had seriously picked up some more, and just continued to get worse the entire time. Once again, we swam perpendicular to the current the whole way. We only went down to 35 feet for a couple minutes, spending most of our time at 20 feet. We turned around when Christi was halfway out of air. By this time, the current was so strong that she was swimming flat out as hard as she could to try to keep up with the guide. As hard as she swam, she just couldn't keep up with him. And he was not slowing down for her. In swimming so had, she was sucking air like crazy.
When she was at 500 bar, she signaled she was out of air. Eric came by and held her hand, wanting to be close in case buddy breathing was needed. She was almost at zero bar when Eric decided we should go up. We had no idea where we were. It turned out we were just a few hundred yards from the boat, an easy swim in. The guide came up and insisted we all go back down and do a safety stop. We were annoyed. A safety stop after a 20 feet dive when one of us is out of air? Our watch said no safety stop needed. Being as we couldn't communicate with him, arguing was futile, so we went back down to appease him. Christi stared at her empty gauge, wondering when the air would run out. As soon as he signaled, Christi shot up and swam to the boat. She then got a long lecture from the dive guide about the importance of safety stops and slow ascents. Since he didn't think she understood what he was saying because of the language barrier, he went on and on and wouldn't let it go.
Of course, we were furious with them. We choose to dive with companies rather than on our own specifically to make sure we do not inadvertently get ourselves into a dangerous situation, including getting caught up in too strong of a current. How dare this guy take us into waters where we could have easily gotten into trouble? Christi couldn't keep that ridiculous pace up. If we had been a little farther away from the boat, she would have never been able to make it back. And they had no dinghy to come and save her should she float away. We have never been with a company that let us swim in such strong currents. Always in a current that strong we have done drift dives. And, actually, both spots would have made phenomenal drift dives. But, because they didn't bother to bring their dinghy with them, we had to do an unpleasant swim against the current instead of enjoying a leisurely and fun dive. Since they didn't bring their dinghy, why didn't they play it safe and take us to a more protected spot? We are guessing because they were too cheap to use the fuel to take us to someplace safer, just like they were too cheap to use fuel for the dinghy.
The dive company staff also pulled up three large, gorgeous conch shells up off the bottom, clearly intending to take them back to shore with us. The fact that they would do such a thing absolutely horrified us. Isn't their job to protect the site to keep it healthy and vibrant for their divers?
The worst dive company we have ever gone with was in the Andamans (there are two other companies there that are well reputed, we just got unlucky), but it was also one of the cheapest dives we have ever done, so we got what we paid for. This company wins two awards: second worst dive company of all time and the very worst value for the dollar. We paid top dollar for service and expertise and instead got low end service and zero expertise.
The ride back was definitely uncomfortable and wet in the turbulent conditions. We were scheduled to return at 1330 to the dive company, which would give us time to stop for lunch and make it back to the marina by 1530, when the car was due. Since we left so late, we didn't actually get back until 1430, and by the time we paid and got our stuff together, we barely had enough time to get the car back.
Eric pulled up in front of the gate to the dock, which is literally right next to the marina office. Christi quickly unloaded the SCUBA bags and sat down on the curb next to the bags while Eric went to park the car. The closest parking spot was at the other end of the lot. Once the car was parked, we'd bring the gear in together.
A man had been loitering in the parking lot, and as soon as Eric drove off, he started walking towards her, saying something to her in French. She responded that she didn't speak French. He repeated himself, and while talking, had walked up to her and leaned over a little to look down at her. Christi again responded that she didn't understand him. He started to speak again, and while speaking, reached out and grabbed her breast. For just an instant, she was stunned, thinking "Is this really happening?" Then instinct took over. She kicked the guy really hard and started screaming at the top of her lungs. The guy sauntered off like nothing had happened.
Of course, Christi was in no real danger, since she was in an area with a lot of pedestrian and car traffic, with the gate and marina office right there. He couldn't have done much more without being seen. But, at that moment, no one was around. Christi found a marina worker nearby and explained to him using visual demonstration that the man walking down the road had grabbed her breast. He seemed to understand, and went racing off towards the guy, hopefully to say something to him. Now Eric doesn't want Christi to ever go out alone.
Needless to say, we were both in a bad mood. We were tired, hungry, frustrated and aggravated from the day's events. And to make matters worse, we had missed lunch hour at the restaurants. At 1530, every single restaurant was closed. And we had no quick and easy food aboard. Darn. A nice big meal would have made both of us feel so much better.
We managed to find snacks aboard to tide us over and were at a restaurant in the marina complex literally the minute it opened. We are happy to report that we got the big, delicious and satisfying meal we were hoping for and it really did cheer us up and make the day seem better. We each ordered a pre-set menu. It came with an appetizer with pieces of smoked salmon and asparagus topped some kind of mousse that was not at all sweet and flavored with saffron. Very different, and quite good. Christi's main course was conch (a type of shellfish) cooked in a sauce that tasted similar to lobster bisque. The conch was tender, and not at all rubbery. Eric's main was two kinds of small lobsters, served whole. Fortunately, it was all pre-cracked so it was easy to eat. One lobster variety was good, but the other was phenomenal. It was sweeter than the sweetest Maine lobster we have had. The sides were awesome. Every one of them was a root of some sort. There were sweet potatoes, cut in wedges and fried like French fries; au gratin potatoes; yams that were done in duchess style, which are way better than ordinary duchess potatoes; and mashed manicot flavored with pineapple juice. The manicot was amazingly good. And for dessert we each got a slice of cake, but different flavors. Both were similar to a jelly roll. One was chocolate cake with a chocolate filling, and the other one was a white cake with a vanilla pudding filling. Both were served with orange sauce.