Yesterday we woke up feeling like zombies, not doubt still recovering from the strenuous swim the day before. Eric wasn't feeling the greatest and Christi felt downright awful. Neither of us felt like doing anything at all. If we hadn't already made plans, we would probably have spent the whole day watching movies.
However, we had invited a family on one of the nearby boats over for a visit in the afternoon. We had no choice but to clean and tidy for our guests. We washed the exterior and cleaned the interior. It seemed to take forever because we were moving slower than normal. We also managed to squeeze a nap in before they arrived.
We had a nice visit with the family. After they left, Christi put in a load of laundry. The washing machine was washing just fine while we were running the air conditioner. But it got cold inside, so we turned the air off. The washer freaked out in exactly the same way we have mentioned a couple times before. Eric turned the air back on and the washing machine went back to working fine. The mystery of the random washing machine freak outs is finally solved. The washer doesn't seem to like to run if the generator has a low load.
While the wash was going, Christi took another nap. By the end of the day, she was feeling better. Eric, on the other hand, continued to feel worse and worse as the day progressed. By 1930, it was clear that he was sick. He had a headache and a stomach ache and was all around miserable.
We got dinner at a restaurant in the marina. Since Eric wasn't feeling good, we got it to go. Eric ordered filet mignon of pork. It tasted like it was grilled on a charcoal barbecue and had a complex tasting mustard-vanilla sauce. There was actually only a hint of mustard taste, and an almost overwhelming vanilla taste, which Eric loved. It was an interesting compliment to the smoky, grilled flavor of the pork. Christi got a seafood fricassee, which was basically a mixed seafood stew served over rice. She didn't like hers at all.
Today Eric was feeling better, but neither of us was feeling top notch. Our big adventure of the day was to get lunch at a restaurant that came highly recommended as one of the best restaurants in the entire Caribbean. It is located on the waterfront close to Victory Square, which is supposed to be a safe area by day.
We took a bus to Victory Square, which is 3 kilometers straight north up the coastal road. The bus stop is located just a block or so from the marina complex, right in front of a small university. Sadly, the bus pulled away just as we were walking up, and we had to wait a half hour for another one. Our initial impression of this stretch of road the day we drove it in the car was that it was pretty scary. In looking at it more closely from the bus windows, we'd call it up and coming. In and amongst the shacks there were some new, nice developments, particularly closer to the marina. But, even with the nicer developments, it still isn't a street we'd feel comfortable walking down. The two pictures below are less than a block apart from one another. The second style of building is the dominant one.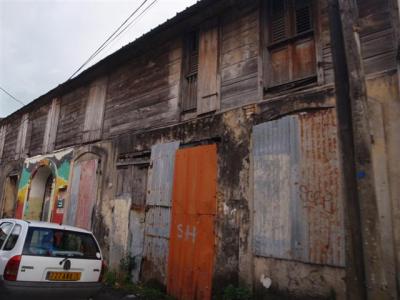 The bus dropped us off at the park and we walked the five blocks southwest to the restaurant. Near the park there was a market in progress under a large covered patio. We didn't go in, but we could see that many of the female vendors were wearing traditional Guadeloupian bright colored long dresses and bright head scarves wrapped into a variety of stylish headdresses. We could see some produce for sale, but since we didn't go in, we are not sure if there were other things, such as handicrafts, for sale, too.
Beyond Victory Square, there is a definite downtown urban feeling to the area. The buildings are almost all three stories, and they are packed in wall to wall. In the rest of Point a Pitre, most buildings have a fair amount of space between them, which gives it more of an American suburb feel. Most of the buildings are blocky, but many have character. Some buildings look Parisian, with the rounded roof and windows sticking out of the roof on the top floor, like what we pictured a few days ago. Some have a sharply pitched roof, but also with the windows sticking out of the roof on the top floor, like the narrow orange building pictured a few days ago. There are a few colonial style buildings. Some of the buildings are beautiful and well maintained. The well maintained ones are usually painted bright, cheerful colors. Most look weather beaten, with faded, peeling, or no paint. Some are abandoned and grossly dilapidated, with plants growing out of them and boards falling off. Oddly, a lot, and we do mean a lot, of the buildings are nicely maintained on the ground floor but dilapidated on the upper floors. There are a few vacant lots that look like they once had buildings that were demolished in a hurricane. Here are a couple shots to give you some sense of the variety of the neighborhood.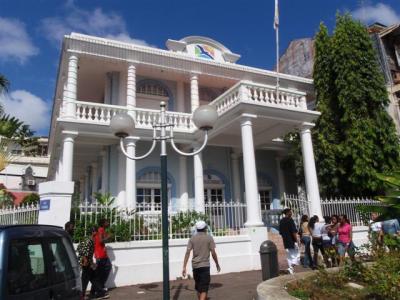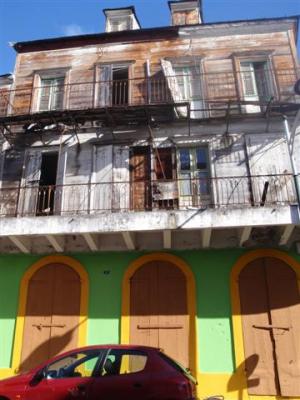 On the main streets there were a lot of pedestrians walking around, both locals going about their every day lives and tourists from a cruise ship that was in port. We found the restaurant tucked discreetly inside a commercial boat quay, so discreet you would never see it if you didn't know it was there. It has beautiful views of the bay. The food was everything we had been promised it would be, truly phenomenal.
For an appetizer, we got a fresh duck foie gras, which was served hot in a rich, gravy. The gravy was definitely made with red wine, and had very thin, deli style, slices of meat in it. It was one of those typical super complex sauces the French are famous for. The meat was tender and flavorful, as foie gras usually is. They also brought us a small complimentary guacamole appetizer. We were so excited about real guacamole.
For main courses, we got one scallops and one Creole platter. The scallops were served on a skewer with a white sauce with green onions. The scallops were great. They were served with 4 little side dishes. Going from right to left in the picture: mashed yams; beans in a mildly spicy sauce with small pieces of meat, probably bacon; a sweet potato or manicot mash; and a soup made of what we believe to be some kind of a pureed root. All of it was absolutely delicious and the manicot mash was to die for good.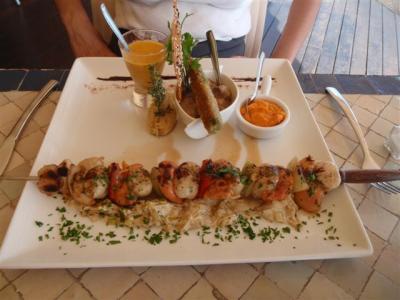 The Creole platter had a zillion little dishes on it. In the forefront center of the picture is smoked local fish, which was light and tasty. On the sides of the fish are pineapple and mango slices. The two salads on the right are both fish salads. The front on was mildly spiced and we are couldn't figure out what it was made with. The one behind it was very spicy and we think it was made with cornmeal. Both were good, but we liked the milder one better. The salad to the left was possibly grated carrots or cabbage or maybe both, marinated in a sauce with a lot of nutmeg. Neither of us liked the sauce. We both like nutmeg, but there was something else in there that clashed with the nutmeg. The dark thing in the back right next to the papaya and half hidden under the dried banana slice is a boudin sausage, AKA "dark sausage" that we mentioned the other day. We were told it is a type of blood sausage. The white thing on the back left next to the pineapple is called a white sausage, and is stuffed with fish bits cooked with spices similar to the dark sausage. In the very back middle are accras. And of course, in the very center is a green salad.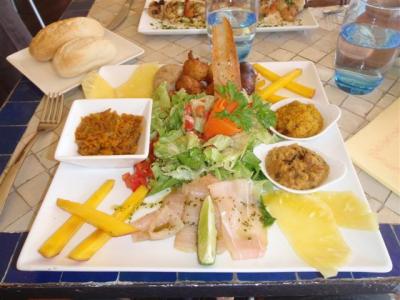 For dessert, we got a blueberry crumble that had a strong lemony undertone to it. That lemon zest really jazzed it up and made it extra tasty.
After lunch we strolled around downtown some more, choosing different streets to walk down to get a better feel for the area. Everything we saw reinforced what we already said above. This neighborhood may have been charming once upon a time, but it isn't now. We felt safe by day, but we certainly wouldn't wander around here at night. After only a few blocks of aimless wandering, we felt we'd seen enough and headed back.
Since we weren't feeling great, we had a low key afternoon resting aboard. But we did venture out again for dinner, and chose a steak restaurant in the marina complex. It basically offered various cuts of steak with your choice of sauce. The meat tasted like it was cooked on a charcoal barbeque. Both sauces were great. Christi had a honey sauce and Eric had a Roquefort sauce. Like most of the restaurants we have been to here in Guadeloupe, there were several side dishes. One tasted similar to a dish that Christi has made a few times, which is cooked squash blended with cream cheese. It is the texture of a thick cream soup and is incredibly rich. The rest of the sides weren't as good. There were mashed ordinary potatoes, which were jazzed up with something like horseradish sauce or a Dijon with horseradish, and a lot of salt. The potatoes weren't bad, but they were different and we are not sure whether of not we liked them. There was also a grated veggie, probably cabbage, that had been pickled in a salty brine. Christi didn't like it at all, Eric thought it was OK.