This morning, Christi finally started on antibiotics. She realized that if it hadn't passed by now, it wasn't going to go away on its own. She also made some meals to freeze with the leftovers from our transit. At around lunch time we headed out. Our goal for today was to go to the restaurant the cab driver couldn't find the other day. Today's cab driver had never heard of the place, which we took as a bad sign, but managed to find it with no problem. Unfortunately, it was closed for remodeling.
We walked to another restaurant a few blocks away that was also recommended by Lonely Planet. They serve French/international fusion type of food and our lunch was awesome. We ordered three appetizers: jumbo shrimp spring rolls in a yummy tropical fruit sauce; pan carmelized octopus in a sweet soy based marinade and served with a delicious avocado cream sauce; and shitake mushrooms stuffed with pork confit, vegetable, and panko persillade.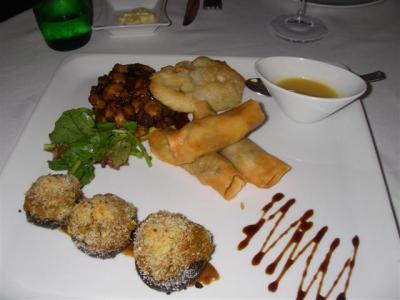 We shared one main course, grouper in a rich, creamy coconut milk and curry sauce with broccoli on the side. For dessert we got passionfruit mousse. Everything was so good. We had been craving a really, really good meal like that ever since we left Bonaire. We even asked to thank the chef in person for such a great meal.
After lunch, we went to Casco Viejo to go sightseeing. The taxi took us through a neighborhood of all high rises, then turned into a very third world part of town. This area was Continue reading Casco Viejo and the Panama Canal Museum