Yesterday we awoke still feeling tired and out of it. We were sad to see that it was gray and cloudy, windy, and that the anchorage was filled with little but sharp and rapid waves. Darn. We had planned to go and explore the islands around us this morning. Getting the dinghy down would be a pain, and it would be a wet ride to and from the islands. We decided to wait until noon to go to shore. By then, maybe the wind would die down like it did yesterday afternoon. Our friends on Arielle called us on the radio to let us know they had arrived in the San Blas and had anchored at Lemon Keys, which is halfway between Porvenir and Holandes.
We made breakfast, put in a load of laundry, watched a movie, and kind of puttered around doing little odds and ends. At noon, we looked outside again. It was windier and the waves were bigger. Sigh. We decided we absolutely needed to get off the boat. After all, in the last 6 days we have spent only an hour and a half on terra firma. We went through the routine of getting the dinghy down, which is always harder in the wind. We hopped in and headed towards the nearest island. We approached the beach and noticed the waves were even bigger here. Hmmm"¦ maybe this wasn't such a good idea. Ever since Barbuda, we are a little leery of beach landings/launchings.
We decided that we should go to the inhabited island almost a mile away, which must surely have a boat dock of some kind. Or would it? Hmmm"¦ we went over to the catamaran next to us to ask them if the town had a dock. They said they have not been there and didn't know, then invited us aboard for a visit. While we were chatting, the wind started screaming at 20 knots and the little waves in the anchorage grew larger. Thank God we didn't make it to the town. We would be going back against the wind and it would be a slow, miserable and wet ride.
Instead, we went back to Kosmos, made an early dinner, and watched more movies. The good thing about the wind is that it has cooled things off. It was hot this morning before the wind started blowing. We also have gotten a smattering of on and off rain today, but it hasn't been enough water to give the boat a decent wash down.
This morning the weather was no better than it had been yesterday afternoon. It was still ominous and gloomy. Sigh. We really, really needed to get to terra firma. We couldn't stand the idea of being trapped on board yet another day. We decided to go to the nearby islands and snorkel in their reefs. We put on wetsuits and gathered up our gear, then headed to the island due north of us. We drove up close to the reef to check it out. The current was super strong. There was no way we were going to swim in that.
We dropped anchor in shallow water in the lee of the island and walked through the water to the shore. We walked along the lee shore from end to end. It took about 5 minutes, and that was meandering at a slow pace. We didn't walk to the windward side since big waves were pounding the shore. Since the island is so tiny, we could clearly see the other side from where we stood and watch the waves crash. The sand is sparkling white. The plant life is mostly low scrubby brush and palm trees. There is another leafier tree dotting the landscape, too. Giving all the scratchy bushes, walking around the interior looked uninviting.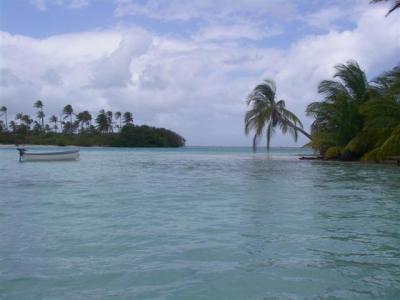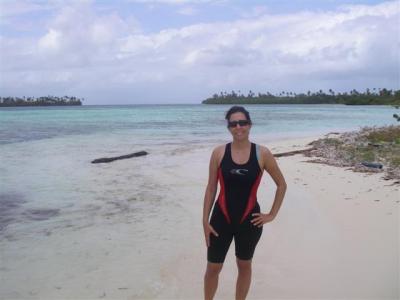 We saw some dinghies at the island on Kosmos' northeast corner. We know that island is nicknamed Barbeque Island by some cruisers because every Monday night there is a BBQ on it, and other cruisers call it Swimming Pool because it is a good place to swim. We hopped back in the dinghy and headed over there, hoping to meet some fellow cruisers and get the low down on the good snorkeling spots and other activities in the vicinity. There was only one guy on the island and he was doing yard work. He looked like a gringo (white guy), but we assumed he must be a local since he was maintaining the island. We greeted him in Spanish. He immediately replied "Do you speak English?" Reg told us he is a "live aboard", not a "cruiser", meaning he and his wife don't move much. They have lived here for 11 years on and off, leaving periodically to satisfy Panamanian immigration rules and then coming back soon thereafter.
Years ago, he cleared all the brush from the island and now maintains it. We noticed a fire smoldering on the sand not too far away. Every day he spends a couple of hours collecting dead brush and burns it. The landscape is stunning. It looks like a planned park, with short green grass, several palm trees and a few leafy trees here and there, all framed by the clear blue water in the background. We can see why this is "the" social gathering spot for cruisers. But, like all the others we have seen, it is tiny and it took us literally 2 minutes to walk across the island through the center.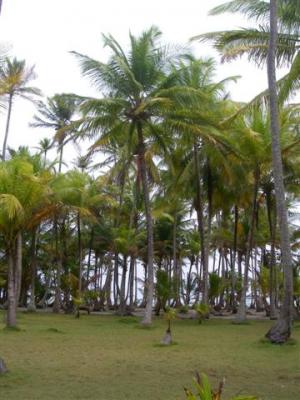 We chatted with him for a while and got the low down on life in the San Blas. He said that the gray skies and light showers very unusual for this time of year, that it is normally sunny with a daily short, hard rain. We noticed the currents around this island look just as strong as the current at the other island and asked about a better place to go. He told us that when the weather like this, currents are bigger than normal and inconsistent, and snorkeling tends to not be very good. He recommended going from site to site until we found one with suitable currents and visibility, but he didn't tell us exactly where all these sites we should check out are located. And for those wondering, diving is illegal here.
After we were done chatting, we debated what to do. Keep driving around in search of a snorkel spot? Or move to Lemon Cays to hang out with Arielle? We decided to move. We came to a realization about something in Tonga that was reinforced here. Uninhabited paradises are phenomenal when the weather is good. You can beach land on an empty island and walk around and look at the wildlife. You can swim, snorkel or dive. You can kayak around. But when the weather is bad, you are more or less trapped on your boat and can't do anything. It is too rough for a beach landing, too rough for swimming and kayaking. At least if we move over to where our friends are we can go and socialize. We went to tell our new friends on the cat that we were moving and they said they were moving to Lemon Cay, too. That worked out well.
We got the dinghy up and the boat ready to go in record time. Well, to be honest it was only record time because we did a sloppy job. We are going into protected waters and knew it would be calm, so we didn't batten things down nearly as well as we normally do. Getting out of our anchorage was a little tricky, just as getting in was. The ride over was fine, but we had to definitely stay alert. Getting through the islands means navigating through narrow channels with reefs on both sides. You have to pay close attention to both the charts and the water color to make sure you don't hit one of those little surprise reefs that juts out of the water.
The anchorage at Lemon Cay is between two islands set quite close together. There are several more islands beyond these two, but none are very close. One island is just a small spit of sand with little on it at all besides a few trees. We didn't see much grass or bushes and there was a fire burning. The other island is probably about the same size as barbecue island, with well manicured landscape and some bamboo buildings with thatched roofs that had a suspicious hotel look to it. We saw some people on the beach that were definitely tourists, which confirmed our suspicions.
As we pulled in, the first thing we noticed was that there were 7 or 8 boats in there, but not Arielle. Darn. We did a loop of the entire anchorage looking for a good spot. Like Porvenir, there are steep gradients. The depths go from 4 feet to 100 feet and back to 4 feet instantly, with not much in between (for non-boaters, our bottom sits about 5.5 feet under the waterline, so 4 feet of water means crashing. And it is hard for us to anchor in 100 feet of water, though it is possible if there are no alternatives). Eric circled the anchorage twice, carefully trying to determine what would be a good spot. The charts were off, which was disconcerting. The good places were all occupied, and we were wary of getting too close to another boat.
After much mental debate, he picked a spot and we dropped anchor. Once we drifted into place, we decided we were too close to another boat and pulled it back up. Hmmm"¦ the only reason to come here was to see our friends. And they aren't here. Chances are the hotel won't let us on their island, so we have even less chances here of spending time ashore than we did in Holandes. And the anchorage isn't working for us. We decided to skip this place altogether and go to the Carti island group, which are by far the most populated islands in the San Blas. Those islands get frowns from the guidebooks and other cruisers because they are the most touristy, but it sounded good to us. There are boat docks on the islands so we can go to shore, a museum, and lots of Kuna people we can try to interact with.
It was another hour southwest to Carti. We knew we were getting close to a populated area because suddenly there were zillions of small powerboats and dugout canoes that we had to dodge. On the way over, the mainland became visible. What is weird is that most of the land looked lush, but there is a big section that looks dry and barren kind of in the middle of it. It is funny because the islands were closer than the mainland, but we could see the mainland well before the islands came into view. There are four in the cluster we are going to, but only three were visible. All of them were lined with small standalone buildings set so close together that they look like they are close to touching, with a few treetops sticking out above roofline. The buildings look pretty sad from here. Maybe they are nicer up close.
A man in a dugout canoe greeted us as we entered anchorage and directed us to a spot. He came aboard to welcome us. His name is John and he is an older guy who speaks English. Reg had told us most of the men over 55 had worked on canal at some point on their lives and learned English. John told us that there was no point in going into town now because everything was already closed. Tomorrow a cruise ship with 1300 people was scheduled to be in from 0600 1500, so everything would be open and there would be entertainment. 1300 people were coming here? Was he serious? The three islands together look too small for 1300 people to stand on dry land packed in like cattle. We picked the wrong day to be here!
We chatted with John for a few more minutes. He is a nice man. John is especially proud of his canoe. It is 35 years old and made out of a solid cedar log. Cedar must be on heck of a wood, because the canoe looks darn good. The anchorage here is just as bumpy as the one in Holandes was. Sigh. Christi made dinner, we watched a movie, and went to bed early.