We really would have liked to stay in the San Blas at least two more days to take part in the special events. Today on Carti Suitupo there are festivities for the biggest holiday of the year for the Kuna people, when they won their autonomy from Panama. Mr. G had invited us back for the last day of the puberty party, which is tomorrow, where the girl is unveiled in her newfound glory, with the shaved head, ring in her nose and her body painted. But we were out of time and really needed to get to the canal. We knew from the radio net that between the anticipated festivities and the not so great weather we have been having, not a lot of boats have headed to Colon lately, which means the canal wait is probably short. It sounds like a lot of boats would all be heading out in the next two or three days, when the forecast improves and the holiday is over. We were afraid that if we arrived in the middle of the glut, we'd get caught in a long canal line.
The trip to Colon would take about 13 hours total, an awkward number. Yesterday we had gone back and forth about the best strategy. Strategy one was to leave today a couple hours before sunset and do a night passage, arriving in Colon in the morning. Strategy two was to leave at dawn, ride 8 hours to an anchorage on the way, spend the night, then tomorrow we would do the last 5 hours and arrive in Colon around lunchtime. Option one meant that we could go to the first couple hours of the holiday celebration before taking off, but it also meant that our sleep pattern would be wrecked and we'd be out of it for three days. Option two meant dragging our time trapped aboard Kosmos with no option to go to shore from 13 hours to 29 hours, which sounded incredibly unappealing since we have only had one solid day on land in the last 8 days. Neither option was particularly attractive, but we chose two.
This morning we were up at 0630 and by 0830 were pulling up anchor. We needed to get moving if we were going to make the anchorage before dark. For the sake of expediency, after we got the dinghy up, we did not re-rig the winch system to paravane mode, so we won't be able to put out the paravanes on this passage. The forecast isn't that great so it would be nice to have them out, but we could handle it for 8 hours with just the active fin stabilizers. After all, we went 3/5 of the way around the world on just one set of stabilizers.
To get out of the protection of the islands, we had to fight head seas for a little over an hour. The waves were bigger today than what we had previously complained about and we were getting a constant flow of sea spray hitting the front windows. It was no fun. When we got to the open ocean, we turned so that now the wind and waves were on our starboard beam. The waves were 10 feet and it was a lumpy ride. But, it wasn't awful, either. It was gray and gloomy out. We both felt blasé and spent the day counting the minutes until we would arrive at the anchorage.
We pulled into the anchorage between Linton Island and the mainland at 1700. It is a decent size area. On both sides of us, the land is hilly and green with lush vegetation.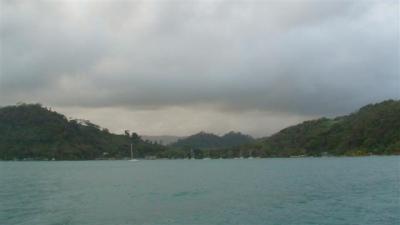 The outer edge of the anchorage is dotted by a tiny island and some big rocks, which help protect the waters within.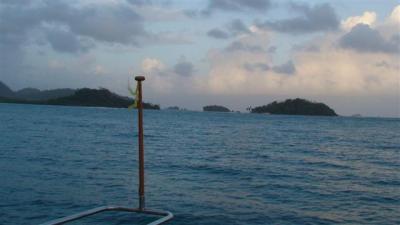 As you can see from the picture, there were a lot of boats in there already. The most protected areas looked to be pretty packed, but we found a spot that looked like it would be nice and calm. It wasn't. It was super rolly. Moving to another spot probably wasn't a good idea because the sun was hidden behind the hills now and it would be hard to see hazards in the water. Sigh. We feel like we are still at sea.
Honestly, as horrible of an armpit as Colon sounds, we are excited about going there for one and one reason only: we are booked at a marina that is supposed to be calm. We haven't been to a single flat anchorage in the Caribbean. We have rolled or bounced every single day since we left the marina in Antigua. The rolling is tolerable when you are able to spend a nice chunk of time on dry land each day, but since our dry land time has been so limited lately, we have been climbing the walls in desperation for some flat water. Given that we were already going nuts, dropping anchor in the rolliest anchorage yet is making us insane.
We certainly can't complain about the setting, though. It is pretty here. The anchorage is picturesque. All around the us, the rugged hills plunge sharply into the sea, with not much flat shoreline. On northwest side there is a small village cut into the forest along the water's edge, but other than that, there appears to be no development. The town has a small stretch of grassy land along the shore that looks like it may be a park. The cruising guide says to beware of mean monkeys here, but we won't find out for ourselves because we won't be going to shore.
We are now counting the minutes until we can pull up anchor and move on to Colon. Christi is regretting that we didn't opt for the night run. She thinks she would have been a lot happier with more hours ashore and less hours on the boat, even if it did screw up our sleep schedule. We probably should have re-rigged up the paravanes so we could put them out to dampen the roll, but we didn't bother. Instead, we watched a movie and went to bed early.
And a couple blog questions:
Q: Do you have setting on your auto pilot that allow for uphill or downhill sea conditions? If so, maybe you auto pilot won't have to work so hard.
A: Yes, we do have high and low settings on the auto-pilot and we do put it to high in following seas. But there isn't a whole lot you can do to stop the waves moving and rotating the boat. The autopilot makes some noise when it adjusts the steering, but the actual rudder changes are tiny. In fact even in rather large seas we have tracked very straight, even though it has intuitively not felt like it. The autopilot is rarely more than 60 feet off course.
Q: Did you go to the Isle de Sainte in Guadeloupe?
A: No, we never made it there. All the cruisers told us they are beautiful.