Continued from yesterday"¦ When we were done, it still was late morning, so we decided to do another activity at the ranch. We picked ATV riding. A few minutes later, we had bandanas wrapped around our faces to protect us from the dust, and we were ready to go rob a bank. Er we mean ready to go riding. And, maybe we'll pass a bank along the way"¦ just kidding. Maybe.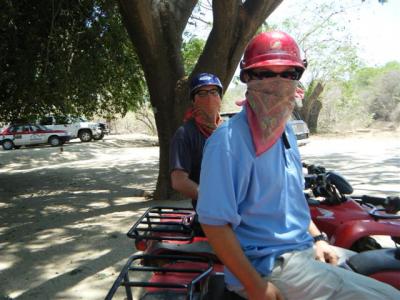 We had a different guide altogether this time. We followed him along a small trail, probably a horse trail, to a dry river bed. We bounced back and forth between the river and trail for a few minutes before coming to a dirt road. At one point, in the river bed, Christi got overly cocky and took what looked to be a small jump a little too fast. She wasn't properly lined up, and wound up twisting over in mid air, with her and the ATV landing on the right side. While the jump was bigger than it looked, it was only a small jump, and she was fine. She dusted herself off and got back on the bike, this time using a little more caution.
The road took us uphill, paralleling the dry river most of the time. The road was a lot of fun on an ATV — decently maintained overall, but bumpy enough to give you a little jump here and there, with lots of twists and turns. It was dry and dusty, and our machines kicked up a tremendous amount of dust into the air as we rode. We can imagine this would be a terrible road for cars, though. The landscape was totally undeveloped the entire way up. The dense trees are all leafless and look like they are dead, but the underbrush is green. Down at the bottom, near the ranch, there wasn't much underbrush, but as we climbed up the mountain, the underbrush became progressively thicker and there was more and more greenery. It was a scenic drive and we think this was a good choice for getting an up close view of the native flora.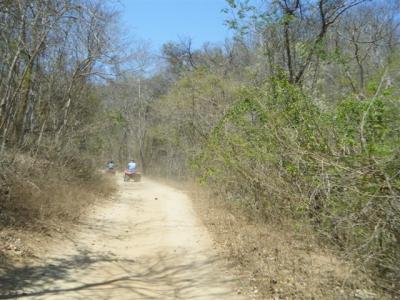 After riding for quite a while, we turned off onto a small side road that ended a few hundreds yards later at a river with water. We got off our machines and walked around a little bit, enjoying the scenery. The river was calm and slowly meandering along. Our guide told us that at this time of the year they offer bird watching cruises where everyone has binoculars and watches the trees for the wide variety of native birds as the raft puts along. But in the summer, when the river is full and flowing fast, they do white water rafting trips. For both cruises, they take launch the rafts farther up the mountain and pick them up from this spot here.
On the other side of the river, a small herd of cattle were tranquilly grazing at the grass near the shore. Birds flew over head. Wait, they weren't ordinary birds, they were vultures! What did they know about this spot that we didn't? Vultures or not, it was still neat to see birds flying around. The trees near the water were Kelly green and vibrant, a stark contrast to the barren trees around them. The mountains in the background framed the whole scene. It was lovely.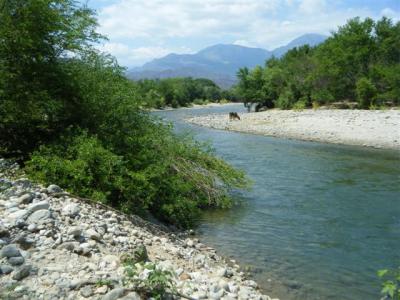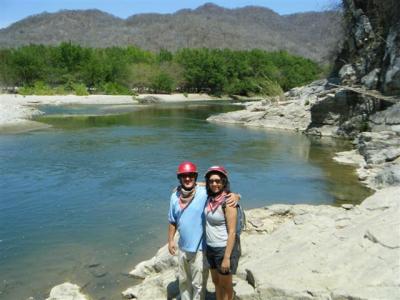 After a few minutes, we climbed back on the machines and headed back. At first we followed the same road, but about half way down the mountain, we turned into the dry river bed and followed that the rest of the way down. The river bed is rocky and sandy, and oftentimes uneven ground, which is great fun on an ATV. We made it back without any more accidents.
Instead of taking us back in the big truck, someone took us back to town in a private car. We were covered from hear to toe in a thick layer of dust, and we couldn't believe that he let us in his car! He dropped us off at a restaurant he likes in La Crucecita that he said had great tacos. The poor restaurant staff didn't know what to think of us. Clearly, they don't see many tourists, let alone tourists that look like un-bathed hobos. They let us come in and served us, but you know they probably thought twice about it.
Bruce ordered tacos cecina. Cecina means salted and dried meat, so we had no clue what would come out. It was prepared differently than anything we have ever had before. We are not sure, but we think the meat was also prepared like a stew and they carefully drained the liquid out, but there was still onions and other things to add flavor mixed in with the meat. It was served as just the meat mixture on soft corn tortillas. It was spicy and very good. We think it was pork, but we really don't know. It could have been any kind of meat. Christi and Eric tried tlayudas for the first time, which turned out to be meat served in a giant crispy flour tortilla. We had ordered mixed meats, so there was chicken, cecina, sausage, ham, beef and cheese in the filling. It was also delicious.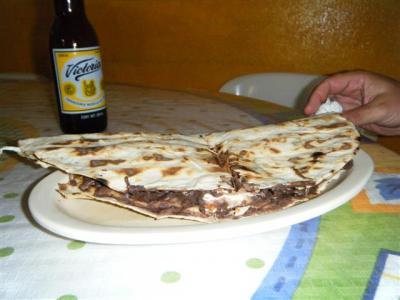 After lunch, we started walking the streets looking for a produce market when Saul drove by. He recognized us right away and stopped to say hi. He asked if we wanted to go on a sightseeing tour of the greater Huatulco area. We said sure and hopped in the cab.
The first stop was a viewpoint of Bahia Santa Cruz, from hill where all the high end hotels and residences are. The first picture is inside the breakwater, the second is of the cruise ship dock/breakwater and the beach behind it. If you lay the two photos side by side, you can get the full idea of what the area looks like.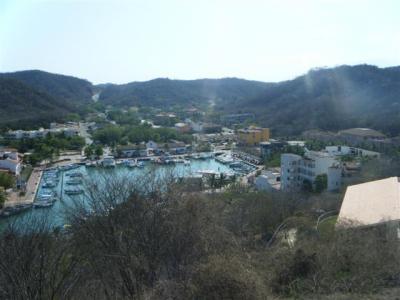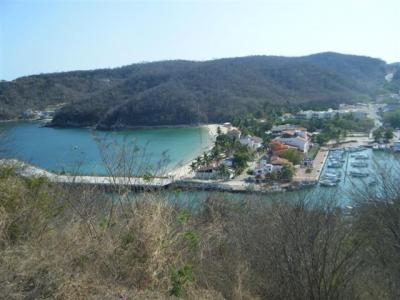 The next stop was another view point, called La Entrega, a few miles north of Bahia Santa Cruz. From the viewpoint, we could see into a three little bays, two to the south, including Bahia Santa Cruz (picture 1), and one to the north (picture 2).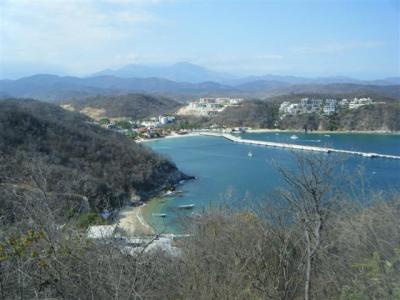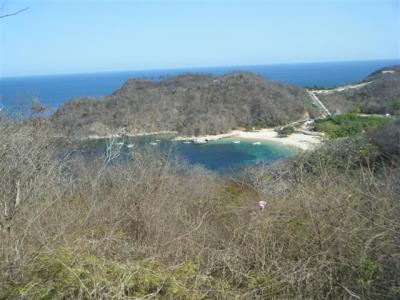 We could also see right into a military base quietly tucked into a valley between a couple of hills. Saul said it is a fairly large base with a lot of personnel. Our the latest theory regarding the vast number of patrols is maybe they are simply keeping the local force in practice for whenever they need to be deployed for real. On a random side note, we have noticed the cactus are in bloom with an unusual looking brown flower. Christi is fascinated by it.
The next stop was yet another view point, called Mirador El Faro, a few more miles north. Actually, where we stopped is on the hill shown in the last picture, but just a little farther right than what you can see in the photo. There is a lighthouse here, though it looks like it may be defunct. Looking north, there wasn't much more development. This must be the northern tip of Huatulco. Just like on the hill above Santa Cruz Bay, on this hill there are a few swanky looking complexes, some done, some under construction.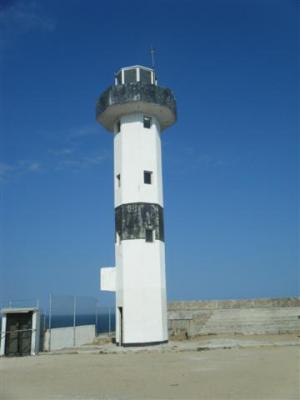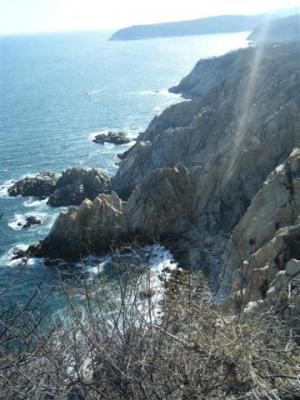 Next Saul took us south to Tangolunda Bay. We knew right away we had entered a super wealthy neighborhood, the Beverly Hills equivalent of Mexico. Before Saul said anything, we commented "El Barrio Rico" (the rich neighborhood) and he agreed. First he drove us by the high end hotels, golf course, and the exclusive shopping districts, then he took us up into the hills to see some of the giant custom mansions on large lots with spectacular views. We wondered to ourselves how many of these belong to American ex-pats.
After richville, Saul took us to one last viewpoint, but we can't remember the name of it. It was just off the main highway, and it looked like there was a footpath that we could take down to a nice, but small, beach below. Down by the beach there are a few buildings, and it looks like the land on the top of the hill near where we stood has been graded into ready to build lots for people to build houses on.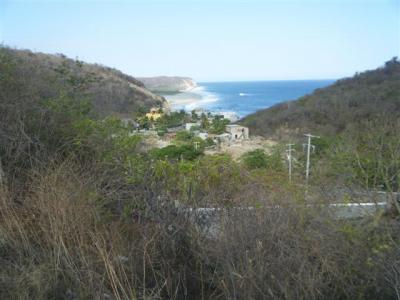 Throughout the tour, we had chatted with Saul extensively, getting a lot of information about life in Mexico. Saul dropped us off at a large grocery store near the marina. The store had a good selection of food and we did some stocking up. Shortly after returning to Kosmos and unloading the groceries, we headed right back out for dinner with the crew of Gone Native. We walked to an outdoor restaurant (really more of a stand with a few plastic patio chairs and tables), close to La Crucecita. This restaurant serves basically one thing: al pastor style meat. From a distance, you would think it was a gyros or doner shop because the cook stands over a big hunk of meat on a vertical spit.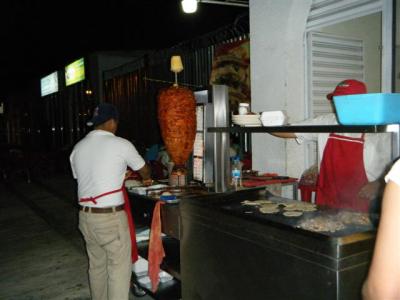 However, instead of being a big hunk of meat, it is really zillions of thinly sliced pieces of meat. There is a fire behind the spit and the meat rotates around the fire. Also, there is a pineapple stuck to the top of the spit. This style of cooking meat was brought to Mexico by Lebanese immigrants who were sheep herders, thus the name tacos al pastor.
We all sat down and ordered taco variations, such as with cheese or pineapple or other toppings, and whether on flour or corn tortillas. We were mesmerized by the chef's skill with the knife as he effortlessly cut the meat and pineapple with amazing precision and speed. Our food was brought out within minutes. We had high expectations that it would be good, but the meat was beyond good. We have to say they are probably the best tacos we have ever had in our lives and some of the best meat we have had in our lives. The meat was super tender and it has a delicious glaze with a hint of pineapple. The salsa was also delicious. We all ordered seconds and someone even got thirds.
We had seen a lot of military on patrol all day, but tonight the number of troops on patrol were absolutely staggering. We watched truckload after truckload after truckload of soldiers drive up and down the streets, each officer with weapons pointed and looking ready to shoot with no provocation. And we are 100% sure it wasn't the same few trucks just doing laps up and down the street. There were a ton of vehicles on the road. In fact, they accounted for most of the vehicles on the road. It was a little scary to see them and it made us wonder what the heck was going on. We suppose it is possible these patrols are simply regular training exercises, as we speculated earlier, but we're feeling dubious about that theory right now. There were just too many of them, like more soldiers than the local base can hold. No, it felt like something really big was going on, like on the same magnitude as a meeting of all the top government officials. We never felt personally threatened, and as far as we can tell, none of the locals we have encountered seemed to be threatened by the forces of security around. But it seems as if the military is trying to seriously intimidate someone who was somewhere close.