It turns out that the change in wind direction last reported was part of one of those convergence zones. Around 0100 this morning, the wind had picked up to 18 21 knots and the seas followed suit. It was still coming from the port forward quarter, but we were bouncing around like crazy and getting a lot of sea spray on the windows. Sigh. Then at around 0300, we passed out of the zone and all went back to being status quo. Actually, today may have even been a touch smoother overall than yesterday. We find the windy patches along this coast to be really weird.
The most odd thing that happened today was a private jet flew by so low that it showed up on radar. It was definitely flying at less than 1,000 feet, and maybe was even as low as 500 feet.
We were all in incredibly high spirits all day. Christi and Eric were on cloud nine, really. The stars have to have aligned for us for this run, because everything about this leg has been so perfect in every way (except Trevor being sick, of course). The amazing weather. Completing the Baja run in about 1/3 to 1/4 of the time we had anticipated it would take since we didn't have to stop. Seeing the whales. And now we were literally counting the minutes until our circumnavigation was complete. Just when we thought it couldn't get any better, it did. We got word from Eric's company that a project he has worked on for the last 8 years has finally come to fruition. Wow. His project and our circumnavigation are basically done the same day. That is just unbelievable! It is seriously too good to be true! As you can imagine, after we got that news, we were beyond elated. And Trevor was so excited to be sharing the joy with us.
At 18:29 exactly, we officially reached a point we had been to before. We crossed the circumnavigation line, near the island of Todos Santos at 31- 46N and 116-46W.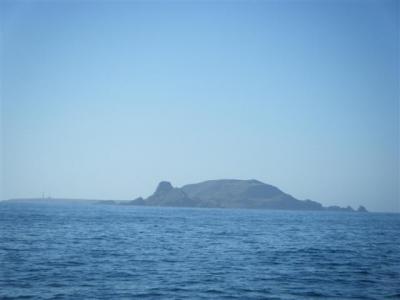 It's real. We did it.
Our chart plotter numbers each and every waypoint we enter into it. After we got to that mark, we made a course change to follow our previous line back into Ensenada harbor. That was waypoint number 892. Once back on the line, the next course change was at waypoint number 6. Number 6! It seems like a lifetime ago in so many ways. Even though Ensenada is not our home, we spent three months there with Kosmos and we absolutely fell in love with the town, so we were elated about being back there again.
We approached the Ensenada harbor entrance at around 1945, just as the sun was getting to be low in the sky. The breakwater is different from when we were last here. Thank God we made it before dark. When we first made the decision to speed up to try to get to Ensenada before the weather turned bad, we had debated long and hard. We knew we were cutting it really close and that more likely than not we'd arrive after dark. What had ultimately swayed the decision was the fact that since we had been to Ensenada before, we felt comfortable with making a night entrance. But, now that we see the breakwater is different, making our charts off, a night entrance would have been very stressful. Had we not arrived before dark, we would have done circles in the bay all night in rapidly deteriorating weather. That was yet another thing that went right today. We still can't get over how perfectly everything has worked out for us and how much good news has abounded.
There was a funky looking huge boat near the breakwater entrance. The machine was in operation and we could see the various mechanical parts moving as it inched along painfully slow. We figure must be a dredger.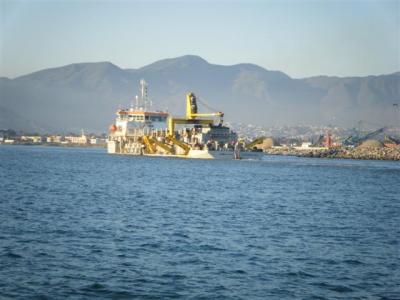 But, despite the breakwater wall being different, most everything else looks the same. The giant Mexican flag that Ensenada is famous for was flying proudly. A cruise ship was in port. Sigh. The one and only thing we don't like about this marina is that the cruise ships park next door to it. Those big ships put out a lot of soot that makes the boats in the marina really dirty.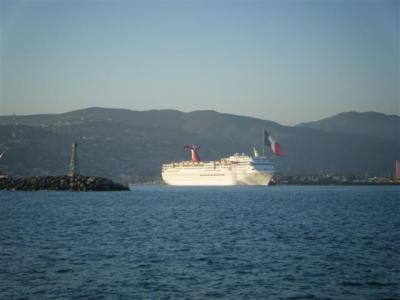 When we were near the breakwater, Eric called the marina on radio. No response. Eric decided we need to advertise our accomplishment and put out our 30,000 mile pennant on Kosmos' bow (Jeff had brought it to us when we were in Panama even though it was premature at that point. He had faith in us to make it to the 30K mark, though).
Inside the breakwater, we did notice that the sunken ship in the middle of the bay (clearly marked on charts) looks different somehow. Maybe it is more sunken than it was before. We seem to remember it being more obvious than it looked now. We also noticed some new construction around the marina on a plot of land that used to be vacant.
We pulled into the marina and tied up at an empty floating dock normally used for very large yachts. We were bursting with pride. We felt like there should be a tickertape parade through the middle of town to celebrate. Everyone should be celebrating with us on this magical day!
A security guard came running over to us and whisked Eric off to write down our boat info and to find us a slip. Here is a shot of the sunset in the marina.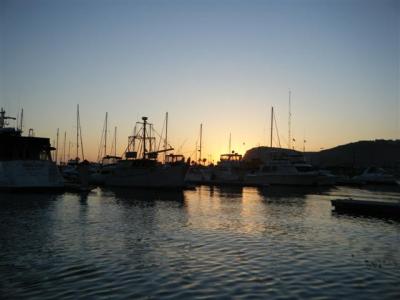 While Eric was gone, Christi and Trevor danced up and down the dock, with Christi repeating over and over again, "We're circumnavigators!!! Woo hooo!!!!" She just couldn't contain her excitement! After the initial burst of energy died off, they watched the sea lions on one of the other docks. There were 4 sea lions laying on it, and clearly they have claimed that dock as their own. They were excitedly barking away, and a juvenile was playing in the water next to the dock. It was so cute to watch.
Eric saw that our old slip was empty and asked if we could move there. The guard said sure. Eric had noticed that there was a Nordhavn 40 located two slips down, in the same spot that Richard (crew member for the Pacific crossing) used to keep his boat. We untied and pulled around to the slip, passing the sea lions. As we neared the 40, we got a look at the name on the back and were thrilled to see the boat belongs to our friends Stephanie and Lance. Yay! We were going to be welcomed home by old friends!
We barely finished tying up before the last bits of twilight were completely gone and it was totally dark out. We have such good timing today! We immediately cleaned up and went to dinner. Christi even put on a skirt since it was such a special occasion. We did knock on Stephanie and Lance's door to invite them to join us, but they didn't seem to be home.
This is the first time in 2 full years where we have arrived in a port already knowing the lay of the land. This is the first time in two years where we didn't have to go exploring. Obviously, we think exploring is a lot of fun, but it felt really good to know exactly where we wanted to go for dinner, exactly where the restaurant was, and exactly how to get there. We are almost reveling in the familiarity. To use an analogy, going to a new port is like wearing a brand new pair of jeans. You are excited about your jeans, but they are stiff and a little uncomfortable. Each day you wear them, they become more and more comfortable. Each new port is exciting, but there is a level of discomfort in trying to learn a new place. Arriving in Ensenada feels like putting on our oldest and most comfy pair of jeans.
So, where did we go to celebrate such a momentous occasion? We went to one of our favorite restaurants, called Los Valeros, which is a short walk from the marina. It was nice to have some old favorite foods. One of the things we love about this restaurant is the awesome creamy cilantro salad dressing. It is still just as good. Being in our old slip added to the nostalgia of the whole dinner experience. The entire dinner event, walk and all, felt to us like we had been transported back in time by 2.5 years.
Over dinner, we debated about when we should return to San Diego. Eric really wants to arrive back on a Saturday so that friends and family can come out and celebrate with us. We talked about going back this Saturday, but decided it would be better to go back next Saturday. We are both worn out from the extreme amount of sea time we did over the last month. We know that the minute we arrive back to "regular life" in the States, we will be busy all the time, so if we wanted some time to rest, we needed to stay here.
We were all exhausted and we totally crashed right after dinner.