The Unexpected Circumnavigation was the #1 selling book in the "Travel" category this week on Lulu. 🙂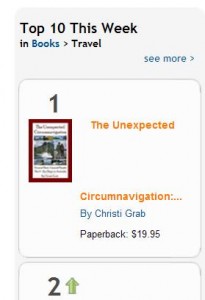 In March, we were the 3rd top selling book in all categories combined.
Check what other people are saying about the book:
I would recommend this book to people interested in circumnavigating under power, and also those who wonder "what it would be like" to kick off from dry land without decades of ocean-going experience to draw upon.
Our Facebook book page.
The book is illuminating and so descriptive you feel like you can taste the food, smell the ocean and meet the people.
Article in April 16th Edition of "The Log".
Starting from the beginning, the author describes how a dream to travel around the world by plane progressed to cruising around the world by boat…
Have you got your copy of The Unexpected Circumnavigation yet?