Continued from yesterday…
After passing the airport, the bus took a road paralleling the ocean. Christi noticed that the farther east the bus went, the older the buildings on the other side of the street were starting to look, like they dated back to the 19th and then 18th centuries. Many were ornate, and many were in the more traditional French architecture styles. She wasn't sure exactly where to be dropped off, so she picked a stop that seemed to be in what she hoped was the heart of town. Here is a view of the shoreline from the bus stop.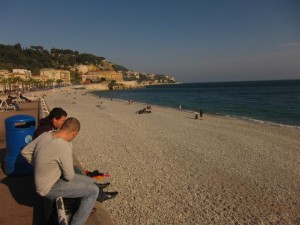 She had made a good guess. After walking only two blocks north, she found herself at the east end of the Massena shopping area, a street blocked off to car traffic that is considered the heart of the modern city. The street was jam packed with people strolling around and having coffee in the many cafes, which surprised her since it was the middle of the work day.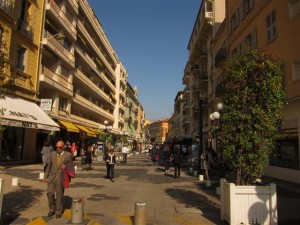 She walked along for several blocks, enjoying the architectural diversity and energetic vibe, until she got to a large square at the other end of the pedestrian only area. She noticed a sign that said "historic district" and followed it south a couple blocks. She crossed over a wide, park-like promenade area that was the gateway into the original medieval city of Nice. This is part of the promenade area: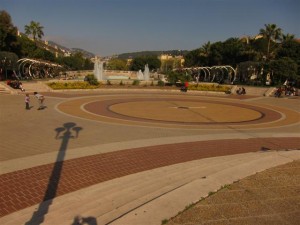 The Vieux-Ville (Old City) is similar to many other medieval European "old towns" we have seen, such as St. Tropez. The streets are narrow, most barely wide enough to accommodate one car–some not even that wide! The buildings are mostly three to four stories and packed in tightly one on top of another. Some of the streets are still cobbled. The first floor of most of the buildings house tiny boutiques shops and cafes.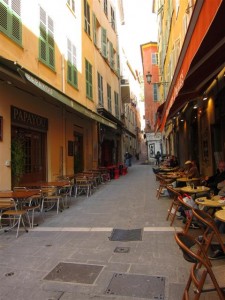 In and amongst the shops and residences, she passed a couple ornate churches, a couple fancy hotels, and an impressive government building before stumbling across the "market."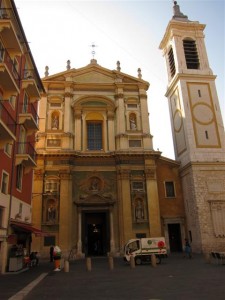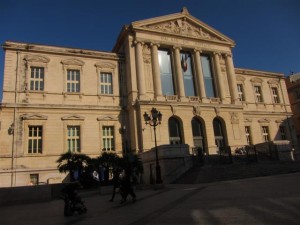 In what has to be the old town's widest street, Cours Saley, every day vendors set up tables in the middle of the road to peddle their wares. Most days foods are sold, but Mondays are antiques day. The tables of vendors stretched for several blocks, most selling old house wares. Here is a shot of one of the city gates, at the end of Cours Salay.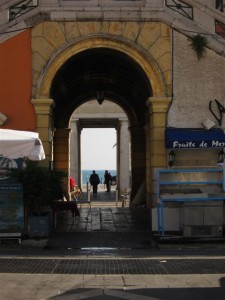 Part of the old city is on flat land, part on a steep hill. She chose to stay in the flat area. After wandering around the old city for about an hour, she realized it was getting late and she should head back to the hotel to meet Eric. In order to get in more sight seeing, she took different streets back, making sure they paralleled the roads she had taken in until returning back to her bus stop. Here are a few random shots of buildings she passed along the way: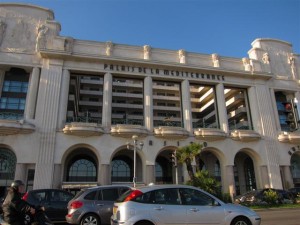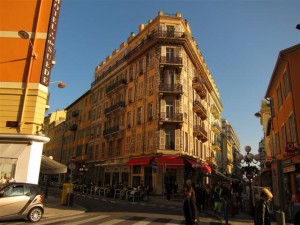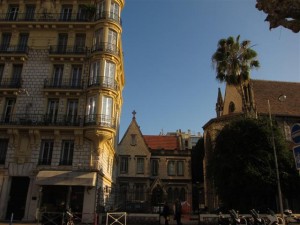 She expected there to be another bus stop across the street from where sh'd been dropped off. There wasn't. She figured the bus did a loop and waited at the stop she was dropped off at, knowing it wouldn't go much farther east before turning back west. After forty minutes, two 200 busses passed her by, both drivers shaking their head no when she tried to board. The 217 hadn't come.
She crossed the street and walked several blocks until she found a bus stop. A few minutes later, she was picked up by one of the same drivers who had told her no on the other side. He asked where she was going and she replied Saint Laurent. She sat near him.
The 200 route was different than the 217. She got lost in the scenery, never seeing anything that looked familiar. Eventually, the bus driver started talking to her insistently. He spoke way too fast and her French was too rusty to understand anything he said. She apologized and said she didn't understand. He said in English to take another bus. She asked in French if we were in Saint Laurent, wondering if he was sending her to a connecting bus. He waved his hands to indicate back. She suddenly understood. She had missed her stop. Darn!
She crossed the street and caught the next 200 bus. When it passed the airport, she knew she missed her stop again. Darn! Knowing it could be another 20 minutes for the next 200 bus, she walked back to the hotel, arriving just minutes before she was supposed to meet Eric at 2030 (8:30). But since he'd gotten lost, as well, he didn't arrive until closer to 2100.
We went down to the boardwalk again, choosing a restaurant called Dame Nature that had a lot of organic menu choices. Eric ordered fish soup for an appetizer. It was creamy and rich, with sherry, similar to a lobster bisque. It was accompanied by crostinis (toasted slices of baguette) that were coated with garlic butter and topped with a yummy sauce. The only ingredient we could pinpoint in the sauce was mayo, but it was bright yellow, so we are guessing it had curry, saffron or mustard powder, as well.
We both ordered the grilled sea scallops. They were perfectly cooked and served with a rich brown sauce that was probably also made with sherry. They were amazing. There was also fresh foie gras on the plate that was delicious. The meats were accompanied with mashed potatoes, thin slices of grilled carrot and zucchini, and one thick slice of a mystery veggie. Visually speaking, Eric thought was a potato and Christi thought it was an onion. It wasn't either.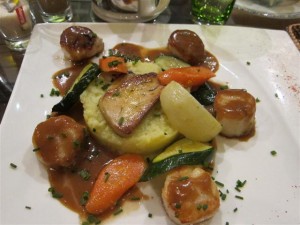 We both crashed shortly after dinner.