Christi awoke at 0130, wide awake and full of energy. And she had naively thought she didn't have any jet lag! Ha! She was wide awake most of the night, falling asleep near dawn. Today, Eric's meetings didn't start until noon, so we were able to sleep until about 1000 before getting up. We both awoke grumpy and tired. Jet lag really was catching up with us!
Christi decided to spend the day sightseeing in Cannes, so we drove together to the conference center. Unlike yesterday, Eric was able to navigate there without any problems. Traffic was light since it wasn't rush hour. The parking garage was under the conference center (and apparently visitor's center and casino, too), which happens to be right on the waterfront, next to the marina.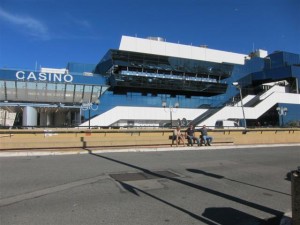 Christi started her sightseeing tour by walking through the marina. The marina was filled with many high end yachts; though unlike Monaco, there were plenty of "regular" boats in there, as well. Quite a few yachts had been rented by companies affiliated with the convention, where they wined and dined potential clients.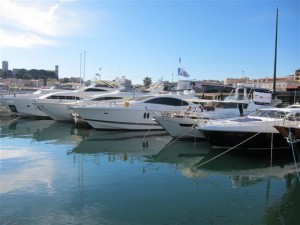 From there, she wandered the boardwalk for several blocks. The beach was a lovely white sand; the water in the bay a beautiful azure blue and completely flat. It beckoned people to come out for a swim.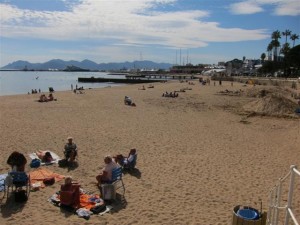 The boardwalk was wide. While it was mostly open space, it was dotted with some fountains, some patches of greenery with lovely flowers currently in bloom, a few mobile vendors, a few carnival type rides, a children's jungle gym; enough color and character to make it feel more attractive and festive than an ordinary boardwalk.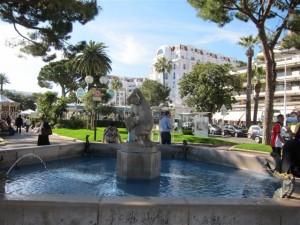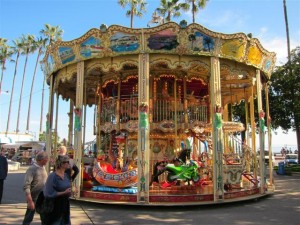 Then she turned and headed into the commercial district. Cannes has that same "old Mediterranean" look that Nice and St. Tropez have. Most of the buildings looked like they date back to the 18th or 19th century.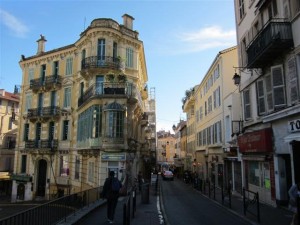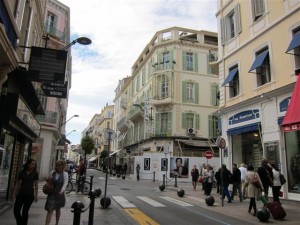 In a few areas, like along one of the main highways, the buildings looked to be 20th century. It was funny to see the clusters of modern buildings in and amongst the old ones.
Nice has far more fancy old buildings (meaning with architectural character and/or fancy appointments) than Cannes does, so it was clear that once upon a time Nice was a much wealthier town than Cannes. But today, it is clear from the types of shops housed within the buildings that Cannes is more exclusive than Nice. With such a beautiful beach, it is no wonder Cannes became the playground of the rich.
She could see what looked like a castle at the top of a hill.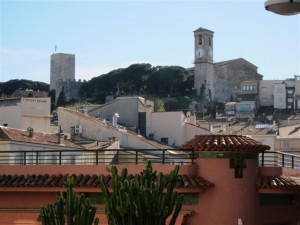 She left the commercial district and wandered up the hill towards the castle. This area was definitely older; the whole hill was a maze of medieval residential streets. Most had no car access; the "roads" they were on were actually staircases! The people who live in those homes have to park down the hill and walk up to their homes. The few residences that did have car access had garages; it looked like the space on the first floor that once upon a time had been a shop had been converted to the garage.
When she made it up there, she saw that in addition to the castle (1st photo below), there was also a large church (2nd photo) at the top of the hill.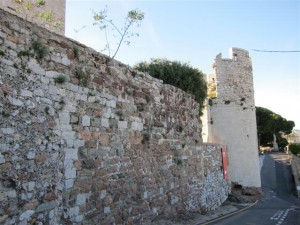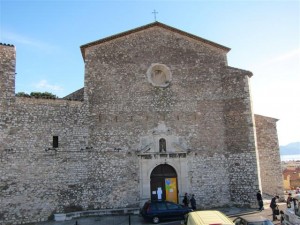 Unfortunately, both were closed. It was a lovely viewpoint, though, with great vistas of the two islands that protect Cannes Bay.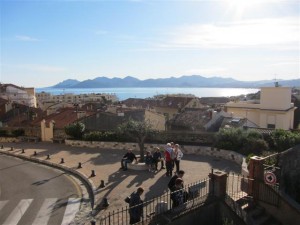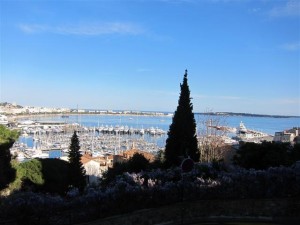 She headed down the hill via different streets altogether and followed the beach back to the conference center. Tired from the lack of sleep the night before, she spent the rest of the day close to the conference center, hanging out in assorted cafes and wandering through shops to kill time. Eric didn't finish with meetings until 2030 (8:30 pm), so she had a lot of time to kill! His meetings were much better today than yesterday.
We had dinner at an Italian restaurant called La Potiniere, located near the conference center. Christi got a cup of pumpkin soup as a starter. It cost about $18 USD, so she was expecting it to be a huge and extraordinarily tasty soup. She was greatly disappointed to see it was small, maybe 10 ounces. Texture wise, it was thick but airy, as if it had been whipped in a cappuccino maker. Taste wise it was good, but nothing amazing. She was really let down. The main course was no better. She ordered scallops and shrimp in a light orange butter sauce, which was served with a little rice and some small pieces of veggies. Last night's dinner at Dame Nature had twice as much food, better tasting food, and was less money.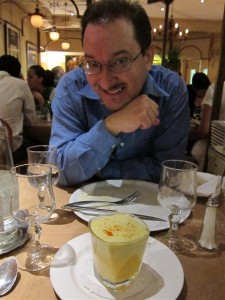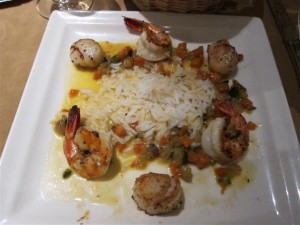 Eric got a nicoise pizza with tomato, cheese, anchovies, tuna, roasted red bell peppers, and olives baked in the pizza. It was topped with a raw egg and lettuce. He liked it, though he agreed that the food was not worth the price.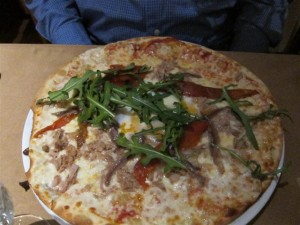 After dinner, we drove back to the hotel and crashed.