We pulled into Ventura Keys around 1130 on Thursday. We have friends named Stan and Diane who own a house with a private dock, and they had kindly offered to let us stay at their dock while we waited for a good weather window at Point Conception.
In a crazy small world coincidence, Stan and Diane have neighbors who actively cruised for several years on their sailboat, Gone Native, with their teenage sons. We met up with Gone Native in Hualtuco, Mexico and again in Ixtapa and Ensenada and had fun hanging out with them.
We had a lovely afternoon with Stan, his son, Scott, and Dave from Gone Native. In the evening, Stan and Diane hosted a dinner party for us and the Gone Native family. It was a great evening!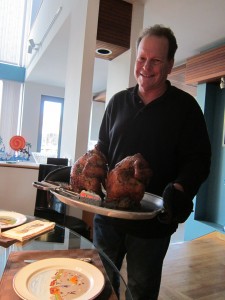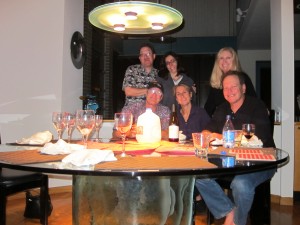 On Friday morning, we checked the weather. It looked like the best window over the next few days was today, so we left Ventura at noon. In the protected waters south of Santa Barbara, the seas were calm. Wind stayed at around 15 knots on the nose for most of the afternoon, with long gentle swells and little wind chop.
Around 1800, not long after we'd passed Santa Barbara, the seas suddenly picked up, almost instantly changing to sharply shaped swells with a foot of wind chop all coming at rapid intervals. The wind picked up to 18 knots on the nose. For the next three hours, the wind and seas continued to steadily increase, and the waves got bigger, sharper and more confused. Since it was very dark (only a crescent moon blocked by cloud cover) out, we couldn't tell you how big the waves were, but given how hard we were bashing, how much sea spray was coming over, and how much the anchor was dipping, they had to be at least 8 feet, probably more, at the peak. The ride was decidedly uncomfortable and it was difficult to walk around in the boat, but since we had been braced for much worse, we were actually thankful that it wasn't as bad as it could have been.
At 2300, just as we started to round the corner of Point Conception (we stayed about four nm offshore), we expected it to get really bad. But it didn't! In fact, the wind and seas slowly started to calm back down! By 0400, the wind was around 10 knots apparent and the seas were calm with only two to four foot gentle swells spaced relatively far apart and no wind chop.
The smooth, wonderful seas lasted all day on Saturday! We couldn't believe our luck!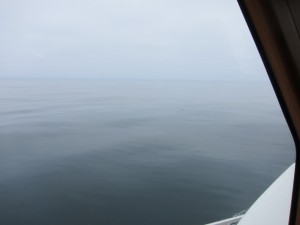 Of course, the winds were also light all day and the skies were gray and overcast. Speeds were good overall, varying from 5.5 – 7.0 at 1750 RPM. It was a tad bit cold, we wore jackets and ran the heater for a while. The most exciting thing that happened all day was we rolled up 32,000 miles on the odometer.
Almost as soon as we left Ventura, the bad smell was back. This time Eric sourced the smell to the sink in the forward stateroom. Aha! It was the gray water tank after all, not the blackwater tank or the toilet! Just in case it was the something caught in the sink lines, Eric put a bunch of Clean Potty down it, then covered it to block the odor from coming up.
To combat the underlying smell, we emptied the gray water tank out, then turned the automatic gray water pump off. We washed a load of white laundry in hot water with a generous amount of bleach, letting the gray water tank fill up with the hot bleach water from the machine. We waited five hours before emptying the tank back out, wanting the water to slosh around to remove any sludge built up on the walls and disinfect the walls.
When we were cruising, we never had issues with smells from the gray water tank. We almost exclusively used the little washer onboard, which we believed help keep the tank clean. But since returning from the circumnavigation, we almost always use the bigger, faster machines at the marina. We also never had smells issues from the blackwater tank while cruising. We suppose because stuff never sat in there long before it was emptied again. And, thanks to the big seas we were frequently in, stuff in the tank was stirred up and disbursed instead of building up.
Onto a different subject altogether… One of the things we love about sea time is it forces us to slow down our pace of life. We always intend to write blog posts, but we get so busy with life in general that we only seem to find time to write when we are at sea. This post is going to focus on a couple new toys we've recently gotten.
As we mentioned in the post entitled "June 2011 Update" , we got a new freezer. Our top loading GE freezer worked great, but it had a few flaws:
We found that accessing food farther down in the freezer was difficult. We wanted the drawers so one drawer could be for ready to eat food, the other for ingredients, thus making it easier to find what we were looking for.
The top loading aspect meant we couldn't use some of the juiciest flat space aboard the boat. We wanted drawers so that the flat space could be utilized (see photo below).
It ran on AC, and Eric perpetually worried that if the invertor failed, we would lose all our food. We could run the generator using the inverter bypass switch, but that really would not be sustainable over a long period of time in the tropics.
We chose a marine grade stainless steel Vitifrigo drawer freezer that could run on both AC and DC. We haven't wired up the DC yet, but it is all set up so it can be wired in fairly easily before we do a major passage again. It actually has a slightly bigger capacity than the top loader, too!
Amazingly, the freezer fit almost perfectly into the existing freezer space. It was simply a matter of taking off the face plate, putting a board underneath the freezer so it could clear the carpet, and making a small groove in the piece on top. Here is a photo of the new freezer, along with all the stuff we have sitting on the newly acquired flat space above. Before, nothing could sit up there. Although… maybe the boat looked tidier when that space couldn't be utilized!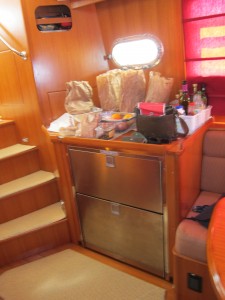 The new freezer runs a lot more often than the old freezer did, but pulls less amps when it runs. Overall, it uses less electricity.
We were delighted by our new wonderful freezer until we came to the horrible realization that appears it isn't cold enough to keep ice cream frozen; even at the coldest setting, the ice cream is mushy. Beyond the obvious ice cream problem, that means that frozen food won't last very long in this freezer; food will have to be eaten within a couple months. Our old freezer kept things very cold; ice cream would have to sit on the counter and defrost for 15 minutes before we could scoop it out of the container. The very cold temperatures meant food lasted forever–we've eaten food that was frozen over a year that has tasted just as good as it did the day we froze it! Eric is going to consult the manual to see if there is some secret to making it colder.
Another new toy we are excited about is an electric motor for our dinghy! Our main dinghy was a Gig Harbor Navigator 10 foot fiberglass sailing dinghy with had a 2 hp Honda motor on it. We loved the setup because it was lightweight (the whole rig weighed 100 lbs!), we never had to worry about the dinghy deflating, and it was easy to row in an emergency. On our circumnavigation, the poor dinghy was practically beat to death, including being flipped twice (once in Bora Bora and once in Barbuda).
We recently had the dinghy hull reinforced, so it is tougher than ever now. However, the engine was dead and not worth saving. In choosing a replacement, Eric decided that the ideal engine for us is a Torqeedo Travel 503 self contained electric outboard motor. It has a detachable lithium ion battery, is 1.5 hp and weighs 30 lbs—the essentially same as our 2 hp Honda filled with gas!
This engine has several advantages:
No gasoline, no oil.
Nice and quiet, and does not make noise at idle (we tended to idle a lot talking to people).
No pull starter (which Christi always had trouble with).
Built in GPS and control panel showing information such as speed, power left, range left, etc.
Can go about 5 nm on a full charge (maybe more if we go slow).
Forward and reverse (Honda only had forward).
Completely waterproof, including the magnetic key.
It is modular such that it breaks down into three relatively light pieces (battery, control arm, propeller shaft).
It is easy to bring the battery in to charge (0% to 100% is 8 hours, but we expect 80%-100 the usual charge cycle), and we have plenty of electricity on-board to charge battery.
We still have the 6 hp Nissan onboard (that is paired with our inflatable Achilles) for the rare occasion we need to go farther than 5 nm round trip. But, for all the times we used the dinghy around the world, we could probably count the number of times we had to go farther than 5 nm on one hand. You can get spare batteries and a solar charger, we may indeed be able to get gasoline off the boat entirely.
Since we just got the new outboard motor, we haven't had a chance to play with it much. We plan to use it in San Franciscoand report back to you on how it performs.
This is part 2 of an 11 part series on our time in San Francisco. Read part 1 here and part 3 here.