We know there are a few readers who are in our age group that will probably have kids soon, as well as many blog readers who are anticipating grandkids in the near future. So, for those of you, we're starting a series on baby stuff. If you don't fit the baby demographic, fear not! We promise the blog will still focus primarily on boating and travel, not on babies. But in order continue our boating/traveling lifestyle with our new crew member, we do have to outfit the boat properly.
Needless to say, which such limited room onboard, we need relatively small items that are easy to secure and/or stow away. We also want the gear to be lightweight so it is easy to get on and off the boat.
Our first concern was a place for the baby to sleep. Nowadays, the "experts" advise parents that the baby should sleep in the same room as mom and dad for the first 3 – 4 months, but not in mom and dad's bed. Conveniently enough, we found the Fisher-Price Newborn Rock N Play Sleeper, which is a folding bassinet that fits in the small space between Christi's side of the bed and the wall. What was even more exciting about this bassinet is that it is angled, which makes it easier for babies to sleep when they are suffering from indigestion or stuffy noses. It also rocks forward and back, which babies supposedly find more soothing than side to side motion. And, it is "bouncy," so it jiggles slightly every time the baby moves and/or takes little effort for parents to jiggle it. Babies supposedly like the jiggling motion. When Christi was doing research, she was amazed by the rave reviews — there were over 600 reviews on Amazon and most of them were 5 stars! The plan is to set the bassinet up at bed time, then fold it away in the morning.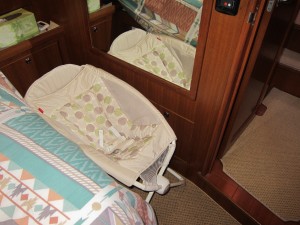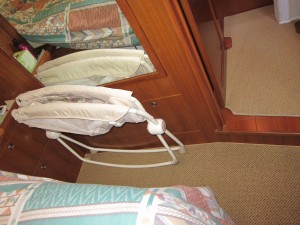 Last time we took Kosmos out, we set it up in the pilot house to see if it was viable to use at sea. After moving it several times, we decided the best location for it was between the washing machine and settee, where it fits snugly and is, for the most part, out of the way. The only downside is it blocks the port side door. Since we need to use that door for docking, we have to put the bassinet somewhere else when we pull in and out of port, but we can keep it in that spot en route. So if we go to sea, the person on watch will be in charge of the baby. (Note: While the bassinet did great in calm seas, we know we'll have to keep the baby in something more secure for big seas.)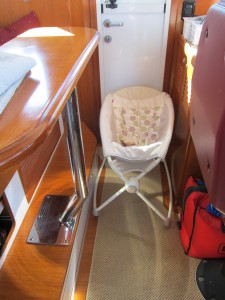 Christi knew right away that a traditional bulky stroller wouldn't work onboard. Instead, she chose a Snap n Go stroller frame. The frame is lightweight and folds up relatively small. You simply open the frame, snap a car seat onto it, and voila, instant stroller. Almost any infant car seat fits on this frame. Here is the frame closed, open and with the car seat attached. (Note: these photos were not taken aboard Kosmos)
And, finally, the car seat we chose to accompany the stroller frame was the Graco Snugride 30/30 infant car seat. The Snugride line of car seats are America's best selling brand, despite the fact that they rate only mediocre in just about every category. She chose it over higher rated car seats because it is smaller and lighter – 7.5 lbs as compared to 11 lbs for the better rated seats — making it easier to lift the car seat with baby in it over Kosmos's railing. (Note: only the 30/30 Snugride model is smaller and lighter; the 32 and 35 are just as big and heavy as better rated seats).
This is Part 1 of a series on Outfitting Kosmos for a Baby. Read Part 2: Feeding, Diapering and Bathing here and Part 3: Miscellaneous Useful Items here.