This post covers the late afternoon of Friday, May 14, 2010 — Day 21: Yellowstone National Park, Wyoming to Jackson, Wyoming. You can read about the activities we did in the morning here and the activities we did in the early afternoon here. 
We left West Thumb Geyser Basin and headed south towards Yellowstone's southern exit. Bordering Yellowstone is yet another national park, The Grand Teton National Park, which features one of the world's most spectacular mountain chains, the Teton Range. These precipitous mountains rise directly out of the beautiful Jackson Hole valley. Being geologically young, little erosion has taken place, leaving extremely jagged and photogenic peaks. The largest of the mountains in the Teton range is Grand Teton, which peaks at 13,770 feet. A series of beautiful lakes sit at the base of the mountains.
While the Grand Teton park is quite large at 310,000 acres (including 40 miles of mountain range), it is tiny compared to Yellowstone. The park was first established in 1929, but it was much smaller then. Between 1930s to 1950s, and then again in the 70s, surrounding land, particularly in Jackson Hole Valley, was purchased and added to the park.
Grand Teton is outside the volcanic caldera, so it does not have thermal attractions like Yellowstone does. But there are many things about the Grand Teton park that make it special beyond the scenic mountains. It is one of the few places where that still feature the same species of flora and fauna that have existed since prehistoric time. There is a rich ecosystem with more than 1,000 species of plants, dozens of species of mammals, 300 species of birds, more than a dozen fish species, and even reptiles and amphibians. There are about a dozen small glaciers in the highest regions. Some of the rocks in the park are 2.7 billion years old, the oldest of any US national park.
As much as we would have loved to do more sightseeing in both Yellowstone and Grand Teton, we were running out of time. We drove through the southern portion of Yellowstone and all of the Grand Teton park without stopping until we got to our destination of Jackson, Wyoming. As you can see, the drive was gorgeous! And we didn't even capture it all. We're not sure exactly where one park ends and the next begins, but we know the first photo was near West Thumb Geyser Basin and the last photo in this series is at Moran Junction, which is just south of Grand Teton Park.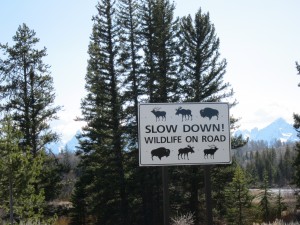 Once we got to Jackson, the first thing we did was hunt down a place to stay. We found a beautiful inn called The Alpine House, located right in downtown.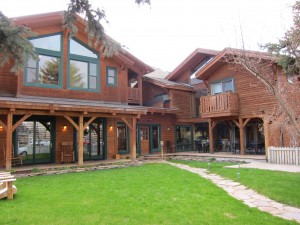 After checking in, we took a walk around downtown in search of a restaurant to have dinner at. Here are a few snapshots of Jackson. As you can see, it is cute and rustic. There were several wood ski chalet type buildings similar to The Alpine House (above). There were also several log cabin style buildings around, like this church built in 1911.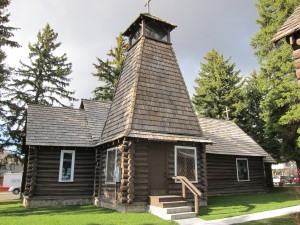 As well as several of these western storefront styles.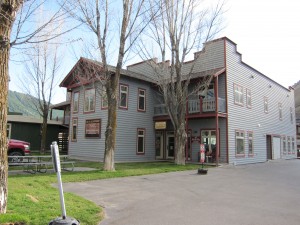 And this little chalet style red brick.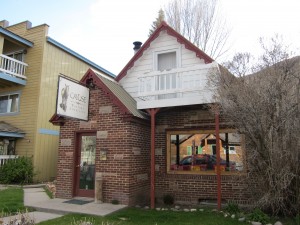 There is a ski resort right in town, too, though it didn't look like it had much snow left.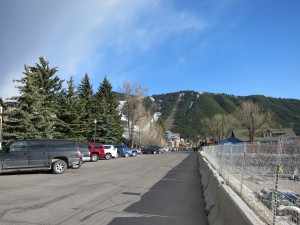 We chose an organic Indian restaurant called Lotus Cafe that had phenomenally good food. It was a great way to end such a great day!
This is Part 18 of the Passage Across America series. Read Part 17 here. Part 19 coming soon!