This is part two of a three part series. Read part 1 here. 
On Thursday, June 7, we took off bright and early from Oceanside. Conditions were almost the same as Wednesday, except the wave interval was 8 seconds instead of 10 and they were hitting us on the nose. Eric and Christi were both green almost as soon as we pulled out of the harbor. The good news, though, is that Catalina Island offered some shelter, so the closer we got, the better the sea conditions became.
Keith slept about half the time. While he was up, he seemed unaffected by the seas. We brought his changing pad upstairs, so diaper changing was no longer an issue. We saw the Hover Crafts again, and this time one came up very close to us so we got a good look at it. And a couple pods of dolphins came to visit.
We pulled into Catalina Harbor in the early afternoon and radioed the Harbor Patrol to get a mooring assignment. There were about a dozen boats in the mooring field and at least forty empty moorings. We were assigned a spot with no one around it so it would be easy for us to tie up. Amazingly, as we were motoring towards it, another boat tied to the mooring next to the one we were assigned to. We asked if we could move one over so we would still have plenty of space to maneuver. The Harbor Patrol said no problem.
The moorings at Catalina are a little different than any other mooring we've been on. Since it had been so many years since we'd been there, neither of us really remembered the right way to tie up. After some arguing and awkward fidgeting with the muddy lines (that left us both coated in mud), we finally got properly secured. "Ah," we said to one another "It's time to relax!"
Literally one minute later, the Harbor Patrol radioed us and let us know the slip we were on had just been reserved and we needed to move one over. Sigh.Now that we knew what we were doing, the second tie up was simple and completed in a few minutes.
That night we stayed onboard and enjoying the peacefulness of the anchorage. Here is a picture looking back at the entrance of Cat Harbor from Kosmos' deck.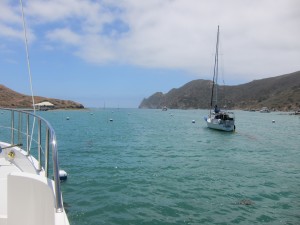 We started Friday off with a leisurely morning onboard. After lunch, it was time to head into shore to meet up with some new friends of ours, Richard and Pam, at the only bar/restaurant in town.
We were excited about Keith's first dinghy ride! In the past, every time we tried to put Keith in his life jacket, he screamed his head off. We figured he didn't like it because it was way too big and uncomfortable. But he had grown quite a bit recently and fit into it better, so we had high hopes he wouldn't mind it this time.
He still hated it. He started screaming the moment we put it on. Here is a photo of him eyeing Christi suspiciously as she tried to put it on, moments before the wailing began.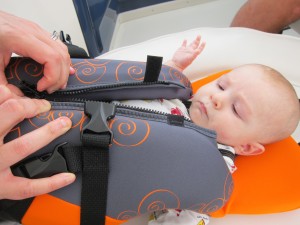 Our dinghy isn't the most stable, so we were a bit nervous loading him in the dinghy. His hysteria made us even more nervous, but we got him in with no problems. The ride itself was short, calm and uneventful (except for Keith screaming).
The dinghy dock was nice. Getting tied up and off the dinghy was easy, and the dock itself was stable. Apparently, the dock had been recently rebuilt or refurbished as it had been damaged by the tsunami last year. Keith didn't stop screaming until we took the life jacket off on shore. Here is a shot of the dinghy dock and most of the Cat Harbor, taken from shore.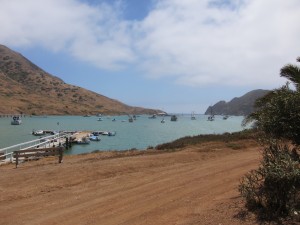 The town of Two Harbors sits on an isthmus in between Cat Harbor and Isthmus Cove on the northeast side of the island. From the dinghy dock, it was about a half mile walk down a dirt road to Isthmus Cove. This photo was taken about halfway down the road and is looking towards Cat Harbor.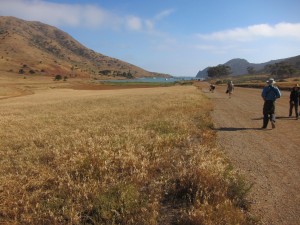 The town was indeed tiny. We saw maybe two dozen buildings total, including a yacht club, a restroom, a visitor center, the restaurant and some residences. The commercial area was on the Isthmus Cove waterfront and the residences were set farther back. Beyond the town it was mostly rolling hills, brown from the summer drought.
The view was lovely from the bar, overlooking the mooring area that was full of boats.
We visited with our friends for a couple of hours. Eric enjoyed the restaurant's signature drink, called a Buffalo Milk, a yummy concoction with cow's milk and an assortment of liquors.
Keith was just as angry about being put back in the lifejacket for the dinghy ride back as he was on the ride in. Even though it was a very short trip to Kosmos, it still seemed long with the screaming baby. We loaded Keith back onto Kosmos with no problems.
We were feeling pretty darn good about ourselves at this point: Keith's first passage, first dinghy ride and first shore excursion were all a success!
We had a quiet night onboard.