This is part three of a three part series. Click on the links for part 1 and part 2. 
Saturday morning we headed to shore right after breakfast. Keith was again furious about the life jacket, but this time his screams weren't as hysterical as before. We quickly made our way over to Isthmus Cove, where Richard and Pam were waiting for us at the dock in their 1991 Sea Ray Sundancer 420. We hopped onboard. Here is Eric approaching the boat while holding Keith in the carrier.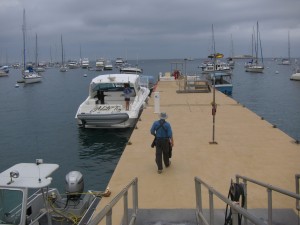 They were on their way to Avalon to pick up some more friends and we'd decided to come along for the ride. As we headed south, they pointed out all the interesting sights along the way. The scenery was beautiful, with dramatic hills rising out of the sea most of the way. And it was fun to be on a fast boat for a change. The 16 mile jaunt took only 20 minutes; it would have taken almost three hours aboard Kosmos!
We only stayed long enough to pick up their friends and then we headed back up north to Emerald Cove, an especially scenic little bay about two miles north of Isthmus Cove.
On the way back to Two Harbors, something scary happened. Richard thought he might have seen something in the water ahead, so he slowed down. There was something; it looked like seals. Had we not slowed, we could have hit one of them. But then, after looking more closely, we realized those weren't seals, but people in wet suits snorkeling in the fairway with no floating marker! We were shocked. What were people doing swimming in a traffic zone, on a cloudy day when the visibility in the water was poor, with no marker?
To be fair, their boat did have a dive marker on it, but the boat was at least 200 yards away (swimmers are supposed to stay within 100 feet of the flag). The reality was that being so far from their boat put them in more danger: Richard had seen the marker and deliberately picked the course he did to stay away from where the swimmers should have been. We tried to explain to the swimmers how much danger they were in, but they insisted they hadn't done anything wrong.
After the boat ride, our friends dropped us back off at the Isthmus Cove dock and we headed back to Kosmos. There was a wine festival about to start onshore and we wanted to get back before it got too crowded. Any other year, we would have gone to the wine festival, but with Christi on limited alcohol consumption and eating a very limited diet due to Keith's acid reflux, it just wasn't good timing.
This time, Keith calmly let us bundle him into the life jacket and waited three whole minutes before he started screaming. We're sure that after a few more trips, he'll get used to it. Here is a photo of Christi and Keith right before we put the life jacket on.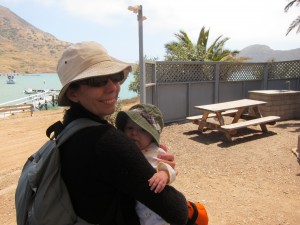 On Sunday morning, our friends came by Kosmos for a visit. They didn't stay long, though, since they needed to head back to the mainland. We laid low the rest of the day and never even went to shore. Keith slept for a record 8 hours on Sunday night!
On Monday morning, we untied at 0600 and headed back to San Diego. Sea conditions were wonderful. Four to five knots of wind, no wind waves, and 2 foot swells at long intervals. It was overcast and cool, and visibility wasn't the greatest.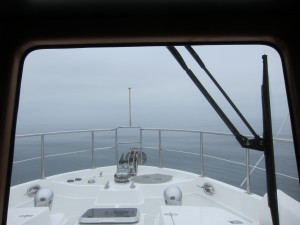 In the early afternoon, the wind picked up to around 6 knots and tiny wind waves developed that didn't affect the nice ride. Visibility also improved, but never got good. Around 1700, a large pod of dolphins came to play. One jumped all the way out of the water for us.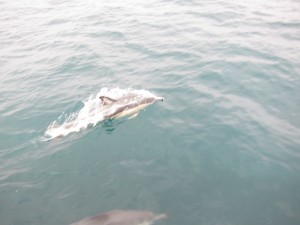 We saw a submarine off the coast of San Diego. Keith slept about half the time and seemed to not even notice the seas when he was up.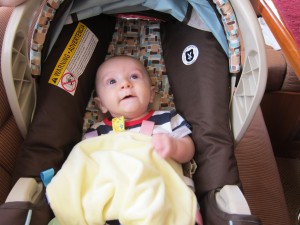 In bad news, one of our relatively new navigation LED light bulbs failed. We are disappointed. We hope this is a one off and that we didn't buy another bad batch of bulbs.