This is part two of a three part series. Read part 1 here. 
On Thursday, June 7, we took off bright and early from Oceanside. Conditions were almost the same as Wednesday, except the wave interval was 8 seconds instead of 10 and they were hitting us on the nose. Eric and Christi were both green almost as soon as we pulled out of the harbor. The good news, though, is that Catalina Island offered some shelter, so the closer we got, the better the sea conditions became.
Keith slept about half the time. While he was up, he seemed unaffected by the seas. We brought his changing pad upstairs, so diaper changing was no longer an issue. We saw the Hover Crafts again, and this time one came up very close to us so we got a good look at it. And a couple pods of dolphins came to visit.
We pulled into Catalina Harbor in the early afternoon and radioed the Harbor Patrol to get a mooring assignment. There were about a dozen boats in the mooring field and at least forty empty moorings. We were assigned a spot with no one around it so it would be easy for us to tie up. Amazingly, as we were motoring towards it, another boat tied to the mooring next to the one we were assigned to. We asked if we could move one over so we would still have plenty of space to maneuver. The Harbor Patrol said no problem.
The moorings at Catalina are a little different than any other mooring we've been on. Since it had been so many years since we'd been there, neither of us really remembered the right way to tie up. After some arguing and awkward fidgeting with the muddy lines (that left us both coated in mud), we finally got properly secured. "Ah," we said to one another "It's time to relax!"
Literally one minute later, the Harbor Patrol radioed us and let us know the slip we were on had just been reserved and we needed to move one over. Sigh.Now that we knew what we were doing, the second tie up was simple and completed in a few minutes.
That night we stayed onboard and enjoying the peacefulness of the anchorage. Here is a picture looking back at the entrance of Cat Harbor from Kosmos' deck.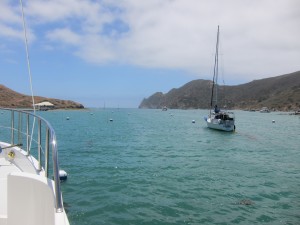 We started Friday off with Continue reading Keith's First Ocean Adventure: Leg 2 Oceanside to Catalina