This morning, Eric had another 0900 meeting, so he was up and out the door around 0815 since he knew traffic would be bad.
Christi was moving slow, still tired from jet lag and worn out from doing so much walking the previous two days. She spent the morning working on blog posts and took a long bath. Suddenly, it was noon and time to eat.
Wanting another really good meal, she went back to Cafe Sud, which was tried and true great food. This time, she ordered the seafood salad as a starter. Squid, shrimp, mussels, octopus and an unidentified little critter that looked like rings were served on a bed of lettuce with some chopped tomatoes, olive oil and lemon.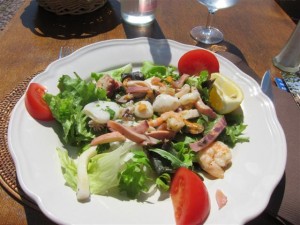 For her main, she Continue reading More Food in St. Laurent du Var, France