The plan was to get up early and move the boat to the sea wall, then go site seeing. Eric ran over to the wall to make sure there was still space, and much to his dismay, there was none. The wall was completely full. Darn.
It is now peak tourist season and the marina we are at has cranked up its prices, and for this month only they were charging a crazy $105 USD per night. It's a rolly marina , too. We decided to anchor out. The anchorage was flat as a pancake and had less traffic than the marina, so it should be calmer than the marina.
We decided to move after lunch. We went back through the gate into Ortygia and found a little café located in the walkway between two apartment buildings. The actual restaurant was run out of one of the apartments, with tables and chairs set up along the walkway. Of course, there were no tables in front of anyone's door, so at least the residents could get in and out of their houses. We thought it was neat that the tenants of these buildings had a restaurant not next door but literally at their front doors.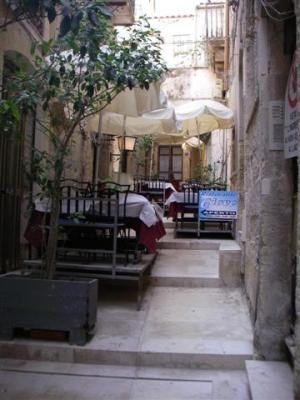 Eric likes proscuittio and melon. He was excited when Continue reading Exploring Ortygia, Old Town Siracusa