December 14th – A couple weeks ago, the weather turned cold and rainy. In San Diego, December usually has mild weather and the rain don't start until January. The earlier than normal and heavier than normal rains are a result of El Nino, an unusual weather pattern that occurs every 2 5 years. The El Nino pattern affects a huge chunk of the world, and affects each area differently. In Panama, it has a negative effect on the wildlife, in Indonesia it brings drought, and in Southern California, it brings excessive rain. Of course, since Southern California has been in a severe drought for the last three years, the rain is a welcome relief.
Our marina was feeling a bit ominous. The docks were deserted. The days are short and were very gray. While it was warm and dry inside Kosmos, on the walk to and from the boat, the moist, damp air seemed to permeate our clothes. The especially strong winds made a perpetual "woooo" sound through the sailboat masts that sounds like ghosts howling. It was the perfect setting for a horror flick.
So, we were quite pleased when we woke up early this morning to blue skies, bright sunshine and no wind. And the forecast said no more rain for the next few days. Yay! Weeks ago we had scheduled Komos to be hauled out today for new bottom paint, and we had been worried that the adverse weather would affect the bottom painting.
We pulled out of our slip shortly after dawn broke. The water was flat as a pancake and looked like a mirror beneath us as we headed over to the boat yard. Unfortunately, we were heading east, so the incredibly bright early morning sun was blinding us. But we were so happy to see the sun that we didn't mind the glare.
Like the haul outs in both Australia and Turkey, we pulled Kosmos into a special finger slip and secured her. A huge machine called a travel lift rolled up to the edge of the dock. The travel lift has straps, and the straps were lowered into the water and secured underneath Kosmos.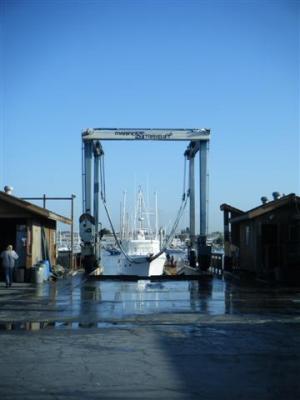 The machine slowly Continue reading Kosmos Haul Out and Off to Phoenix