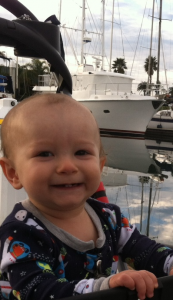 We haven't been able to update the blog lately because life has been hectic for us. Eric has been traveling a lot for work. He has had a trip almost every week this year. Most of the destinations haven't been too interesting, but last month he did have an eight day trip to Siberia. When he isn't on the road, he puts in long days at the office.
Christi and Keith have also been traveling a lot. They have tagged along with Eric on a couple business trips (Christi was tempted to go to Siberia until she found out it would take 40 hours of travel time each way and the weather forecast was -10.) They have also made five trips to Las Vegas to see Christi's dad.
We are pleased to report that Kosmos' new muffler is working. Getting it installed is a long story and we hope to find time to write about it soon. We've also got more boat updates to write about, including the toilets, wing engine, new canvas, baby gear and a boat trip up to Oceanside Harbor. And we have some travel posts we want to write, as well.
Keith is now 13 months old and has really turned into a little person! It seems like Continue reading April 2013 Update on Us