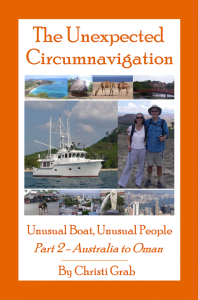 Part 2 of The Unexpected Circumnavigation: Unusual Boat, Unusual People covering Australia to Oman is now on sale! Read the first few pages on Lulu's "preview" feature and read an excerpt from Chapter 1 here (starts on page 18)!
Jeff Merrill wrote an extensive book review for the Nordhavn.com site.
Many people have asked us why they should buy our book if they can read our blog for free. Just like Part 1, the book is very different from the blog. Here are a few of the differences between the two:
Prologue: Picks up where the Prologue of Part 1 left off. It focuses primarily on the research we did as we planned for our journey and addresses the majority of the questions we were most frequently asked.
Several new stories from the journey – And there are some really good ones!
Many details have been added that were best left undisclosed while we were still on the journey (sometimes we didn't want our parents worrying about us; sometimes we didn't want to incriminate ourselves!)
In Retrospect sections with great insights — so you can see the situation through the eyes of a newbie as we learn, while simultaneously seeing the same situation through the eyes of experience.
Streamlined stories – some complained our posts were too long and detailed, the book is a condensed version they will enjoy more.
Formatting is first person, through Christi's eyes – Some complained they didn't like the third person format, so they will enjoy the book more.
Actual dates on each post. On the blog, the dates are not real time, which is a significant piece of information for anyone hoping to follow in our footsteps.
All profits will go to our cruising fund. The more books we sell, the sooner you can start reading about our next journey! So, buy one and get all your friends to buy one, too!
People have also asked us why we broke the series up into four books instead of only three. We had very different experiences in each of the four world regions, so it was best for each region to have its own volume.
In the South Pacific, Part 1, we spent most of our time in sparsely populated areas communing with nature. And we did a lot of rough sea time, learning about boating the hard way.
 In Asia, Part 2, we were mostly in densely populated areas building cultural bridges. Our sea experiences were also different from the Pacific, with both our best and worst passages occurring in this region.