Recently, someone e-mailed us from Bodrum, Turkey. He said he read our blog, admired our trip, that he owned a boat yard, Yatlift, and would happy to be of service if we needed work done. He generously offered to haul us out for free. Wow. We have mentioned a couple times now that we really needed to give Kosmos some more attention. We weren't planning on taking her out of the water to do the work, but this was an opportunity way too good to pass up. Most of the work to be done would be easier out of the water than in.
Yesterday we spent the day preparing for the haul out. Christi did laundry and housework. Eric found and read the manuals pertaining to the various jobs he was planning on doing, and also gathered together the tools, which required some digging into storage spaces.
We did go out to breakfast and dinner. For breakfast, we got a traditional Turkish meal, which consists of one egg, cheese, sliced meat, tomatoes, cucumbers, olives, white bread, honey, butter and a cup of tea.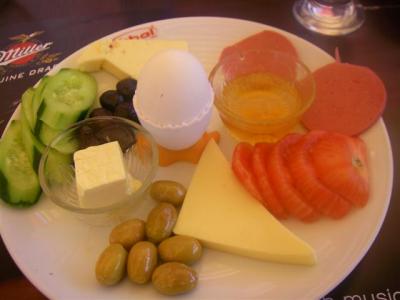 For dinner, we tried coban kovurma, which turned out to be Continue reading Kosmos Haul Out and More Turkish Food