We are happy to report that today was sunny with calm winds. The marina is calmer, which is nice. We like calm days.
Eric went to the marina office as soon as it opened, where a Spanish speaker was on duty and happy to help. Yay. He called and found out that the distributor did carry the part, but absolutely would not sell to us direct. We had to go through a retail store, and they didn't volunteer any information as to what store we might be able to find their product in. Our nice translator didn't seem to want to call back to press them on the retail store locations.
Yesterday, the clerk at the Gibraltar chandlery suggested that we go to a nearby chandlery in Spain, just a 15 minute away, and ask them to order it for us. They would be able to get it sent from Barcelona via overnight express with no customs issues. Now that we knew the distributor had the part in stock, we were happy to make the trip. We got directions, which were go out to the road, turn left, walk over the airstrip and you are at the border. Catch a taxi to the chandlery on the other side. We were kind of dubious, but the directions were accurate. You really do walk across the airstrip. Or drive across, if you are in a car. When a plane needs to land or take off, they just close the road for a few minutes. Seeing the wide open strip explains why the other day, we heard several announcements over a loudspeaker demanding that the car parked on the runway be moved now.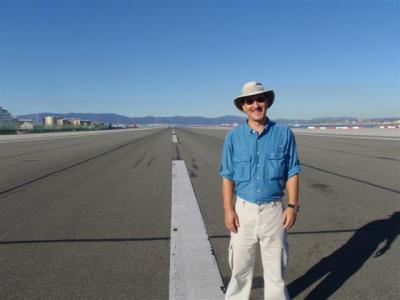 One more block from the runway is the border. Crossing the border was Continue reading Day 3 of the Water Pump Saga