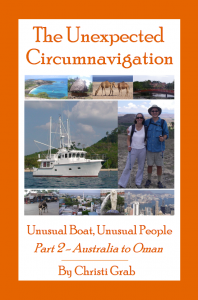 We are pleased to report that Part 2 of The Unexpected Circumnavigation is selling well (for a self-published book, at least). We haven't gotten much feedback as of yet, but so far all of it has been good. If you want to read some excerpts, there is one in The Mariner Magazine taken from Chapter 1 (starts on page 18) and one on Lulu with the first few pages of the prologue (click on preview link under image of book). If you have already read the book, we'd appreciate if you would rate it on Lulu, as well.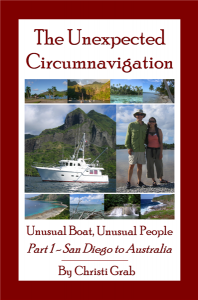 Part 1 is also selling well. Sales had been steady for most of 2011, but since Part 2 came out, sales of Part 1 have leaped up.
We are nearly finished with our next book project, a workbook called Recipe for Success: What My Cruising Will Cost Me. The text is more or less complete, but we are finding it harder to format a workbook than a reading book. We didn't have much time to work on it over the holidays, but now that things have slowed down, we hope to have it done by the end of the month. Once Recipe for Success is finished, Christi will focus on Part 3 of The Unexpected Circumnavigation. 
In personal news, Continue reading January 2012 Update