On Monday, we woke up refreshed after about 12.5 blissful hours of sleep. Eric rushed off to Cannes, about 35 kilometers southwest. Unfortunately, Eric had a hard time fining the correct road to Cannes and got lost yet again. Also, the traffic was really bad. He eventually made it, though quite late. His conference was only so-so, primarily because today's program focused on facets that didn't directly apply to him. On his way back to Nice, he again got lost.
Christi had a leisurely morning. She reviewed French vocabulary words, did a little work on the Internet for her Parentella job, and took a long bath (with no bathtub aboard Kosmos, baths are a rare luxury for her!) before setting off at 1100. Unlike yesterday, which was warm and sunny and full of people, today it was cool, overcast and almost deserted.
She walked west to the end of the boardwalk. The beach area didn't continue for much farther past the Snack we'd eaten at last night. Beyond the beach was a very large marina, filled mostly with boats under 50 feet.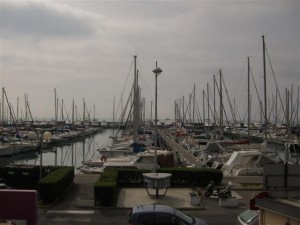 The boardwalk continued for the Continue reading Exploring St. Laurent du Var, France