This post covers the early afternoon of Friday, May 14, 2010 — Day 21: Yellowstone National Park, Wyoming to Jackson Hole, Wyoming. You can read about the activities we did in the morning here.
We arrived at the Old Faithful Geyser, probably the biggest attraction in the park, around lunch time. As the name indicates, it is a geyser that can be counted on to erupt every 60 to 110 minutes. How long one eruption lasts indicates how long it will be before the next eruption, so a naturalist keeps tabs on the eruptions and posts a sign indicating when they think the next one will occur. It was nice to look at the sign and know we had some time to kill before the next eruption. Instead of sitting outside in the cold, we wandered into the nearby General Store and had lunch.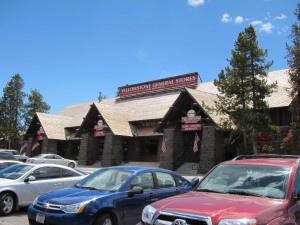 Shortly before the estimated spout time, we found seats in front of the geyser and settled in for the show. The water temperature inside the vent is 204 degrees Fahrenheit, so some steam generally comes out of the geyser most of the time.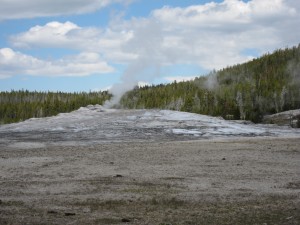 The steam steadily grew in intensity, then some water started to spout out with the steam: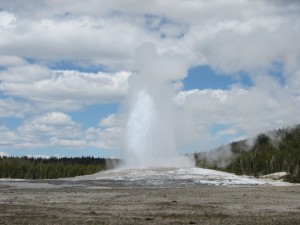 And then she really blew, Continue reading More Yellowstone National Park