Another fun thing we did was watch the Blue Angel Skyshow over San Francisco Bay on October 9th. Many boaters like to take their boats out to watch the planes perform directly overhead. We don't like to take Kosmos out on special events days because the waterways are generally packed with inexperienced, drunk boaters. We spend the entire time out worrying about what others are doing and never get to relax and enjoy ourselves.
Fortunately, we figured out how to watch the show from the water without taking Kosmos out — we rode the 3:00 ferry from Oakland to San Francisco.  It was a great plan. The show started a little after 3:00 and ended just as we pulled into San Francisco. We had amazing views!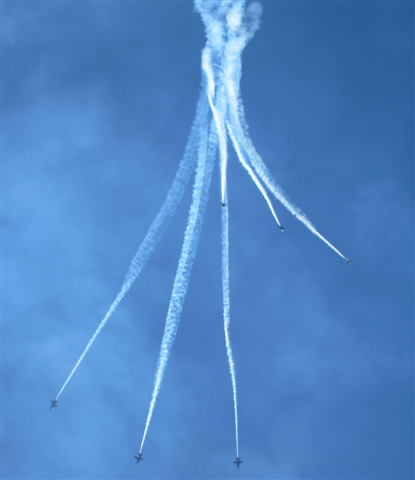 As you may have surmised, the Blue Angels are essentially military aviation stunt show. Six Boeing F/A-18 Hornets fly together in a coordinated series of maneuvers, some maneuvers so daring that they take your breath away. The planes fly as high as 15,000 feet, as low as 50 feet, at speeds between 120 miles per hour (mph) and 700 mph (which is just under mach 1), and get as close as 18 inches from each other while twisting, turning, darting past one another, flying in close formation and doing other amazing coordinated tasks. If you get the opportunity to see a Blue Angels show, don't pass it up!
We are glad we chose to take the ferry instead of Kosmos. Our poor ferry driver was constantly changing course to avoid nutty people who got in his way and weaving in and out of boats anchored in inappropriate places. We saw several near accidents between other boats, too. We probably would have been so focused on the other boats on the water that we would have never looked up to see the show.