We mentioned in our May 2012 update that we had taken Keith on three cruises around San Diego Bay by the time he was 8 weeks old. Shortly after his 2 month birthday (in May), we took him on a fourth bay cruise, and this time we stepped it up a notch by anchoring out overnight. Keith did just fine – in fact, that night he slept for 7 hours straight! (6 hours was/still is his norm, and believe us, that extra hour was a blessing.)
We decided Keith was ready for more adventurous cruising, so we planned a mini-vacation to Santa Catalina Island, about 80 miles northwest of San Diego. The last time we went to Catalina was in October 2006, when Kosmos was brand new.
We decided that instead of going to the main town of Avalon, we'd go to an anchorage called Catalina Harbor on the northwest side of the island. Despite the fact that it was probably the most sheltered cove on the island, it wasn't all that popular of a boating destination. The nearby town of Two Harbors was tiny with few amenities. Niether of us had been to Cat Harbor before, but from the description, it sounded like it was the perfect "getaway" destination for us: quiet and peaceful.
Getting to Cat Harbor would take us 15 hours in head seas. We decided it would be best to break it up into two legs, with an overnight stop in Oceanside (about 40 miles north of San Diego Bay). The detour to Oceanside would add an extra couple hours of sea time to the trip, but we didn't know how Keith would do in the open ocean and thought it was best to play it safe.
On Wednesday, June 6 at 0900, we untied the lines and headed to out. Sea conditions weren't bad, but they weren't good, either. Swells were coming from both the northwest and the southwest, hitting us on the port beam. Waves were 2 – 6 feet, gently shaped, and well spaced at about 10 seconds. There was a time when we had such a tolerance to the seas that we would have thought the conditions were fairly nice, but we've lost that tolerance and were both green the entire trip, though neither of us got sick. (Eric took seasickness medicine before we left; Christi did not as she is breastfeeding.) Keith slept for the majority of the 6 hour run.
The only exciting thing to report on the passage up was that near Oceanside we saw two military Hover Crafts doing exercises. We discovered that neither one of us wanted to change Keith's diapers. The diaper changing station was located in the forward stateroom, a place neither of us wanted to be while fighting off seasickness. (Not being able to see the horizon often takes a person over the edge from nauseous to sick.) We also didn't love walking up and down the stairs holding him while the boat was in motion. Keith pooped an hour out of Oceanside and we both agreed that he could wait for a fresh diaper until after we arrived. Fortunately, Keith didn't complain.
We arrived in Oceanside around 1500 and were assigned a slip near the mouth of the harbor.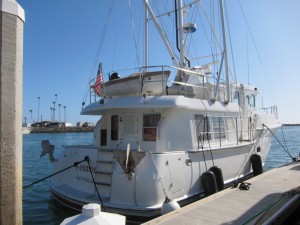 We're kind of ashamed to admit this, but Continue reading Keith's First Ocean Adventure: Leg 1 San Diego to Oceanside