The Unexpected Circumnavigation: Unusual Boat, Unusual People Part 2 – Australia to Oman is currently being printed. The book will officially go on sale on Friday, November 11th. It will retail for $21.50 for the paper book and $7.95 for the e-book.
If you would like to pre-order a signed, discounted paper copy of Book 2 for only $16.50, send Christi an email with your mailing address. She will calculate shipping costs and any applicable taxes and send you a total. Payments will be accepted via Paypal or U.S.check. Signed and discounted paper copies of Book 1 are also available for $14.95.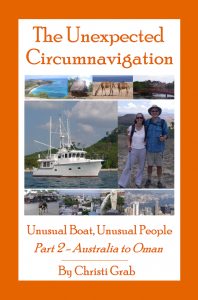 Book 2 Description: 
No one expected these thirty-something professionals to give up their successful careers to pilot their own small boat around the world, especially because they started with almost no boating experience. Instead of the expected sailboat, they chose a 43 foot trawler powerboat, which many believed was incapable of crossing oceans. Most people expected them to fail. But they surprised the skeptics when they successfully circumnavigated the globe in 2 years, visiting 110 places along the way in 34 countries.
Part 2 of The Unexpected Circumnavigation journals Christi and Eric's travels to 21 fascinating destinations, ranging from popular to remote. You will feel what it is like to be on long sea passages, experience the local food and cultures and participate in unique tours and adventures, including SCUBA, exotic animals, nature's 600 foot tall "secret rooms" & villages untouched by modernization. Learn about the challenges, rewards, and surprises that come with both traveling and boating.