As we said in the last post, from 0400 Saturday on, the seas had no wind waves, with only two to four foot, gentle, widely spread apart swells. The wind was almost non-existent at 0 – 3 knots real. The calm wind conditions lasted all night, as well.
During the night watch we had three strange sightings. A target would pop up in the middle of the screen, near our position, stay on the screen about a half hour, then vanish again. When we looked outside, even with the spotlight, we couldn't see any of them. One time we had to change course to avoid the target. Eric thinks they are all buoys, maybe even fishing nets attached to buoys.
Thanks to the calm seas, we were making great time and had to slow down. San Francisco Bay has strong currents and we needed to time our entry carefully to be at slack tide changing towards flood tide so when the tide did come in, it would be with us.
By 1130, we were at the first marker for San Francisco Bay. Almost about the same time we passed the buoy, the fog picked up, though we still had three mile visibility. We entered the channel into San Francisco Bay at 1230, traveling just south of the shipping lane. Traffic was light; only a couple other vessels were heading in and none heading out.
We were amazed by how large the breaking waves were on the north side of the bay. Today was a relatively calm day; they must be unbelievable on days where the waves are bigger. Inside the bay, the swell died down, but it got significantly choppier.
At 1300, the Golden Gatebridge became slightly visible in the fog. A handful of boats, mostly tourist boats, were in the bay west of the bridge. Here is a shot of the bridge as we neared it.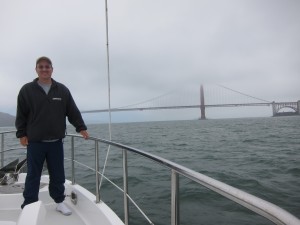 We passed under the Continue reading Welcome to San Francisco, California, USA