Happy New Year! Wishing all of you and happy, healthy, safe and prosperous 2009.
It is time for a quick break from the usual travel log stories and do a summary of 2008. You can always check the Travel Summary to see the details of where we have been. Here is our map from the Travel Summary page showing our progress since April 2007: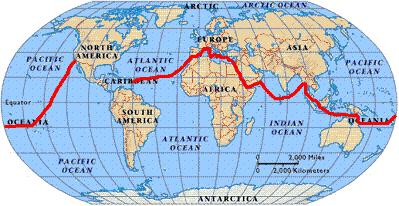 Last year, we did our year end summary list based on blog-time, meaning we didn't talk about anything that hadn't posted yet. This year we are doing the highlights in real-time, so some of these highlights are previews of blog stories yet to come. This is mostly due to the blog stories being several weeks behind real-time.
Since the 2007 highlights posting, Kosmos has made 33 stops in 18 countries. We have crossed two oceans the Indian and the Atlantic. We crossed the dreaded Gulf of Aden just after the pirate attacks had started up again after a 2 year lull. We crossed the Red Sea and went through the Suez Canal and then the Mediterranean Sea. We have done a lot of miles that is for sure!
Last year we were mostly in rural places experiencing nature, this year we spent most of our time in urban areas experiencing cultures and histories. We have been to some of the poorest and richest places in the world. We have been to Buddhist, Hindu, Muslim and Christian areas, and gotten a taste of Asian, Indian, Arab, Turkish, and European cultures. We have been consistently impressed with how kind and generous people are the world over. Even people who have almost nothing are willing to share the little they have. It is touching. We have had quite a few complete strangers invite us to their houses for home cooked meals, all of which are special highlights for us for the overall trip. We have had many other locals take us sightseeing and/or to experience the local culture first hand. We didn't have many difficult times this year, but each time we did, we always had at least one, and usually more, locals willing to help us out, sometimes at a sacrifice to themselves. This year has opened our eyes to how wonderful human nature really can be and to how much fun it is to partake in other cultures.
Here are some of the more memorable things that stand out, as well as the statistics, from this year:
Average speed entire trip: 5.9 knots
Best ancient sites: Luxor and Giza, Egypt
Best hot chocolate: Valletta, Malta, though Angelina's in Paris, France takes a close second
Best marina security: Marsa Alam, Egypt
Best night light show: Hong Kong, China
Best Overall Artistry: Bali, Indonesia
Best restored ancient housing: Ephesus, Turkey
Best yogurt: Greek style (even better with honey)
Biggest animal ever ridden: elephants in Phuket
Calmest anchorage: Rinca, Indonesia
Cleanest country: tie between Monaco and Singapore
Craziest locations of buildings: Meteora, Greece
Days on land/days at sea (whole journey): 433/169 = 28% of time underway
Favorite big city: Paris, France
Favorite dive spot: Komodo National Park, Indonesia
Favorite grocery store: Mark's & Spencer's, Gibraltar
Favorite guided tour: kayak hawng tour around Phuket, Thailand
Friendliest monkeys: Gibraltar
Hardest hike: Stromboli, Italy
Highest concentration of expensive cars: Monaco
Highest concentration of wealth in one building: The Louvre in Paris, with the Vatican, Vatican City taking second place
Least expensive fuel: Salalah, Oman
Longest passage: 20 days across Atlantic from Gran Canaria to Guadalupe
Meanest monkeys: Langkowi, Malaysia
Most awe inspiring tradition we witnessed: the Islamic annual fasting during the holy month of Ramadan while in Tunisia
Most bureaucracy: Andaman Islands, India
Most convenient check in: Pointe a Pitre, Guadalupe
Most daring rescue: saving a sailboat twice in Stromboli, Italy
Most different culture from ours: Oman
Most eager to feed you: Greece
Most effort expended by locals to help us out: Hulhumale, Maldives
Most expensive entry fees: Male, Maldives
Most expensive fuel: Male, Maldives
Most graffiti: Italy
Most interesting salvage of underwater treasures: Bordum, Turkey
Most mischievous activity: sneaking into the UN climate change conference, Bali Indonesia
Most surprising ham presentation: Canary Islands, Spain
Most unique housing: traditional Berber homes, Southern Tunisia
Most unique land animal in the wild: Komodo Dragons, Rinca, Indonesia
Most unique museums: Malaysia
Most unique tradition we experienced: annual sheep shearing and celebratory party in Crete, Greece
Most unique yacht club building façade: Las Palmas, Canary Islands, Spain
Most vintage busses: Malta
Most vintage cars: Andaman Islands, India
Newest mode of transportation we tried: Segway personal transportation vehicle
Nicest taxis: Mercedes are standard issue in Crete
Prettiest church exterior: Il Duormo, Milan, Italy, second place goes to the cathedral in Palermo, Italy.
Prettiest city: Monaco
Rolliest marina: One degree 15, Singapore, closely followed by Mallorca, Spain
Roughest passage: Bali to Singapore, but the Red Sea was no fun, either
Scariest Experience: Kosmos almost sinking in Stromboli, Italy
Scariest port entry: Singapore
Slowest check in: Andaman Islands, India
Worst drivers: Egypt
Worst radio abuser: The Pilipino Monkey Boy can be heard from Italy to Singapore
Strongest winds: 42 knots during a squall on Atlantic crossing
Total distance traveled 2008: 14,314 nautical miles (16,460 statute miles, 26,3337 kilometers)
Total distance traveled entire journey: 24,273 nautical miles (27,914 statute miles, 44,662 kilometers)
Total engine hours 2008: 2414
Total engine hours entire journey: 4090
Total generator hours 2008: 877
Total generator hours entire journey: 1644
We are looking forward to 2009. We hope you follow along on the Kosmos Travel Log. 🙂