Circumnavigation
On May 1, 2009, we completed our San Diego to San Diego world circumnavigation. We departed April 28th, 2007. The red line shows the path we took. We went west, starting from San Diego, California and stayed pretty much on schedule with Our Original Plans. The circumnavigation took 28,980 nautical miles. We have collected some interesting statistics about the trip.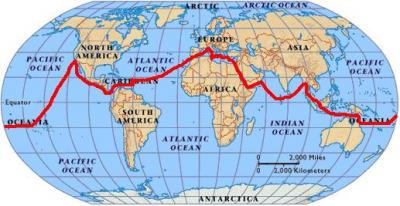 More Circumnavigation Details
Below are travel summaries that detail each stop we have made in our world tour. The summaries have the name are the coordinates (degrees-minutes) on the globe in case you want to look them up on Google Earth (or an old fashioned globe). Beneath the coordinates are the dates of the blog entries, so you can click on the appropriate month in "archives" to read about our adventures in particular locations. Please remember that these are not the actual dates we were in these locations as the blogs are not posted in real time. The last line has highlights of some of the activities we did in each place. In every destination we write about the town, people, history, culture, and food, so those are not listed separately as they are a given.