Recently, someone e-mailed us from Bodrum, Turkey. He said he read our blog, admired our trip, that he owned a boat yard, Yatlift, and would happy to be of service if we needed work done. He generously offered to haul us out for free. Wow. We have mentioned a couple times now that we really needed to give Kosmos some more attention. We weren't planning on taking her out of the water to do the work, but this was an opportunity way too good to pass up. Most of the work to be done would be easier out of the water than in.
Yesterday we spent the day preparing for the haul out. Christi did laundry and housework. Eric found and read the manuals pertaining to the various jobs he was planning on doing, and also gathered together the tools, which required some digging into storage spaces.
We did go out to breakfast and dinner. For breakfast, we got a traditional Turkish meal, which consists of one egg, cheese, sliced meat, tomatoes, cucumbers, olives, white bread, honey, butter and a cup of tea.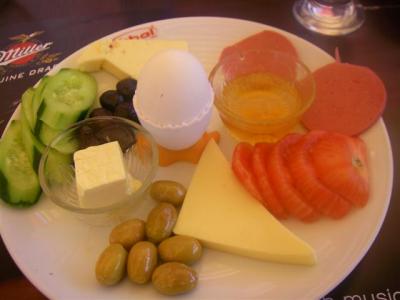 For dinner, we tried coban kovurma, which turned out to be a stew with lamb, mushrooms, bell pepper (capsicum), onion, tomato and garlic. It was very good and quite hearty. As an appetizer, the waiter brought out a giant piece of fresh baked pita bread right from the oven. It was so good. For dinner, we have baklava, and found that Turkish and Greek baklava are the same. For those who have never had baklava, it is phyllo dough filled with a sweet nut mixture and drenched in honey. It is very rich and yummy.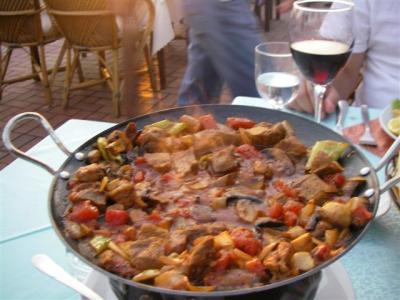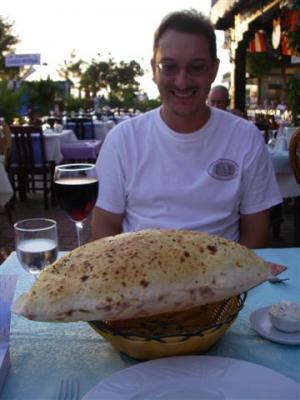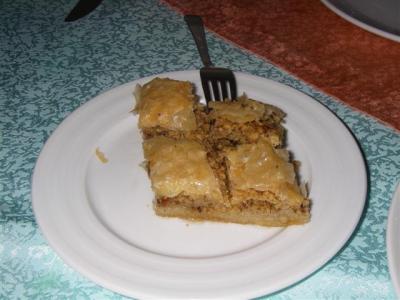 During dinner, we had another spectacular sunset. The sunsets around here are truly amazing.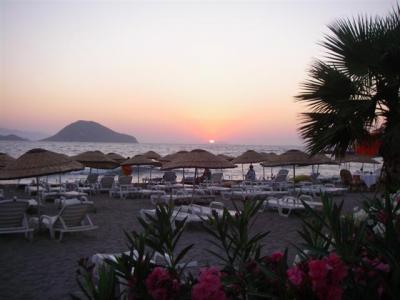 This morning we were up early and pulled out of the slip right at 0800, as planned. The boat yard is a little southeast from central Bodrum in Icmeler. The trip over to the boatyard took 2 hours and was smooth and pleasant, except for the occasional speed boat zooming by us. We neared the yard and pulled into the slip that they lift you out of the water from. The process was similar to the last haul out in Australia. A behemoth of a machine on wheels rolls forward onto the fingers of the slip, dragging straps underneath the boat. Once you the straps are secure, the machine lifts the boat out of the water and rolls her onto dry land. We had to be careful that the straps didn't get caught on the stabilizer fins.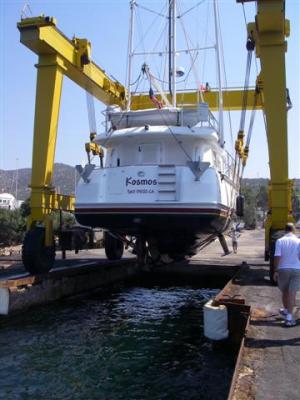 When the boat was first pulled up, we saw that the same light layer of algae was still there, and it had not gotten any worse. But then we took a closer look, and our hearts sank. It wasn't algae at all. It looked like the paint was coming off. The boat yard commented we needed the whole bottom needed to be re-done. Sigh.
The lift stopped near the edge of the boat yard, and the crew power washed the upper portion of Kosmos. We told them not to do the bottom, not wanting to power wash the last of the paint off until we decided what to do. Once washed, the lifter machine carried Kosmos to a parking spot, where they lowered her down and put several support stands under her to keep her from falling over.
Once she was safely parked, we had lunch in the boat yard's restaurant with Ali, our generous new friend, and his friend, Hassan. We all had meatballs, a popular menu item in both Turkey and Greece. Ali has been wanting to see a 43 in person, so after lunch, we took them aboard and gave them a tour.
Something had been nagging at us"¦ if the bottom paint was gone, why wasn't there any growth down there? Except for a few small areas, there was absolutely no growth of any kind on the painted areas. So, after Ali and Hassan left, we took a closer look at the paint. The black paint was turning green! There was nothing wrong with the paint at all! Phew! Talk about a huge relief. The paint has a lot of copper in it, hence it turning green with age.
It was now mid-afternoon, kind of late to start on boat projects, and unbearably hot, so we procrastinated starting our work. Instead, we rented a car and went into Bodrum, only 10 minutes away by car. Right around the Yat-Lift (the boat yard we are at) are several other boat yards and boating type stores. Beyond them, it is mostly hotels lining the coastal road between Icmeler and Bodrum. Most look to be pretty new and upscale. We drove around Bodrum for a while. First we toured the shore, which is an endless expanse of tourist shops and restaurants. We explored inland a little bit, more because we were lost than because we meant to. Then we stopped for dinner.
We had noticed several waffle carts in both Bodrum and Turgutreis. We have rarely seen waffles around the world, and when we do, it is almost always as a dessert served with ice cream. We decided to get a waffle for dessert and headed over to a cart. We found out that waffles here are an art form. They make the waffles when you order them, then while hot, smear the waffle with rich cake frosting (or Nutella). There are a bunch of flavors to choose from, and people often get two flavors, half and half. You can choose it to be topped with sliced fruit, usually peaches, bananas, and/or kiwi, or you can have candied fruit or just plain candy piled on top. They are delicious, gooey and decadent.