On Bruce's watch, in the wee hours of the morning, there was suddenly a loud banging sound. Bruce woke Eric up. Eric went outside to investigate and saw that the base of the VHF antenna had come unscrewed. What the heck? That is something we have not been checking too often. Eric screwed the antenna back in and went back to bed.
Much to our surprise, at around 0500, the seas laid back down. We couldn't believe it. We just assumed it would be rough all the way in. We didn't get to enjoy the calm seas for long, though, because we pulled into Ixtapa Bay at about 0830 local time. Even from the distance, we could see Ixtapa was incredibly built up. There were several high rises along the beaches and expensive looking homes built in close proximity to one another along the cliffs.
Again, our electronic charts were definitely off, and again, we entered the channel using a combination of electronic charts, the cruising guide charts, and a print out of a satellite photo of the area. But the hazards in this bay were definitely easier to see, as was the channel entrance. The channel entrance is also significantly bigger and no one was swimming in it. Entering the short channel was a piece of cake. The first picture is looking right from the channel entrance, the second is looking left.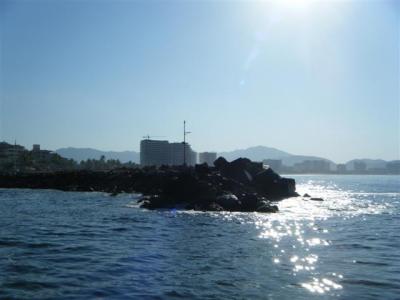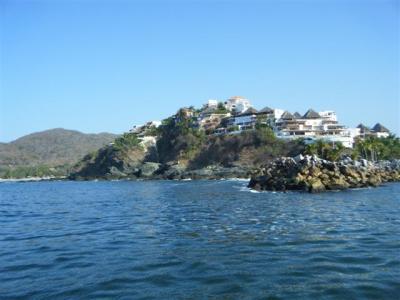 We were directed to a slip and told to pull in forward. As soon as we were halfway into the slip, we knew it was too small. Déjà vu. This time we pulled back out and turned around, backing in instead. We think it is odd that they gave us this little spot when there seems to be plenty of bigger spots open. The marina is pretty swanky looking.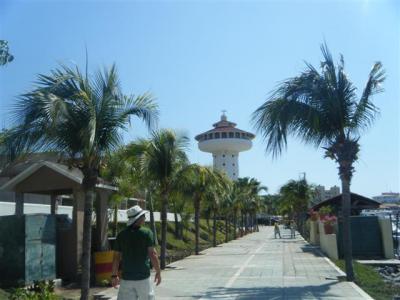 As soon as we were tied up, we immediately went to the nearest restaurant for breakfast, on the boardwalk along the marina. Since this is a tourist trap kind of place, we expected it to be expensive, but it wasn't. It was actually super cheap and the food was great. We got cheese empenadas for an appetizer. Empenadas are a half-moon shaped pastry along the lines of a thick pie crust that is usually deep fried. Fillings can be sweet or savory.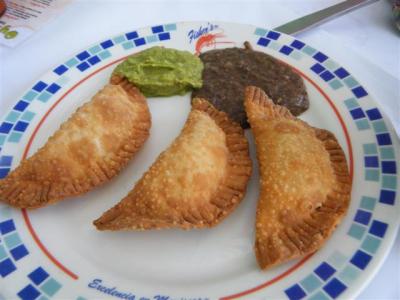 Eric ordered a shrimp cocktail. What came out was definitely more of a ceviche, visually speaking. The texture was like a dip, with the shrimp and other flavorful ingredients finely chopped. But ceviche is normally marinaded in a clear, tangy lime dressing. Our shrimp cocktail was marinaded in a red sauce that is similar to an American style cocktail sauce, but sweeter and less tangy than American style cocktail sauce. Eric liked it. Christi didn't.
We all had yummy coffee drinks to ensure we would stay awake all day. After we were done eating, Eric went to the marina office to check in. Check in was quick and easy and we were delighted to find out that they took care of checking us in with the Port Captain. Yay. One less stop to make today. Score! The marina fee is $40 per day.
When he was done, we walked over to the bus stop, only a few hundred yards from the marina entrance. It looks like this is the terminus for the route, and several busses were there, with the driver's clearly on their break. We were directed to the next bus that would be leaving. We only waited a few minutes before the bus left.
Lonely Planet had said that Ixtapa is a sterile, purpose built resort town with no character. As we drove down the wide, well maintained road with perfect landscape in the medians and along the sides, we passed high rise after high rise of condos and hotels. We also passed a couple strip malls. It looks more like Florida than Mexico. We have to agree with Lonely Planet on the "sterile" observation.
Our destination was the next city south, Zihuatanejo (see-wah-tah-nay-ho). Zihuatanejo used to be a small, traditional fishing village and has now flowered into a modern city. However, it is supposed to be a "real" Mexican city with local color and charm. Zihuatanejo was made famous in the movie "Shawshank Redemption" because Tim Robbins went to hide there after he broke out of jail. Oh, we hope we didn't spoil the end for anyone who may have never seen it. In preparation for our stop here, Eric and Christi had watched "Shawshank Redemption" again last week. Excellent movie.
We left the city and went through a big area of dry forest that looks similar San Juan del Sur and Huatulco, with barren, densely packed trees and green underbrush. The trees seem to be more spindly here than we recall them looking in the other two places, but we could be mistaken. We emerged on the outskirts of Zihuatanejo.
We drove for a good 10 minutes or so before we came to the central market area, where we got off the bus. From the bus stop, we walked west along the main drag, taking in the sights. We were trying to get to the bay, but it turns out we were a little disoriented. We had walked several blocks before realizing we really should be walking south. Oops. We turned off the main drag. There was nothing particularly nice or bad about the areas we have seen so far. It was pretty average. Buildings range in size from 1 to 5 stories. Most are blocky in architectural style. Quality of construction varies wildly, but most are middle of the road. Likewise, age varies wildly, but most buildings are reasonably well maintained. There are a few partially completed buildings with the "never going to be finished" air to them, but not very many. The first shot is the main drag, second is the street leading to the beach.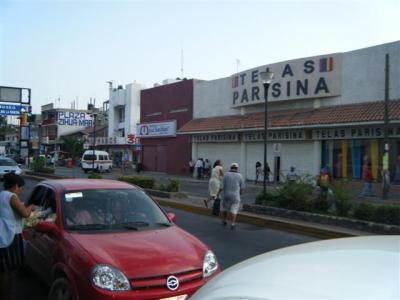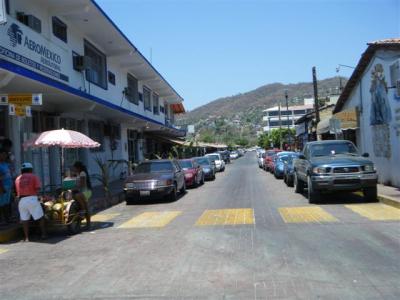 A few minutes later, we came to a line of stalls selling locally made handicrafts. We must be very close to the bay now. We rounded a corner at the handicraft vendors and saw the bay was right in front of us. The beach was lined with dozens and dozens of fishing boats with big outboard motors that were pulled onto the sand. The water was crowded with numerous somewhat bigger fishing boats and a few sailboats that were anchored.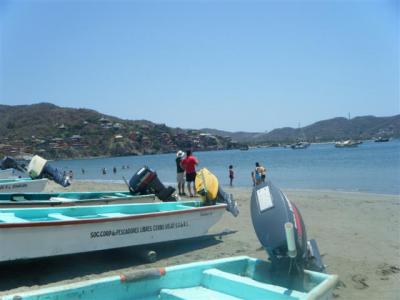 We walked southeast along the shoreline for a while. It was such a gorgeous day. Sunny, clear, warm but not hot. Lots of people were playing in the water, especially kids. The land surrounding the bay is hilly with lots of trees and dotted with buildings. It was all so scenic. The sand eventually disappeared and the shoreline becoming a series of big rock formations, but there was a walkway that took you over the rocks down to the next patch of sand.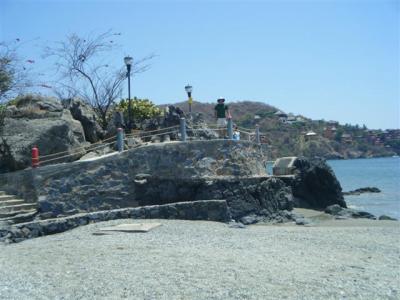 We found a beach bar at the next beach down and stopped for a drink, relaxing and enjoying the nice day. When we left the bar, we went out to the street, wandering around the network of roads near the waterfront. It seemed to be mostly hotels and restaurants, but there were a few homes and commercial businesses, too. It is hilly, with unique buildings crafted into the hills. There are a lot of plants on each of the lots. Most of the buildings are nice. It is quiet and peaceful. This little area has a small town feel to it, and you would never realize that only a couple blocks away is a bustling city.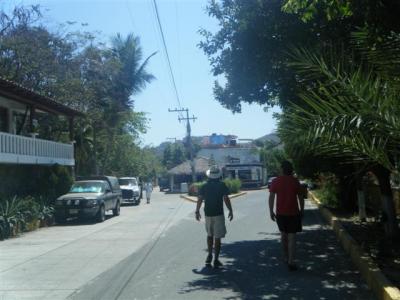 We passed by a dive shop and stuck our head in. Diving was out of the question for us because the water here is only in the low 60's, much too cold for our comfort. But we asked them if they knew a taxi driver who spoke English and could give us a tour of the general area, just like Saul had done for us. They said they did know someone.
We were disappointed when the cab driver picked us up and we found out he spoke no English. We were even more disappointed that he thought he was taking us directly back to the marina and didn't understand what we wanted when we asked time and again in our broken Spanish for a tour. We did get him to take us to a viewpoint of Ixtapa that was not far out of the way.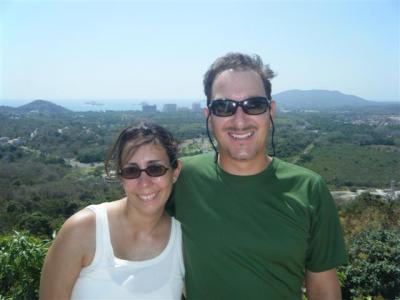 We tried to get him to take us to "The Parthenon", a Greek-style mansion built by a corrupt police chief in 1982. Shortly after the mansion's completion, the chief was investigated and the house seized. Lonely Planet says you can bribe the guards for a quick looksy at the house and grounds, but the cab driver refused to take us there, saying that we would never get in. Darn. Despite the lack of the tour, we still had an interesting chat with him about life in Zihuatanejo.
We were planning to head out again right away and just made a quick pit stop at the boat. It turned out to be providential that we did. We saw on our DSC radio that Gone Native had been trying to call us. We called them and found out that they were about to arrive in Ixtapa and the marina had told them they are full and can't take them. What? The marina is half empty! Eric went outside and measured the empty double slip next to us to make sure it was wide enough to accommodate them. It was. Then he went to the marina office and asked the marina to please let Gone Native come in. The marina agreed, but assigned them a spot far away from us. Oh well. Eric helped them get situated, and then Bruce, Eric and Christi headed out.
We again caught the bus to Zihuatanejo. We got off at the same stop and this time made a bee-line straight for the beach, taking a different series of streets and getting to see new sights. This time we were looking for a restaurant not far from the dive shop we had stopped in at that was highly recommended by Lonely Planet that has genuine authentic regional Mexican dishes.
We found it with no problem, and the food was indeed excellent. Bruce ordered grilled quail that was marinated with vinegar, garlic, guajillo chili and regional spices. Christi and Eric ordered cactus soup with shrimp and cheese. Cactus is relatively common on the menus in nicer restaurants in Mexico, we have noticed. They also got pork in a Yucatan sauce, made with orange and lime juice, onions and achiote seed paste (achiote is a small shrub indigenous to the tropical Americas. The paste is with the plant's crushed seeds, vinegar, garlic and spices). Did we mention the food was all really good?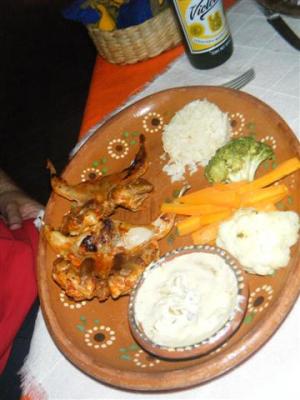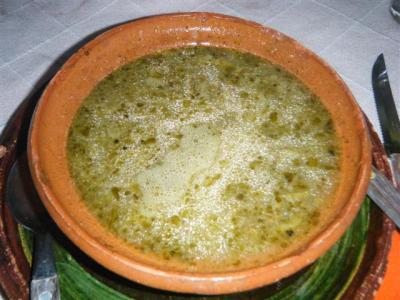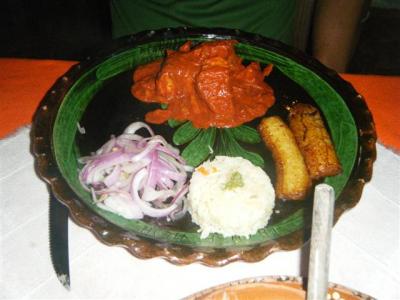 We weren't sure if the busses were still running and we found a taxi stand, so we took cab back to the marina. We are proud of ourselves that we made it through the day without a nap and went to bed at a normal hour. Sometimes adjusting from sea time to land time can be so hard.