Continued from yesterday… Christi took a different path down from the Lou Castel park than she had taken up. When she got to the park gate, she found herself on the waterfront. The only problem was that she had no idea where on the waterfront she was! Here is a shot of the Tour Bellanda and the staircase that leads up into the park from from the bottom.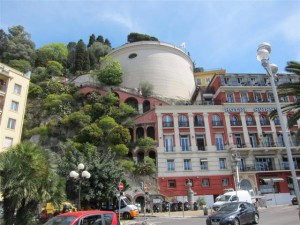 Christi headed inland, and after a couple blocks found herself in the familiar Cours Saley street market. She wandered through the stalls to see what was for sale. The variety was incredible. Produce, cured meats, cheeses, fresh fish, olives, olive oils, dried tomatoes, jams, sauces, herbs, candied fruit, prepared foods, florists, a couple stalls with artists and/or handicrafts, and much more!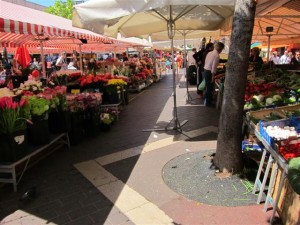 She picked a restaurant called La Storia, on Cours Saley, for lunch, because the prix-fixe menu caught her eye. The first course was Salad Nicois, with mixed greens, canned tuna, anchovies, hard boiled eggs, tomatoes, celery, olives, and fresh red bell pepper.  The  main course was Porchetta of Rabbit. Looking at it, it looked like two slices of meat. But when she bit into it, she realized it was actually more of a meatloaf. The ground meat was seasoned and had chunks of green olives, light meat and dark meat mixed in. It was wrapped in a layer of fat before baking. The ground meat was soft enough to eat with a fork, the other meat chunks were firmer and needed a knife to cut into. It was different tasting and she wasn't sure what she thought of it. The rabbit was accompanied by gnocchi in a basil pesto sauce.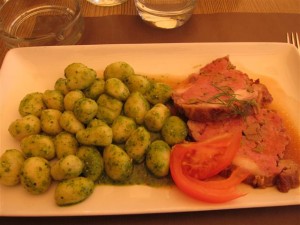 Dessert was nougat ice cream (nougat flavor with lots of small pieces of nuts) and a small pastry of some sort. She had never seen anything quite like this pastry, the closest she can compare it to would be lady fingers.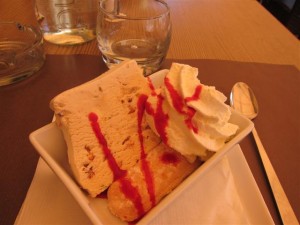 After lunch, she headed east to the port. Along the way, she passed a World War I monument to commemorate the 4,000 people from Nice that died in the war. As you can see, it is carved into the face of the cliff that the park sits on top of. If you look closely at the upper left corner, you can see some of the remains of the fortress walls.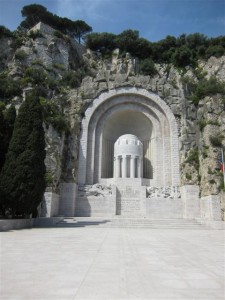 She walked around the entire port/marina area, checking out the assorted boats. Most of the boats were small (less than 40 feet), but there were a couple dozen enormous boats (well over 100 feet). Oddly, nothing in the mid-range category. The first photo is a shot of the marina. You can see the hill the park is on in the background. The second is a church devoted to seafarers in the very middle of the port. The Virgin Mary is blessing their travels.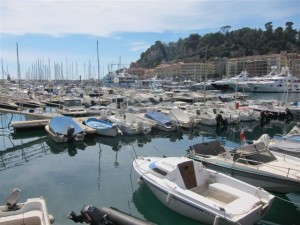 The she turned inland. Near the port, it was mostly residential apartment buildings, but within a few blocks she found herself in a neighborhood of large private houses. Realizing she was probably moving away from the city center, she around following different streets that she hoped were taking her in the right direction.
Within a few blocks, she was back in the commercial zone, an odd mix of old and new. Here is one example: these two photos are taken at the same intersection, just facing two different directions. One is of the Museum of Modern Art, tucked between two buildings that are probably 20th century (possibly late 19th). The other is of a building that probably dates back to the 1800s.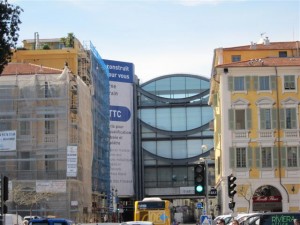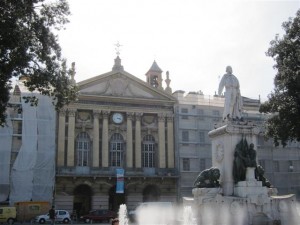 This is a shot of a park that she liked: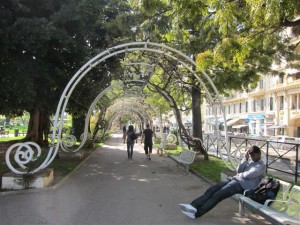 At 1500, she decided it was time to head back to the hotel to meet Eric and wandered back over to the bus stop she had gotten off at. Unfortunately, there was no bus stop on the other side of the street, and she had to walk several blocks before finding it. But, the bus pulled up right as she arrived, so the timing was impeccable!
On the bus, she met some Scottish people. From eavesdropping on their conversation, she got the impression they were snow birds that spent the winters here. She asked about the explosion and was told every day at noon they shoot off a big gun at the park. The sirens were coincidental.
Eric got back around 1700. We went for a walk along the boardwalk, spending quite a bit of time wandering through the marina, checking out the boats. After four days here in France, this was Eric's very first chance to sightsee. He was too tired to go into Nice, so we stayed local for dinner, choosing a restaurant on the boardwalk called Le Maree, which offered some attractive prix-fixe menu choices.
Eric's starter was salmon carpaccio, served with a lemon sauce and a side of greens with tomato slices. Christi got a hot goat cheese salad, which was a plate of mixed greens with tomatoes and three thick slices of goat cheese on crostini.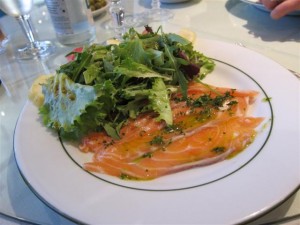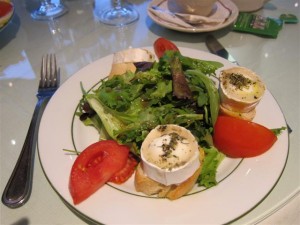 Eric's main was monkfish in lobster sauce (monkfish has a texture similar to lobster), Christi's salmon in a saffron sauce. Both mains were accompanied with potatoes au gratin (potatoes baked in a cheese sauce), ratatouille (roasted mixed vegetables), and a broiled tomato.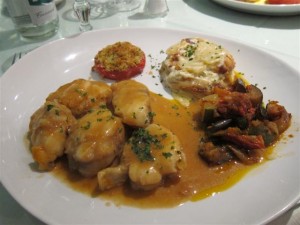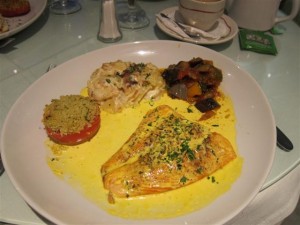 For dessert, we shared a tarte flambee, an apple tart doused with Calvados liquor and lit on fire. We were bummed because they didn't light it in front of us, so we missed the flames. When we cut into it, it was broiling hot and tasted like booze, so we are sure it really was lit on fire. All the food was absolutely delicious.