Since returning from our circumnavigation in 2009, we've started several threads that we haven't finished. One of Christi's New Year's Resolutions is to get better about finishing blog threads. So to start the year off right, we are going to finish up our San Francisco thread from a few months back.
To recap: on Wednesday, October 31, 2011, we set out from our home port in San Diego on our way to San Francisco, where we planned to spend a couple months. We broke the trip up north into two legs: the first was 24 hours at sea, stopping in Ventura. The plan was to wait in Ventura for a good weather window around Point Conception. Fortunately, we didn't have to wait long. After only 24 hours in Ventura, we were back at sea. Leg two took two days, and we arrived in San Francisco Bay on Sunday, September 4.
We docked at South Beach Harbor Marina, located right next door to the AT&T ballpark in the heart of downtown San Francisco. We picked that location because Eric could walk to work (his company also has an office in San Francisco, which he worked out of). Here is a shot of Eric in front of the ballpark and one at the back of the ballpark.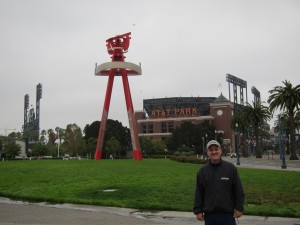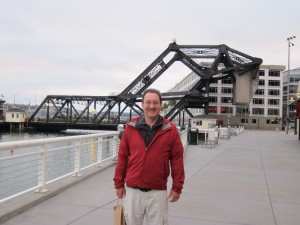 Monday, September 5 was Labor Day, so Eric had the day off work. We took a walk along the embarcadero to the famous Ferry Terminal Building. Here are some sights along the way:
This is Pier 38 right next to the marina. Along the waterfront, there are several more of these Pier buildings that all look similar.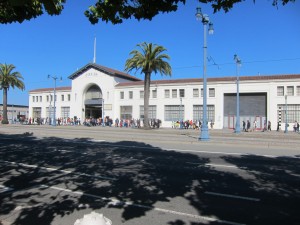 The view of San Francisco Bay and the Bay Bridge from just past Pier 38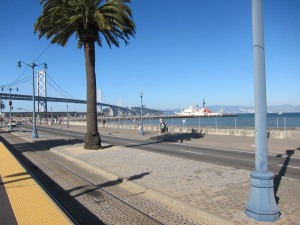 Fireboats docked under the Bay Bridge: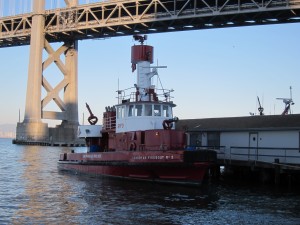 A sculpture on the Embarcadero lawn with some of the beautiful downtown skyline behind it.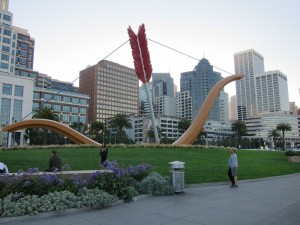 A cool old building surrounded by more modern ones: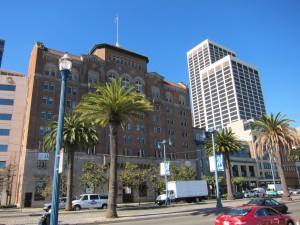 Next door to the Ferry Terminal building: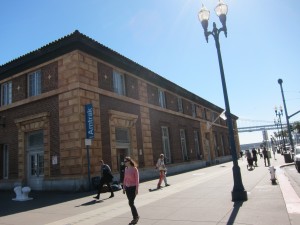 The Ferry Terminal Building: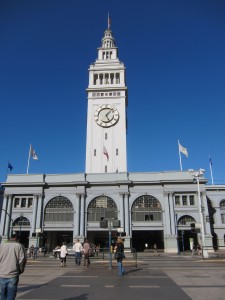 An old street car stopped near the Ferry Terminal Building: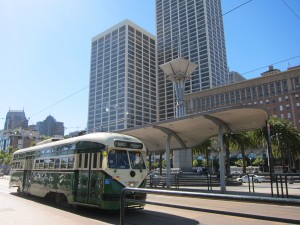 Inside the Ferry Terminal Building are an assortment of interesting shops: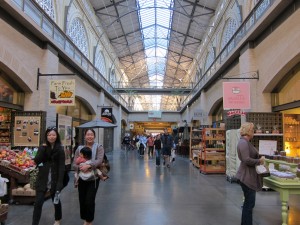 We had dinner at a Peruvian restaurant near the Ferry Terminal building. The food was amazing! Here is a photo of the causa sampler tray. Causas are whipped potatoes topped with ají amarillo and seafood or vegetarian toppings. The ones pictured here are: Limena with dungeness crab and avocado, Nikei with raw tuna and avocado, Casera with artichokes, aspargus, avocado and tomato, and Saltidido (not sure what was in that one). We also had an amazing ceviche sampler tray and dessert sampler tray. Yummy!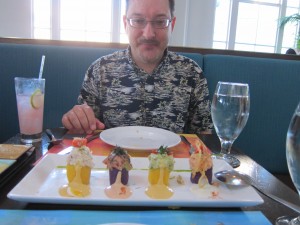 This is part 4 of an 11 part series on our time in San Francisco. Read part 3 here and part 5 here.